(N.Morgan) Hillary Clinton has had what is being called an "medical episode" that forced her to leave a 9/11 commemoration ceremony early, a law enforcement source who witnessed the event told Fox News.
It appeared that the Democratic presidential nominee fainted on her way into her van and had to be helped by her security, the source said. She was "clearly having some type of medical episode."
Clinton's stumbled off the curb, her "knees buckled" and she lost a shoe as she was helped into a van during her "unexpected early departure," a witness told Fox News.
Another law enforcement source told Fox News that Clinton left the event because she wasn't feeling well.
The Clinton campaign would not confirm Clinton's location to an NBC pool producer.
After Clinton left the ceremony, the reporters following her on the campaign trail were prevented from leaving the media area for a period of time.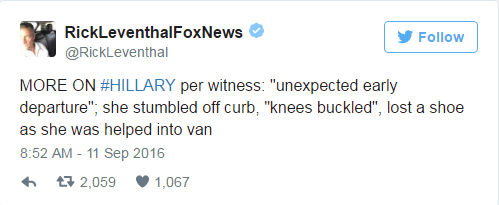 Clinton and Republican presidential nominee Donald Trump earlier greeted supporters as they entered the downtown Manhattan 9/11 memorial.
Both had promised to suspend campaign activities to mark the 15th anniversary of the attacks.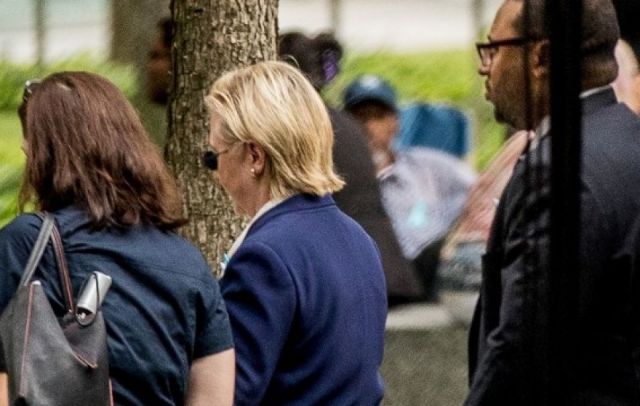 References:
http://www.foxnews.com/politics/2016/09/11/hillary-clinton-has-medical-episode-at-911-ceremony-source-says.html
/opinion-conservative/2016/09/hillary-clinton-falls-ill-at-911-ceremony-3184964.html