Islamophobia or Islamorealism?
American Christian's fear and hatred of Muslims and Islam is rampant on Before It's News, but is it warranted, healthy – or Christian-like? A new video holds many answers to these question, while this article delves more deeply into the world of Muslims.
This video directly below gives a glimpse of the life of a Muslim in the United States.
'Violent Muslims taking over United States, the World'
A new video (below) shows that the United States, that many Christians call a Christian nation, spends $1 trillion dollars every year to rape, kidnap, torture and kill innocent people in the process of illegally invading and occupying non-aggressive countries of different faiths.
Roughly, the world spends $2 trillion every year on militarism. Of that, the United States, 80 percent of which is comprised of people who self-identify as Christians, spends about half, or $1 trillion.
A majority of Americans report that religion plays a "very important" role in their lives, unique among "developed" nations. A 2002 Pew forum survey found nearly 6 in 10 Americans said religion plays an important role in their lives, compared to 33% in Great Britain, 27% in Italy, and 21% in Germany. (Read: Among Wealthy Nations U.S. Stands Alone in its Embrace of Religion)
No other country's budget for violence comes anywhere near Christian Americans' national budget allocated for wars of aggression; torture rape and murder; manufacturing weapons of war, now available for use on them in their own ccountry.
Islamic Inhumane Imprisonment?
It is said that a nation's health can be judged by it's prison-industrial complex. With only 5% of the world's population, the U.S. has 25% of the world's prison population – making the United States the world's largest jailer.
Since 1970, The U.S. prison population has risen 700%. One in 99 adult Americans are living behind bars in the U.S., marking the highest rate of imprisonment in American history. (Read: ACLU, The Prison Crisis,) One in 31 adults are under some form of correctional control, counting prison, jail, parole and probation populations. (Ibid.)
The U.S. has failed in public safety, fairness and cost-effectiveness, according to the ACLU and scores of human rights and justice groups.
'But Muslims torture and have no regard for law!'
"Certain religious groups are more likely than others to condone torture of suspected terrorists,' US News reports. Muslims, however, are not among them.
Torture is a war crime.
Torture is illegal. It is immoral. It is never justifiable, according to international law.
Most white evangelicals, most Roman Catholics, and most frequent Christian churchgoers, say it's OK to "sometimes" or "often" use torture, according to research. (Pew Forum on Religion and Public Life)
The United States tortures upt to 100,000 people daily on U.S. soil, hidden in American prisons. Solitary confinement is a form of torture, according to the United Nations and United States legal organizations such as the Center For Constitutional Rights (CCR)
CCR explains solitary confinement is a torturous barbaric form of repression:
In the early nineteenth century, the U.S. led the world in a new practice of imprisoning people in solitary cells, without access to any human contact or stimulation, as a method of rehabilitation. The results were disastrous, as prisoners quickly became severely mentally disturbed. The practice was all but abandoned.

Over a century later, it made an unfortunate comeback. Instead of torturing prisoners with solitary confinement in dark and dirty underground holes, prisoners are now subjected to solitary confinement in well-lit, sterile boxes. The psychological repercussions are similar.

Today, tens of thousands of individuals across the country are detained inside cramped, concrete, windowless cells in a state of near-total solitude for between 22 and 24 hours a day. The cells have a toilet and a shower, and a slot in the door large enough for a guard to slip a food tray through. Prisoners in solitary confinement are frequently deprived of telephone calls and contact visits. "Recreation" involves being taken, often in handcuffs and shackles, to another solitary cell where prisoners can pace alone for an hour before being returned to their cell.
Ever since solitary confinement came into existence, it has been used as a tool of repression. (Center For Constitutional Rights)
In the Christian U.S., daily, up to 100,000 people are tortured through solitary confinement alone. Many of those are youth. Solitary confinement targets prisoners of color most severely, reinforcing oppressive and unconscionable patterns of racism in the Christian United States.
No Muslim country uses solitary confinement torture as the United States.
"No other country in the world uses solitary confinement as much as the U.S.," reports the Human Rights Coalition.
But we must be careful around Muslims because they are prone to kidnapping Americans for money
Perhaps here, again, Muslims must be careful of American Christians?
In 2010 the United States ranked sixth in the world for kidnapping for ransom, according to available statistics — and that's after Colombia, Italy, Lebanon, Peru, and the Philippines. All of those are Christian countries – except one, Lebanon.
In 2009, Phoenix, Arizona reported over 300 cases of kidnapping. If true, that would have been the highest rate of any US city and second in the world only to Mexico City, another Christian city.
According to the department of justice, kidnapping makes up 2% of all reported violent crimes against juveniles in the United States, not in Muslim nations.
According to a 2003 Domestic Violence Report in Colorado, out of a survey of 189 kidnapping incidents, most victims, usually white females, are taken from their residence by a present or former spouse or significant other.
'But Muslims are rapists'
Based on United Nations data, Kyle Kim for Globalist Post created the chart below. It indicates the top ten countries with the highest incidents of reported rape.
The one nation with the strongest religious beliefs in developed nations ranks highest in reported rapes – by far. Muslim nations did not even make the top ten.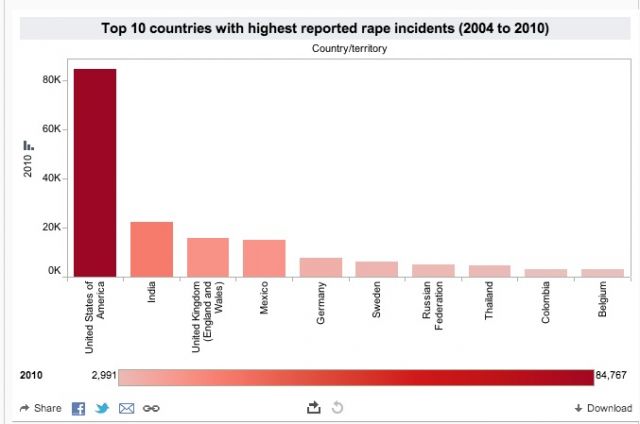 Psychopaths always blame their victims. This is a telltale hallmark of the condition.
Despite abovementioned researched and documented facts, like psychopaths, many American Christians point the finger at Muslims, the victims.
Muslim countries are today's Pentagon targets. They are subject to occupation and regime change in the post 9/11 era. U.S. Christians accuse them of all the human rights abuses that their own nation's military commits.
Should the U.S. Constitution be Changed?
Patriots claim to live by the United States Constution above all other, except their God law. Perhaps, however, what is really wanted is to change the Constitution, so it better supports a new right: the right to racism.
In today's post-9'11 war-on-terrorism era, at least the right to Islamophobia is needed: a phobia was manufactured by America's Homeland father, George Bush and Co.
A new right to at least just this form of religious persecution might be deemed necessary, according to some Christians.
Text in the First Amendment to the United States Constitution includes:
Congress shall make no law respecting an establishment of religion, or prohibiting the free exercise thereof; or abridging the freedom of speech, or of the press; or the right of the people peaceably to assemble, and to petition the Government for a redress of grievances.
The First Amendment guarantees free exercise of religion. It prevents the government from establishing a one-religion state. The Supreme Court has interpreted this as preventing the government from having any authority in religion.
Despite the above facts, Christian Islamophobia thrives in the United States. Such Chrstians help the Pentagon, Congress, and the U.S. president justify spending $1 trillion dollars a year on extreme violence: to maim, rape, torture and assassinate innocent people globally, whether their vicitms are Muslims or of any particular faith or not.
Political analyst in New York, Don De Bar explains an anti-Islamic propaganda campaign conducted in the U.S., slandering Muslims and Islam, turning Christians against Muslims with lies and fear. De Bar spoke about the billboards, such as the one in the photo above this article.
There is no reputable source documentation that there have been 19,250 deadly Islamic attacks since 9/11.
"But there's a coordinated effort in a number of cities including New York, for example at the Metropolitan Transit Authority, where suddenly there are these billboards going up that say 19,250 deadly Islamic attacks since September 11, 2001, it's not Islamophobia it is Islamorealism," De Bar said on Press TV. "This is being distributed on billboards at all of the Metropolitan New York area train stations at the same time that this is happening.
"So, there may well be, or apparently there is some sort of a coordinated public relations effort, slandering Muslims and Islam, he says, explaining to possible reasons for this:
1. "[T]here are real material reasons for people to rise up in all of the places that we're seeing these uprisings recently: Libya, Egypt, and just about every place on the list and the US has no narrative to explain those things because we supposedly brought democracy to Libya; supposedly there's democracy now in Egypt. Yemen is our pal, etc etc. So they need to have some sort of a catalyst that explains the fact of thousands and thousands of people in the street and that may be the reason to match the reality of the condition on the ground for the American public in terms of public relations.
2. "[T]his is some sort of a false flag operation, and one beneficiary of that is the Obama administration who suddenly has the presidential campaign discussion centering on foreign policy, instead of on the economy, where he's extremely weak.
Ironically, those condemning the president for not being born in the United States and being Muslim are among those, who in effect, support him the most in his drive to control Muslims and their resource-rich Middle East.
Perhaps it would behoove American Christians to contemplate a world beyond war, and what great, compassionate, holy things could be done with that $1 trillion dollars per year.
The new video below, World Without War, might help.
If that video did not help, maybe the remarkable 'Muslim" in this one below will.