(N.Morgan) I found out this information was from 2002, in the video I had presented in regards to Robin Sage.
My apologies to the readers, an error on my part.
However, when I began to explore this further, I found out that not only did Robin Sage come up during the Bastrop Texas meeting about Jade Helm, but that also a green beret was killed during those exercises, which opens up another can of worms to how dangerous these exercises can be, regardless of what the military claims.
Could this happen to a citizen now that these drills have moved into the public arena?
Jade-Helm Home Land Eradication of Local Militants, is that what Jade Helm stands for?
The logo would suggest yes, the wood shoe.
In 2002, a sheriff's deputy in North Carolina shot and killed one of the Special Forces candidates during a Robin Sage exercise.
The deputy said the soldiers and a civilian who was acting as a guerrilla seemed suspicious.
The troops were carrying weapons with no ammunition and incorrectly assumed the deputy was part of the role-playing exercise.
One of the soldiers was killed when he struggled with the deputy.
A lawsuit by the soldier's family against the sheriff's office was later settled.
It can be safely assumed that many of the U.S. special operating forces who will be taking part in Jade Helm 15 also went through Robin Sage at some point in their military career.
But, there is no record of a North Carolina governor ordering his home military forces to "monitor" the exercise.

What is Robin Sage?
From Professionalsoldiers.com on the history of Robin Sage:
"For more than 50 years, the Robin Sage exercise has been the litmus test for soldiers hoping to earn the coveted Green Beret of the Special Forces. It is during Robin Sage, held in the rural counties of North Carolina, that soldiers must put all the skills they have learned throughout the Special Forces Qualification Course to the test in an unconventional-warfare training exercise.
"In 1952, Colonel Aaron Bank, the man known as the father of Special Forces, created Robin Sage which was designed to put soldiers in 'real-world' scenarios that would test their training and adaptability. The first exercise was played out in the Chattahoochee National Forest in Georgia, and later in the Pisgah and the Uwharrie National Forests in North Carolina.
"In its earlier days, the exercise was known as Cherokee Trail and Gobbler's Woods; however, the current operation derives its name from the town of Robbins, North Carolina, a central area of operations for the exercise, and former Army Colonel Jerry Sage, a World War II veteran and an Office of Strategic Services, or OSS, officer who taught unconventional-warfare tactics."
Robin Sage facts:
The exercise is conducted over 8,500 square miles.It's conducted in a 15-county area: Alamance, Anson, Cabarrus, Chatham, Davidson, Guilford, Hoke, Montgomery, Moore, Randolph, Richmond, Rowan, Scotland, Stanly, and Union.People's_Republic_of_Pineland
Image courtesy of seanlinnane.blogspot.com
Approximately 1,000 people participate in the exercise, including students, cadre, civilian auxiliary, and military role players.Approximately 400 North Carolina residents volunteer support for each iteration of Robin Sage.Robin Sage is conducted eight times per year, and is part of the Special Forces Training pipeline.The exercise incorporates extensive cooperation and coordination with local law enforcement and governments in those counties, according to the command.Under Robin Sage, more than 100 Special Forces candidates will help 'liberate' a fictional country called 'Pineland,' with boundaries that overlap Alamance, Anson, Cabarrus, Chatham, Davidson, Guilford, Hoke, Montgomery, Moore, Randolph, Richmond, Rowan, Scotland, Stanly, and Union counties in the state.
http://sofrep.com/40934/jade-helm-15-special-forces-off-post-training/#ixzz3a9LJBYDs
http://sofrep.com/40934/jade-helm-15-special-forces-off-post-training/
While the political and MSM pendents have all eyes focused on the Southwestern states calling "Squirrel" plans have been in place for more than a decade for a similar 'exercise' from New Hampshire to Georgia over to Mississippi up to Tennessee.
The Netflix series "REVOLUTION" is a pretty good depiction of what we may be facing in America given recent developments.
So these military exercises are expanded across the Unites States, the East coast will not be ignored.
Special forces will be covering almost the entire Unites States with military "exercises".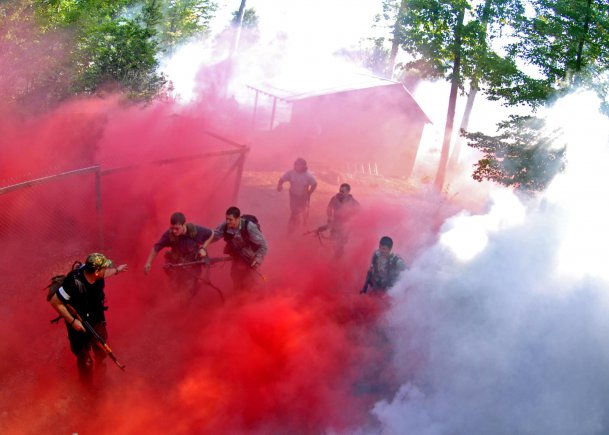 From www.army.mil.
This month, Special Forces candidates will participate in the Robin Sage training exercise, held within 15 North Carolina counties as the final test of their Special Forces Qualification Course training.
Between Oct. 13 and 24, approximately 100 of these students will participate in this exercise before graduating the course and moving on to their first assignments in the Army's Special Forces community.
Robin Sage is a two-week exercise run eight times a year, once for each class of Special Forces candidates.
These candidates are students at the U.S. Army John F. Kennedy Special Warfare Center and School, based out of Fort Bragg.
The exercise's notional country of Pineland encompasses 15 counties in North Carolina including Alamance, Anson, Cabarrus, Chatham, Davidson, Guilford, Hoke, Montgomery, Moore, Randolph, Richmond, Rowan, Scotland, Stanly and Union counties.
Throughout the exercise, Special Forces candidates and Robin Sage role-players not only conduct training missions such as controlled assaults and key-leader engagements, but also live, eat and sleep in these civilian areas.
All Robin Sage movements and events have been coordinated with public safety officials throughout and within the towns and counties hosting the training.
Residents may hear blank gunfire and see occasional flares. Controls are in place to ensure there is no risk to persons or property.
Residents with concerns should contact local law enforcement officials, who will immediately contact exercise control officials.
With the help of civilian authorities and local citizens, Robin Sage has been conducted since 1974; before that time, similar exercises were run under the names Devil's Arrow, Swift Strike and Guerrilla USA.
For the U.S. Army John F. Kennedy Special Warfare Center and School, safety is always the command's top priority during all training events.
The following measures have been implemented:
• Formal written notification to the chiefs of law enforcement agencies in the affected counties, with a follow-up visit from a unit representative.
• All civilian and non-student military participants are briefed on procedures to follow if there is contact with law enforcement officials.
• Students will only wear civilian clothes if the situation warrants, as determined by the instructors, and will wear a distinctive brown armband during these instances.
Personnel role-playing as Pineland law enforcement officers wear distinctive blue hats and armbands, as well.
• Training areas and vehicles used during exercises are clearly labeled.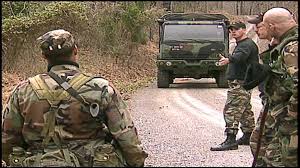 Approximately 200 military service members from units across Fort Bragg will also support the exercise.
These military members act as realistic opposing forces and guerrilla freedom fighters, also known as Pineland's resistance movement.
These troops play a critical role in the training exercise.
To add realism of the exercise, civilian volunteers throughout the state act as role-players.
Participation by these volunteers is crucial to the success of this training, and past trainees attest to the realism they add to the exercise.
Robin Sage is the U.S. military's premiere unconventional warfare exercise and the final test of over a year's worth of training for aspiring Special Forces Soldiers.
Candidates are placed in an environment of political instability characterized by armed conflict, forcing Soldiers to analyze and solve problems to meet the challenges of this "real-world" training.
During this exercise, these future Special Forces Soldiers must infiltrate areas in small groups and train guerilla forces to independently and effectively use tactical force to liberate Pineland by teaching them to communicate, move, fight and provide medical aid.
U.S. Army students who successfully complete this iteration of the Robin Sage exercise will graduate the Special Forces Qualification Course in a ceremony Nov. 1 in Fayetteville.
In addition, foreign military soldiers participating in Robin Sage and the SFQC as part of exchange programs will graduate the course and return to their nation's military.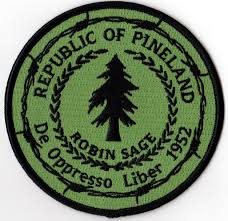 References:
http://www.army.mil/article/88618/Robin_Sage_exercise_to_run_in_North_Carolina_counties_Oct__13_through_24/
JADE HELM: "MASTERING THE HUMAN DOMAIN"-1033 Program & Exec Order 13684
https://www.youtube.com/watch?v=9M15G…
AZ Governor's Response To Resident's Concerns With Jade Helm15
https://www.youtube.com/watch?v=9crAz…
Please share this video with everyone…you have my permission to re-post and share on social media.
Research Links:
Fake Nation Tests Tomorrow's Special Forces
http://usatoday30.usatoday.com/news/m…
Robin Sage – Special Forces Training
http://www.specialforcestraining.info…
Jade Helm pdf
http://american3rdposition.com/wp-con…
Psyop Tactical Force Structure
http://en.wikipedia.org/wiki/File:PSY…
USSOCOM Psyops Workflow
http://en.wikipedia.org/wiki/File:PSY…
Manufactured Terrorism-Operation Gladio: NATO's Secret Army
http://netteandme.blogspot.com/2014/1…
Patriots of Pineland
http://www.ourstate.com/patriots-pine…
Asymmetrical Warfare Training – Atlantica
http://sofrep.com/40934/jade-helm-15-…
FEMA Region Map of US
http://www.qsl.net/afa2ts/new_regions…
Map-Peoples Republic of Pineland
http://sofrep.com/wp-content/uploads/…
Map-Atlantica & Associated Republics
http://sofrep.com/wp-content/uploads/…
Map-US States
http://www.paulabrown.net/us-map-blan…
2011 Religiosity Map
http://static.citylab.com/img/upload/…
Map-North Carolina: Compare to SOCOM Map of Pineland
http://www.paulabrown.net/us-map-blan…
Map-FEMA Districts (blank states) within FEMA Regions
http://www.paulabrown.net/us-map-blan…