At 100, The Secret of David Rockefeller's Longevity
June 17, 2015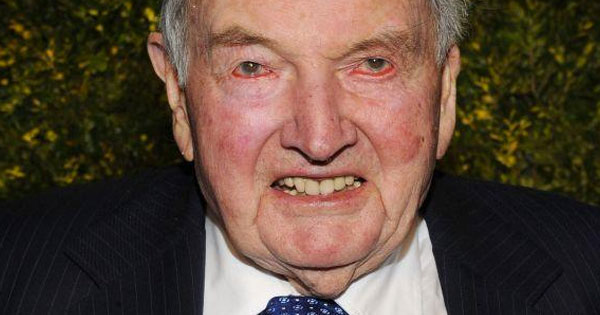 (David Rockefeller did turn 100 on June 12, and we can only speculate on how he did it.)
Organ transplants.
Cannibalizing the dead.
Fitting for one of
the world's chief Satanists, responsible for the
deaths of millions.
by Henry Makow Ph.D.
Last week (June 12), David Rockefeller celebrated his 100th birthday without much ado.
He said the secret of his longevity was leading "a simple life."
"People often ask me this question and I always answer the same thing: Love life. Live a simple life, play with your kids, enjoy the things you have, spend time with good loyal friends."
He might have added that having a heart transplant every 6-7 years might have been a factor.
Rockefeller has had six heart transplants since 1976 when a car accident led him to suffer a
heart attack. He has also had two kidney transplants in 1988 and 2004.
Just two months ago, the billionaire "philanthropist" had his sixth heart transplant.
for setting me straight. (Check out the source and then look at their homepage. I mistook worldnewsdailyreport for world news daily.) I could find no evidence Rockefeller has had any transplants.
The famous quotation below, however, is not an hoax. The rest is
good for a chuckle and a reminder not to be credulous.
- See more at: http://henrymakow.com/2015/06/the-secret-of-david-rockefeller-longevity.html#sthash.FZtVODa5.dpuf