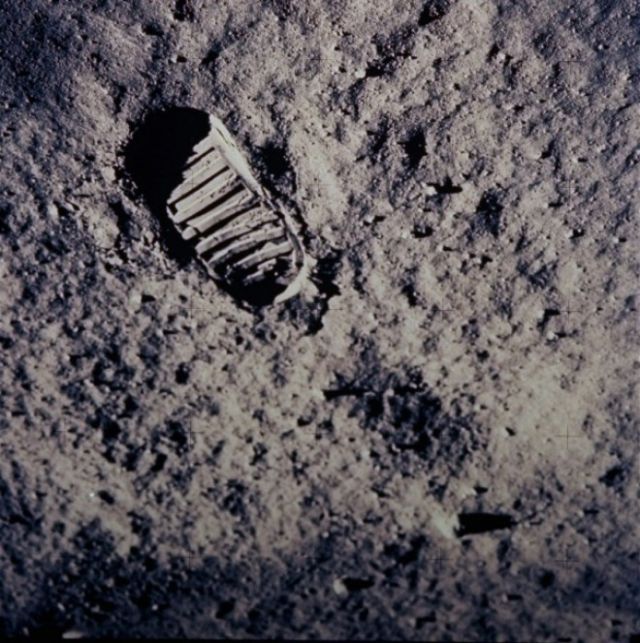 In this July 20, 1969, file photo, a footprint left by one of the astronauts of the Apollo 11 mission shows in the soft, powder surface of the moon. (AP Photo/NASA)
CHECK OUT OTHER STORIES BY THE UN-SILENT MAJORITY HERE:
BE SURE TO LIKE ME ON: FACEBOOK | TWITTER
With all the recent activity in the heavens, it's easy to understand why people are getting all flustered over what really happened to the Apollo Astronauts during their trip to the moon. Recently there have been a ton of disclosures brought to light. What is believed to have been a Secret U.S. Military Spy Plane (TR-3A) Was Allegedly Videotaped in Space (Video), the Chinese have gradually been releasing photos of massive structures on the moon from their rover on the surface, and perhaps most intriguing is footage from a new documentary on the moon that shows video of a massive white tower structure perhaps 5 MILES HIGH that was filmed on the Moon's surface during the Apollo 16 flight, along with other footage that has recently come forth from the archives of NASA. It's easy to understand why the Russians might be a bit nervous.
On Coast to Coast the other night, former space science museum curator and NASA consultant, Richard C. Hoagland, reacted to news of Russia's investigation into the U.S. moon landings. In an op-ed published by Russian newspaper Izvestia, Investigative Committee spokesman Vladimir Markin suggested the inquiry could reveal new insights into those historic space missions. In the piece Markin writes, "…all of these scientific — or perhaps cultural — artifacts are part of the legacy of humanity, and their disappearance without a trace is our common loss." (Moscow Times translation) Hoagland keyed in on the phrase "cultural artifacts" and proposed Markin was speaking about ancient extraterrestrial equipment and photographs of ruins brought back by the Apollo astronauts.
IF THEY MEANT "ROCKS," THEY'D HAVE SAID ROCKS!
"They're claiming NASA has hidden crucial data, information, rocks, samples, and cultural artifacts," he said, pointing to Russian president Vladimir Putin as the force behind this inquiry. "[He's] driving a dagger through the heart of the deepest most extraordinary secret of the West," he added. According to Hoagland, there are those in power who would do almost anything, even up to losing a major American city to nuclear terrorism, to keep the advanced technology discovered on the moon a secret. Hoagland revealed he has heard from a reliable intel source about reverse-engineered torsion field technology which can actually suppress nuclear weapons.
Hoagland reviewed a series of images he provided for his interview. In a composite graphic showing the lunar surface as seen by China's Chang'e-3 lander and four Apollo missions, Hoagland observed what appears to be a glistening geometric structure. He also commented on the "lights" seen in images of the asteroids taken by NASA's unmanned DAWN spacecraft. The lights are reflections several miles long which lie in specific geographic placement on the surface of Ceres at precisely at 19.5 degrees, which suggests to Hoagland someone built them. Author Joseph Farrell joined the conversation in the latter part of the second hour. According to Farrell, Russia is throwing its geopolitical weight behind what really happened during the Apollo moon landings. "This simply is not going to go away," he said.
BELOW IS SOME FOOTAGE OF THE GIANT TOWERS!
BE SURE TO LIKE ME ON: FACEBOOK | TWITTER
BE SURE TO LIKE ME ON: FACEBOOK | TWITTER
In a recent post I talked about a documentary produced by the Sci-Fi channel titled, Aliens on the Moon: The Truth Exposed, and in that documentary even former Apollo Astronauts Buzz Aldrin and Edgar Mitchell weigh in on what they SAW on the moon and in space! The documentary is filled with authentic NASA footage that will make your head spin!
Continuing to add to the mystery of what is going on in the heavens, I recently wrote about the 3 MILE HIGH pyramids that were just filmed on the dwarf planet Ceres located between Mars and Jupiter as NASA's Dawn spacecraft makes its descent toward the surface. The Dawn Spacecraft is scheduled to get closer to the surface of the dwarf planet than our own space station is to earth! Finally, there is still the question that has been haunting scientists for almost 100 years: What is the 13,000 year old satellite orbiting earth (otherwise known as the Black Knight) that has been transmitting a radio signal since at LEAST 1899 when Nikola Tesla was the first man to "intercept" the signal after building a high-voltage radio device in Colorado Springs. Since then, the USA and Soviet Union have shown particular interest in this "unidentified space object"
WHATEVER IS GOING ON UP THERE CERTAINLY HAS PEOPLE CONCERNED!
This is the op-ed Hoagland referes to:
The increasingly tense relationship between the United States and Russia might be about to face a new challenge: a Russian investigation into American moon landings.
In an op-ed published by Russian newspaper Izvestia on Tuesday, Vladimir Markin, a spokesman for the government's official Investigative Committee, argued that such an investigation could reveal new insights into the historical space journeys.
According to a translation by the Moscow Times, Markin would support an inquiry into the disappearance of original footage from the first moon landing in 1969 and the whereabouts of lunar rock, which was brought back to earth during several missions.
"We are not contending that they did not fly [to the moon], and simply made a film about it. But all of these scientific — or perhaps cultural — artifacts are part of the legacy of humanity, and their disappearance without a trace is our common loss. An investigation will reveal what happened," Markin wrote, according to the Moscow Times translation.
The op-ed is unlikely to raise worries among NASA officials. In 2009, NASA itself admitted that it had erased the original video recordings of the first moon landing among 200,000 other tapes in order to save money, according to Reuters. However, NASA has since restored copies of the landing, using recordings from other sources such as CBS News. The organization says that due to restoration efforts, the recordings' quality is superior to the original one that has gone missing.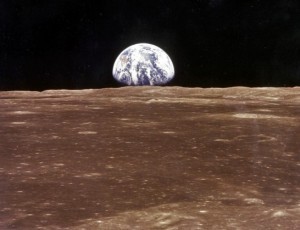 This file photo from July 19, 1969, released by NASA, shows the Earth as seen from the Apollo 11 command module as it orbits the Moon. (NASA)
READ THE REST OF THE STORY AT RIGHT.IS HERE:
CHECK OUT OTHER STORIES BY THE UN-SILENT MAJORITY HERE:
BE SURE TO LIKE ME ON: FACEBOOK | TWITTER
~ THE UN-SILENT MAJORITY ~