It is Lagarde vs Merkel
To Help US Veterans Charity, George W. Bush Charged $100,000
Jul 8, 2015, 1:10 PM ET
ABC News Chief Investigative Correspondent
George W. Bush Charged Wounded Veterans Charity $100,000 For Speech
Former President George W. Bush charged $100,000 to speak at a charity fundraiser for U.S. military veterans severely wounded in Iraq and Afghanistan, and former First Lady Laura Bush collected $50,000 to appear a year earlier, officials of the Texas-based Helping a Hero charity confirmed to ABC News.
The former President was also provided with a private jet to travel to Houston at a cost of $20,000, the officials said.
The charity, which helps to provide specially-adapted homes for veterans who lost limbs and suffered other severe injuries in "the war on terror in Iraq and Afghanistan," said the total $170,000 expenditure was justified because the former President and First Lady offered discounted fees and helped raise record amounts in contributions at galas held in 2011 and 2012.
"It was great because he reduced his normal fee of $250,000 down to $100,000," said Meredith Iler, the former chairman of the charity.
However, a recent report by Politico said the former President's fees typically ranged between $100,000 and $175,000 during those years.
One of the wounded vets who served on the charity's board told ABC News he was outraged that his former commander in chief would charge any fee to speak on behalf of men and women he ordered into harm's way.
"For him to be paid to raise money for veterans that were wounded in combat under his orders, I don't think that's right," said former Marine Eddie Wright, who lost both hands in a rocket attack in Fallujah, Iraq in 2004.
"You sent me to war," added Wright speaking of the former President. "I was doing what you told me to do, gladly for you and our country and I have no regrets. But it's kind of a slap in the face." MORE
http://abcnews.go.com/Politics/us-veterans-charity-george-bush-charged-100000/story?id=32251253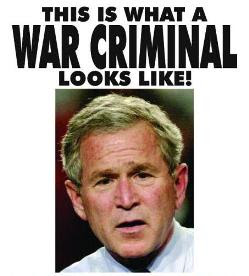 400,000 Brain-Injured Veterans a Fair Price for American Empire
In addition to the trillion dollar price tag, 600,000+ dead civilians, 1 million orphans and 6,100 dead American soldiers, we can now add 400,000 brain-injured veterans to the cost of our latest wars of aggression:
Independent experts suggest that more than 400,000 American service members will return from the wars in Iraq and Afghanistan with traumatic brain injuries that could lead to severe personality disorders, and little is being done to help them.
Having wasted countless billions – trillions, in all likelihood – on our five concurrent wars and exposed hundreds of thousands of American soldiers to the dangers of the battlefield, our gifted military leaders have identified the true culprit behind our reckless spending: health care for soldiers.
Afflicted veterans have every reason to expect their government to continue to treat them as expendable waste, as the Pentagon actively opposes formal diagnoses of the condition, known as mild traumatic brain injury (mTBI) and denies the validity of treatment that its own researchers have said could help. Defense Secretary Robert Gates called for a cut in the military's $50-billion-a-year health budget, saying "health care costs are eating the Defense Department alive," according to a Huffington Post article in January.
And that in a nutshell is the very essence of American empire. Exploit the little guys for all they're worth, using them in any way necessary to reap maximum profits. Because war is, after all, little more than a business venture for the giant corporate entities within the military-industrial complex. Just as the private sector throughout America has little interest in providing health care for the workers it underpays and overworks, so too does our for-profit military increase it profits for its shareholders by cutting corners on such luxuries as medical care for the severely wounded. MORE
Those who would give up essential Liberty, to purchase a little Temporary Safety, deserve neither Liberty nor Safety. (1755)
~ Benjamin Franklin, Founding Father, great American Patriot
The Declaration of Independence
IN CONGRESS, July 4, 1776
The unanimous Declaration of the thirteen united States of America,enhanced excerpt
But when a long train of abuses and usurpations, pursing invariably the same Object evinces a design to reduce them under absolute Despotism, it is their right, it is their duty, to throw off such Government, and to prove new Guards for their future security. (1776) ~ Thomas Jefferson, Founding Father, great American Patriot, author of the Declaration of Independence and 3rd U.S. President
NESARA- Restore America – Galactic News
Source:
http://nesaranews.blogspot.com/2015/07/hot-explosive-breaking-news-it-is_12.html