PANIC ON WALL STREET:
US STOCKS SUFFER THEIR WORST WEEK SINCE 2011 AMID FEARS OF GLOBAL SLOWDOWN
The S&P 500 suffered its biggest daily percentage drop in nearly four years

Fears of a China-led global slowdown continues to rattle investors

The Dow plummeted 531 points, concluding its worst week since 2011
Published:

15:19 EST, 21 August 2015 |

Updated:

17:58 EST, 21 August 2015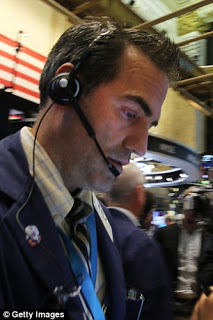 The Dow Jones industrial average has plunged more than 530 points and is in a correction amid a global sell-off sparked by fears about China's slowing economy.
Oil tumbled

below $40 per barrel for the first time since the financial crisis.
The Dow Jones industrial average fell

to 16,459.75, and ended down 3.1 percent on Friday.
The Standard & Poor's 500 index dropped

64.84 points, or 3.2 percent, to 1,970.89.

The Nasdaq slid

171.45 points, or 3.5 percent, to 4,706.04.
The selling began in Asia, then spread to Europe, with major indexes there losing more than 2 percent. Gold, a traditional haven for fearful investors, rose for a second day.
Markets began falling last week

after China announced a surprise devaluation of its currency, the yuan.
Investors interpreted the move as a sign
the slowdown in the world's No. 2 economy could be more extreme that they had thought.
On Friday, they got more bad news

: A survey showed the manufacturing sector on the mainland continues to contract.
Investors are also worried about more turmoil in Greece after the resignation of its prime minister.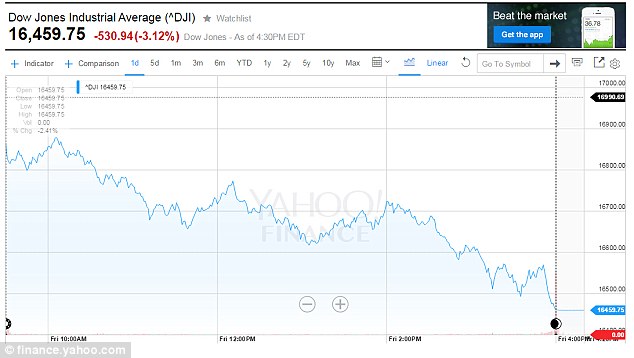 Socres on the doors: A screen above the floor of the New York Stock Exchange shows the closing numbers. The Dow Jones industrial average fell to 16,459.75, and ended down 3.1 percent on Friday. The Standard & Poor's 500 index dropped 64.84 points, or 3.2 percent, to 1,970.89
A searing six-year rally in United States stocks had advanced into the summer months, shrugging off challenges like the dispute over Greece's debt, but in the last two weeks, world markets tumbled as investors grew increasingly concerned about developments in China, which unexpectedly devalued its currency last week, and the outlook for the economies of other large developing countries.
As the selling gathered steam Friday afternoon, some benchmark indexes were at or near 10 percent below their recent peaks — a 'correction' in Wall Street speak.
The Dow fell into correction mode, down 10% from its most recent high point on May 19.
The S&P 500 was also down 5.7% for the week, its worst weekly performance since 2011, while the Nasdaq fell 6.8%, also in correction territory.
Overseas stock markets' losses just as bad, if not worse, with some indexes in China and the U.K. stock market all now in correction.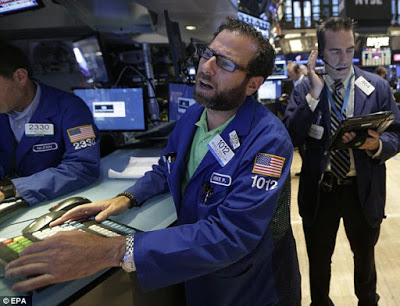 The worry: 'Investors are wondering if growth isn't coming from the U.S.
or China, where is it going to come from?' said Tim Courtney,
CIO of Exencial Wealth Advisors. 'This is about growth'
The latest red flag came Friday morning from China. The government reported that its manufacturing activity — a key sign of economic performance — hit a six-year low in July.
After the government devalued its currency last week, Wall Street has become extra worried about the China slowdown.
Although Chinese officials say the economy grew 7% earlier this year, many experts wonder if it's worse.
'There's nobody that really believes that China is growing at 7%,' said Tim Anderson, managing director at MND Partners in New York told CNN Money.
'They're afraid to say to what degree their economy has really slowed down.'
Crude oil prices also fell below the key $40 a barrel level. A year ago a barrel of oil was about $100.
Oil is a lifeline of economic growth for many developing countries, which are also seeing their currencies lose value because of their economic exposure to China.
Brazil's currency, the real, has fallen 9% against the dollar in just the past 4 weeks. Colombia, Chile, Vietnam and Indonesia have also seen significant currency drops against the dollar.

http://www.dailymail.co.uk/news/article-3206508/Panic-Wall-Street-stock-suffer-worst-week-2011-amid-fears-global-slowdown.html#ixzz3jYTdT5YI
NESARA- Restore America – Galactic News
Source:
http://nesaranews.blogspot.com/2015/08/panic-on-wall-street-fears-of-global.html