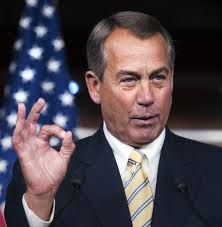 EXCLUSIVE:GOP PUSH AGAINST BOEHNER LEADERSHIP REACHES CRITICAL NUMBER
by Matthew Boyle
14 Sep 2015
Washington, DC
Twenty-nine Republican legislators now oppose House Speaker Rep. John Boehner's (R-OH) re-election, so Breitbart News can confirm he can only continue as the leader if Democrats vote for him or if he pulls some spectacular maneuver.
Before this report, there were 28 GOP members publicly opposed to Boehner's re-election. Twenty-five of them voted against Boehner at the beginning of the Congress, and three more have come out in public since. The additional conservative House member—who at this time wishes not to be publicly named for leverage purposes in forthcoming negotiations with leadership—has confirmed that if and when a vote on Boehner's future comes up this fall, he will vote against Boehner's retention.
The number of votes against Boehner "is easily into the 30s, and could well be into the 40s or even up to 50," the GOP member said. "I think the votes are there." "I stand with virtually everyone in the Freedom Caucus and many outside the Freedom Caucus, which is if a vote to vacate the chair ever came up I'd have to vote for it," the Republican member, who is very connected in the conference and will probably bring several more votes with him, told Breitbart News in an interview.
"There's just too much frustration with the Speaker. The Speaker has not done his job. He doesn't fight for the principles we think are important. Our constituents are very frustrated."
Rep. Mo Brooks (R-AL), a conservative who has supported Boehner every time he's voted for Speaker, is skeptical of the effort. "You have to have 124 Republican votes to have a reasonable chance of success," Brooks argued in an interview with Breitbart News at the Stop Iran Rally. "I think people suggesting 30 or 40 or even 50 Republicans supporting a motion to vacate the chair are misguided. They haven't done the math. They haven't talked to Democrats. I think there is a reasonable probability that Democrats will not vote [against Boehner] —that they will abstain—and in that case, if all Democrats abstain, you have to have 124 [GOP] votes for a motion 'to vacate the chair' to be successful."
Brooks worries that a replacement for Boehner might push through an amnesty bill—and do other things that are not conservative. He credits Boehner with eventually undercutting the "Gang of Eight" amnesty bill last Congress, following its passage through the Senate, even though Boehner wants to do an amnesty as much as anyone else.
The newest member this anti-Boehner coalition told Breitbart News that for now he wants to remain anonymous because it will help him and the rest of the conservatives in their negotiations with leadership on major issues, such as Planned Parenthood defunding, the Iran deal, the debt ceiling and spending bills.
But there's nothing that could budge his vote when it comes to Boehner's future, the member said. "There's going to be a point down the road when we all come together on that," the GOP member told Breitbart News.
"There's a benefit to us knowing that information and the speaker not knowing that information. We can make better calculations by knowing and he not knowing—I know that the press always wants to keep whip counts and what not, I don't blame you for that. The idea here is the best time to approach this is when we fail to defund something or to stand up for something that is very, very important, ideal and principles," the member said.
"Many of us think this issue with Planned Parenthood and funding the government could be that moment. We don't know. But we know there's going to be some tough issues to tackle, debt ceiling and all of that. Any of these could well trigger an event and many of us again may not be ready to take that vote but if we are forced to take the vote we have to do what we have to do."
The following members comprise the original 28: Reps.
Rep. Mark Meadows (R-NC), Rep. Mick Mulvaney (R-SC),

http://www.breitbart.com/big-government/2015/09/14/exclusive-gop-push-against-boehner-leadership-reaches-critical-number/

NESARA- Restore America – Galactic News
Source:
http://nesaranews.blogspot.com/2015/09/gop-push-against-boehner-leadership.html