Wars create refugees.
At least 4 million Syrians are already refugees.
There are 5 million Palestinian refugees.
And, Israel will want to promote anti-semitism in Europe and America, so that Jews will be driven out of Europe and America and into Greater Israel.
ISIS is one of the tools being used by Israel. / The Syrian Refugee Crisis
What is the solution to the problem?
Recognise that Israel, and its supporters, are the enemy.
How do the top Jews get away with murdering so many people?
The Jewish Mafia likes to control everything, including the Catholic Church, the Protestant churches, and Islam.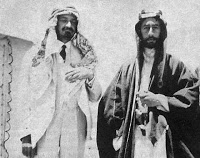 Haim Weizman (left) and Prince Feisal, 1918

Islam is based primarily on the Jewish religion.
Initially, Muhammad saw the Jews and Christians as friends.
But, the Jews were soon at war with the Moslems.
All the top Islamists now work for Israel.
The Saudi monarchs and their Wahhabi/Salafi religion are Jewish.
According to Wayne Madsen:
(
I Understand and I wish to Continue
 – 
The 'DONMEH' (CRYPTO JEWS): House of Saud Connections
)
The Turkish Ottoman Empire, which included key parts of Saudi Arabia, had lots of crypto-Jews (Jews pretending to be Moslems)
The Saudis follow the Wahhabi form of Islam.
The founder of the Saudi Wahhabi sect of Islam, Muhammad ibn Abdul Wahhab, was a crypto-Jew.

Ali, Kid in Najran – Saudi Arabia, by Eric Lafforgue
An Iraqi intelligence report, dated 2002, and released in 2008 by the US Defense Intelligence Agency, points to the Jewish roots of the Wahhabi (Islamist) form of Islam.
The purpose of the Wahhabi sect was to create extremist Moslems and pave the way for a Jewish state in Palestine.