THE MILLENNIUM REPORT: Reporting the Most Important News in the World Today
CAPTAGON: Tons Of Amphetamine Drugs Smuggled Into Syria To Fuel ISIS Terrorism
TMR Editor's Note:
There is only one reason why tons of captagon are being smuggled into the Mideast theatre of war. Captagon is "an amphetamine widely used among ISIS fighters in the Middle East" which gives the terrorists a false sense of courage toward facing their own death and fearlessness about sustaining serious bodily injury.
Without this powerful mind-altering drug many ISIS mercenaries would never even venture onto the desert battlefields dotting the Middle Eastern landscape. The Islamic State terrorists would have neither the insensitivity to face war's barbarism nor the temporary insanity necessary to commit so many savagely brutal acts against innocent people.
For these and other reasons the many Western-backed mercenaries being systematically bused into the Levant by the Zio-Saudi-Anglo-American coalition are promised a steady supply of captagon. Only in this way have young Muslim and Arabic boys been transformed into crazed, maniacal killers ready to do the bidding of their Western masters.
The following articles offer a glimpse into the ever-present underworld of drug-running which provides the necessary illicit drugs that have fueled the Middle Eastern wars over many years. These drugs are the key; without them there would be significantly less participation in these unprovoked wars of aggression against legitimate governments. Only deceived and drug-addled mercenaries would ever fight in such odious and unrighteous wars.
~~~~~~~~~~~~~~~~~~~~~~~~~~~~~~~~~~~~~~~~~~~~~~~~~~~~~~~~~~~~~~~~~~~~~~~~~~~~~~~~~~~~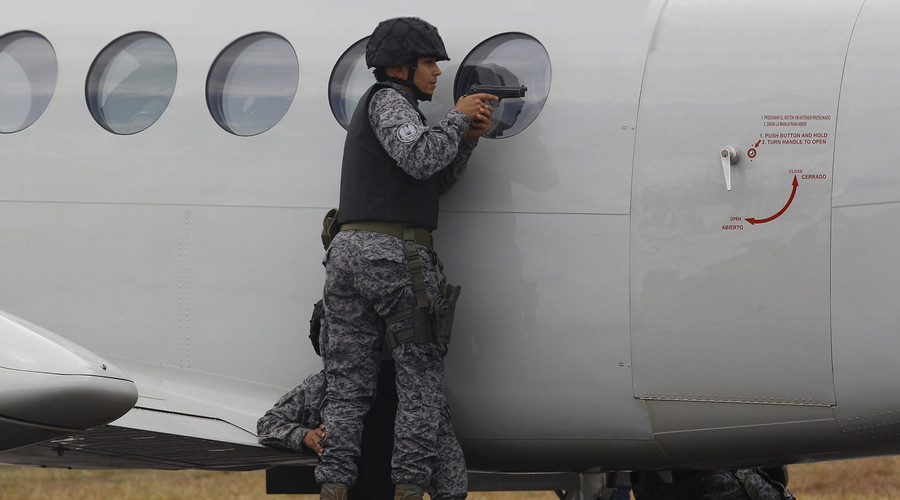 Saudi prince arrested on private plane with 2 tons of drugs – reports
Lebanese security forces are interrogating a Saudi prince on charges of carrying drugs on his private plane after they allegedly retrieved 2 tons of narcotics from the aircraft, local media reported.
Abd al-Muhsen bin Walid bin Abd al-Aziz Al Saud was detained on Monday in Beirut's Rafik Hariri International Airport.
The prince was about to conduct a flight on his private plane to Saudi Arabia.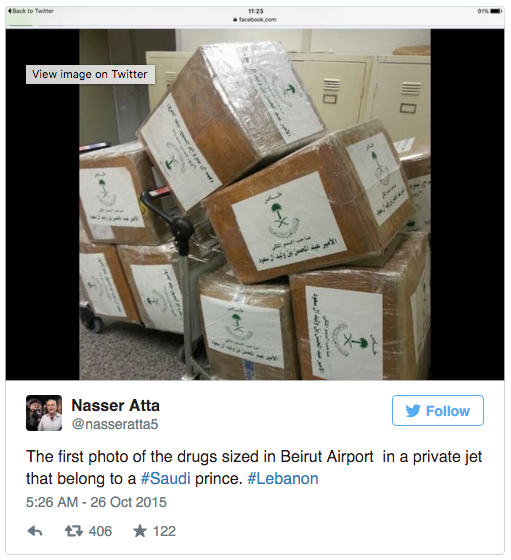 Lebanese TV station Al Mayadeen also said that 40 packages of drugs, weighing 2 tons in total, were confiscated.
The prince was arrested and taken in for questioning along with four other people.
READ MORE: Saudi prince arrested in LA over sex crime suspicions after 'bleeding woman' escapes his compound
According to Press TV they were charged with attempting to smuggle pills of captagon, an amphetamine allegedly widely used among fighters in the Middle East.
https://www.rt.com/news/319727-saudi-prince-drug-arrest/
~~~~~~~~~~~~~~~~~~~~~~~~~~~~~~~~~~~~~~~~~~~~~~~~~~~~~~~~~~~~~~~~~~~~~~~~~~~~~~~~
Two tons of IS drugs, including Captagon, seized in Western Syria, NATO connection
Focus Information Agency
General Directorate of Ports in the Syrian coastal province of Latakia seized about two tons of narcotics near the beach of Cape of Ras al-Bassit, local media reported, as cited by Prensa Latina.The confiscated drugs, which was floating in the sea in leather bags, consisted of more than 800 kilograms of hashish paste and nearly six million tablets of Captagon, the drug of choice by the members of the terrorist group Islamic State (IS).
The general director of Ports of Latakia, Maitham al-Yousuf, told reporters that the stash was spotted on Saturday by a patrol that ran along the beach, about 400 kilometers northwest of the capital. For his part, Latakia Governor Ibrahim Khader al-Salem accused the countries that sponsor terrorism against Syria of being responsible for the drug.
"It is a desperate attempt at destabilizing national security and sabotaging the minds of young people by preventing them from exercising their normal life and trying to continue their education," said the governor.
According to experts, the North Atlantic Treaty Organization (NATO) began production of Captagon in 2011 in a laboratory in Bulgaria and it is now [also] manufactured elsewhere in the world.
Part of the profits from the illegal trade in Captagon, experts say, is used to finance armed extremist groupsthat are trying to overthrow the Syrian government led by President Bashar al-Assad.
Captagon, the drug used by the jihadists with the Islamic State to get tough and fearless.
"Captagon is a synthetic drug created in a laboratory of NATO in Bulgaria. Some of the more suspicious people will probably see the latest evidence proving the participation in some of the super-powers and NATO countries in the establishment and expansion of the Islamic State phenomenon," Tunisie numerique writes.
Comment: Captagon or fenethylline (also known as Biocapton or Fitton) is a chemical linkage of amphetamine and theophylline producing a psychostimulant. Invented in 1961, it was used as a milder alternative to amphetamines but subsequently became illegal in most countries in 1986, as demanded by the WHO. Fenethylline is metabolized by the body to form two drugs: amphetamine and theophylline, both of which are active stimulants themselves. The physiological effects therefore result from a combination of all three drugs. Fenethylline is a popular drug, allegedly used by militant groups in Syria and Lebanon. According to some leaks, militant groups would also export the drug in exchange for weapons and cash. A report from 1994 stated that Bulgaria [was at that time] the largest producer of fenethylline (Captagon) and amphetamines for supply to the Middle East and some African countries.
The Tunisian news website explains that after its production the Captagon goes to the Islamists in the form of small white pills.
Tunisie numerique recalls that before the Syrian conflict the drug was used in other conflict zones, adding the former Libyan leader Muammar Gaddafi accused the Islamists in Libya of taking hallucinogens. Apart from deadening the feeling of fear and pain, the Captagon also has hallucinogenic effects.
Comment: Captagon (Fenetylline hydrochloride) is an amphetamine that causes euphoria and numbs the pain. Mixed with other drugs like hashish, it constitutes the basic feed ration for the jihadists. Combatants neither feel their own suffering nor the suffering they inflict on others. Therefore, they can commit all sorts of atrocities, laughing. Manufactured in 2011 by NATO in a laboratory in Bulgaria, Captagon is now manufactured throughout the Middle East, including the Syrian territory. - Captagon is jihadists' main weapon
http://www.sott.net/article/296955-Two-tons-of-IS-drugs-including-Captagon-seized-in-Western-Syria-NATO-connection
~~~~~~~~~~~~~~~~~~~~~~~~~~~~~~~~~~~~~~~~~~~~~~~~~~~~~~~~~~~~~~~~~~~~~~~~~~~~~~~~
Captagon® is jihadists' main weapon
voltairenet.org
While the Western and Gulf media lead people to believe that jihadists get their nourishment primarily from the verses of the Koran, the seizures made in Syria show that in reality, they feed on Captagon.
In two days, the Syrian Arab Army took hold of a car full of Captagon tablets and a tank truck containing a ton.
Captagon (Fenetylline hydrochloride) is an amphetamine that causes euphoria and numbs the pain. Mixed with other drugs like hashish, it constitutes the basic feed ration for the jihadists. Combatants neither feel their own suffering nor the suffering they inflict on others. Therefore, they can commit all sorts of atrocities, laughing.
Contrary to popular belief, the jihadists are not driven by religious concerns, but by the quest of immediate pleasures. They are mainly recruited among hooligans and prisoners.
Manufactured in 2011 by NATO in a laboratory in Bulgaria, Captagon is now manufactures throughout the Middle East, including the Syrian territory
http://www.voltairenet.org/article183125.html
CAPTOGEN: Tons Of Amphetamine Smuggled Into Syria To Fuel ISIS Terrorism | The Millennium Report
—
THE MILLENNIUM REPORT: Reporting the Most Important News in the World Today