Story Views


Now:
Last Hour:
Last 24 Hours:
Total:
Hillary Clinton – Not Telling Us The Truth… Again
Wednesday, October 14, 2015 5:37
% of readers think this story is Fact. Add your two cents.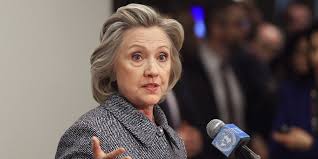 HILLARY CLINTON SLAMMED FOR LYING TO US ….. AGAIN!
The Republican National Committee has developed a hard-hitting new ad just in time for the first Democrat debate on Tuesday night.
This latest ad uses Clinton's own words to prove that she is a scheming liar who would do and say anything to get elected.
The ad is called "

Not telling us the Truth… Again

" and it features Hillary Clinton saying that she "did not email classified material to anyone." The ad continues by providing the video evidence of that lie (and others) being proven false by the media and investigators.
RNC Chairman Reince Priebus reinforced the GOP's argument that Clinton is a corrupt and contemptible candidate saying, "Hillary Clinton's growing scandals and the multiple investigations into the potential mishandling of classified info is a mess of her own creation. As Democrats debate in Vegas, the RNC will continue to remind voters, including Democrats, why the vast majority of Americans find Clinton to be dishonest and untrustworthy."
The RNC has produced a brilliant ad that serves to reinforce the preconceived notions that the vast majority of Americans already have for Hillary Clinton. Every poll taken over the last few months shows that the overwhelming majority of voters believe Hillary Clinton is a liar who cannot be trusted.
We know this about her… now it's time for America to do something about it. Tell Hillary we won't be electing her as President. Tell the Democrat Party to stop asking us to vote for corrupt and immoral candidates. Vote conservative in 2016.
Not Telling Us The Truth… Again – TV
http://godfatherpolitics.com/25686/hillary-clinton-slammed-for-lying-to-us-again/
NESARA- Restore America – Galactic News
Source:
http://nesaranews.blogspot.com/2015/10/hillary-clinton-not-telling-us-truth.html