by Deb Jordan, The Pete Santilli Show & The Guerilla Media Network
In the 2nd hour of the Pete Santilli Show, J.B. Williams, advocate for the constitution, details his quest for articles of impeachment against Barack Obama.
About J.B. Williams –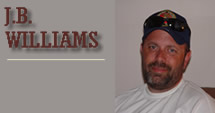 JB Williams is a writer on matters of history and American politics with more than 3000 pieces published over a twenty-year span. He has a decidedly conservative reverence for the Charters of Freedom, the men and women who have paid the price of freedom and liberty for all, and action oriented real-time solutions for modern challenges. He is a Christian, a husband, a father, a researcher, writer and a business owner. He is co-founder of action organizations The United States Patriots Union, a civilian parent organization for The Veteran Defenders of America. He is also co-founder of The North American Law Center, a citizen run investigative legal research and activism organization preparing to take on American's greatest legal battles. Williams receives mail at: [email protected]
Co-Founder of NALC
Web site 1: www.PatriotsUnion.org
Web site 2: www.VeteranDefenders.org
Watch Interview here:
The Pete Santilli Show broadcasts live at 8pm EST – 11pm EST Monday Thru Friday and 2pm-4pm EST on Saturday.
Be sure to tune in to the Pete Santilli Show daily at 5pm-8pm PST / 7pm-10pm CST / 8pm-11pm EST. Pete & his co-host Deborah Jordan broadcast daily for 3 hours to discuss breaking news headlines, and interview some of our nation's most interesting patriots & controversial guests.
Do you like this report? Please "LIKE", share and recommend this story..
Fair Use Notice: This article contains some copyrighted material whose use has not been authorized by the copyright owners. We believe that this not-for-profit, educational, and/or criticism or commentary use on the Web constitutes a fair use of the copyrighted material (as provided for in section 107 of the US Copyright Law. If you wish to use this copyrighted material for purposes that go beyond fair use, you must obtain permission from the copyright owner. Fair Use notwithstanding we will immediately comply with any copyright owner who wants their material removed or modified, wants us to link to their web site, or wants us to add their photo.