The South Carolina police officer who fatally shot 19-year-old Zachary Hammond at a fast food restaurant parking lot will not face any charges, prosecutors announced on Tuesday. At the same time, dash cam footage of the police encounter was just released, and Hammond's family argues that the video contradicts Seneca Police Lt. Mark Tiller's account of the shooting.
Tiller shot and killed Hammond during a pot bust turned tragic on July 26. The teen was caught up in a sting operation after his friend, who was in the car with him, accidentally sent a text message offering to sell a small amount of marijuana to a South Carolina state trooper, who in turn notified the Seneca Police Department.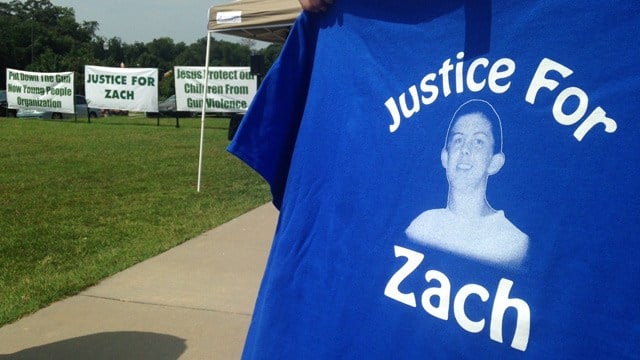 The video shows Tiller pulling up to Hammond's parked car from behind, getting out of the patrol car, and drawing his gun. He gets close enough to the car to place his hands on the hood, but Hammond attempts to drive away, slowly backing up as the officer approaches the driver's side door. Less than six seconds after exiting his patrol car, Tiller fires two shots, killing Hammond.
Tiller claimed that he felt his life was in danger because he feared Hammond would run him over, prompting him to shoot.
Tenth Circuit Solicitor Chrissy Adams said that while Tiller violated protocol by approaching Hammond's car rather than staying behind his own car door, that does not constitute a criminal violation.
"After careful consideration of the facts of the case, a thorough review of the state investigation, and an extensive review of all applicable law, I have determined that no criminal charges should be filed against Lt. Mark Tiller at the state level," Adams said in a statement.
An attorney for the Hammond family, Eric Bland, says that the video clearly shows that the officer was not in danger, that the teen posed no risk of running Tiller over with his vehicle. The family plans to pursue federal charges, arguing that Hammond's civil rights were violated.
"It's just a sad day to see an unarmed kid who was shot unnecessarily by excessive force where it clearly violated all the police policies," Bland said. "This was just a traffic stop at the time."
Thanks for taking your time to check out this information. Love to hear what YOU think in the comments section below! If you find that you liked this story, don't forget to hit the "RECOMMEND CONTRIBUTOR" and "RECOMMEND STORY" button at the top of the page so that I can bring you more articles like this.
If you got something out of this, consider sharing it with others.
And before ya go…let's stay connected:
Subscribe to my YouTube channel
Follow me on FaceBook
Follow me on Twitter
Subscribe to my Website:
Source: http://www.attn.com/stories/3866/no-charges-for-officer-who-killed-zach-hammond?utm_source=facebook&utm_medium=viralvideocomment&utm_campaign=videos