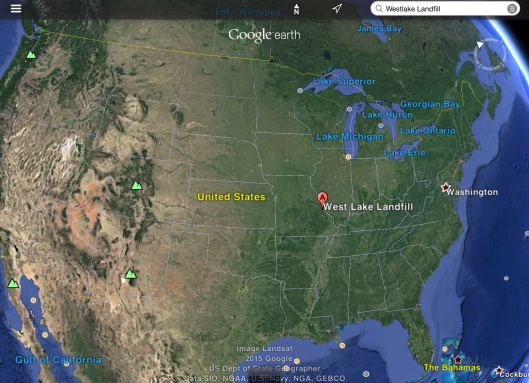 Thousands of gallons of tainted water spilled Tuesday at the Bridgeton landfill near St. Louis, the second incident in days, as an underground fire could reach radioactive waste dump site in three to six months and seven churches have been set ablaze, developing another American sacrifice zone. Hundreds recently packed a Bridgeton church after learning St. Louis County a year ago silently put an emergency plan for a potential "catastrophic event" at Bridgeton Landfill, that's adjacent West Lake landfill. Families are moving, becoming environmental refugees in their own country.
"We are not financially able to uproot our lives, but we're forced to," said Tonii Morris, who lives up the street from Bridgeton landfill. "Staying here is not an option."
Saturday, a fire broke out near an existing smoldering underground fire that is heading toward an old nuclear waste dump. A sewer pipe connecting Bridgeton Landfill to Metropolitan St. Louis Sewer District treatment facilities overflowed, releasing thousands of gallons of sewage Tuesday. These come as churches in the same area are being burned. At least 20 families are no longer waiting for answers or repairs. They are refugees, among the first to be moving, or have moved.
"Tonnage of radiological waste at the Bridgeton-Westlake landfill exceeds Fukushima over 20 fold, and Chernobyl by 163 times. How diluted the Bridgeton nuclear waste is appears unknown," says Mining Awareness Plus in a comprehensive report, Is the Missouri Landfill Fire a US Chernobyl or Fukushima in the Making?
Saturday afternoon, firefighters rushed to the landfill to extinguish a brush fire. The fire was caused by a faulty switch on an Ameren utility pole inside the landfill's perimeter fence, Pattonville Fire Protection District's Battalion Chief Ken Aydelott said. He said a switch overheated, causing hot metal to drop below and ignite the fire. The last small fire at the landfill was in February 2014.
At least 20 families plan to move soon due to the troubled landfills and conflicting reports, according to a questionnaire on a West Lake Facebook page that has grown by 10,000 members in the last month to over 17,000.
Despite officials saying the new leak of tainted water is contained, mothers from North Saint Louis County, outraged about their local landfill on the brink of a nuclear emergency, putting their families at risk, have taken to the streets in protest.
They carried petitions in a child's casket, demanding the governor declare a state of emergency.
"Governor Nixon, save the day, make the fire go away."
Karen Nickell organized the group, that gathers in members' basements, poring over charts and looking up chemical terminology about the West Lake Landfill. This landfill experienced the over 10,000 gallon leachate leak after a break in a force main. Leachate, highly toxic, was created from burning superfund materials and garbage, explained Dawn Chapman, a local environmental activist.
Reporters were forced to flee the area after the toxic fumes began causing respiratory distress among those around the site.
"It's the second infrastructure issue at the high-profile landfill in recent days, following a weekend brush fire sparked by a faulty electric pole switch," reports St. Louis Post-Dispatch. "The burning Bridgeton Landfill is next to radioactively contaminated West Lake Landfill, a federal superfund site that officials have not decided how to clean up."
"It almost feels like we're not going to get the truth until something actually happens, and then it will be too late," said Cory Ell, who lives with his wife and three young sons about two miles from the landfill. "I feel like my best course of action is to uproot my family and move as far away as I can."
Conflicting information from government agencies and environmental experts has contributed to growing anxiety in the community. There, residents are experiencing what Bayou residents did in Louisiana's sinkhole area that became a national sacrifice zone.
A Missouri Attorney General Letter to the U.S. Environmental Protection Agency on Sept, 3, 2015 states:
"The reports from the Missouri Geological Survey and Missouri S&T scientists involving off-site groundwater and tree-core samples, for example, show evidence of radiological and organic contamination outside the boundaries of the landfill." http://www3.epa.gov/region07/cleanup/west_lake_landfill/pdf/west-lake-letter-hague-expert-reports.pdf
Mining Awareness Plus reports:
Both the steam from the Missouri landfill fire and flaring of the landfill (methane) gas can release the radionuclides into the air. The inhalation dose coefficients for radioisotopes believed to predominate, indicate that they are even more deadly upon inhalation than the cesium at Fukushima. However, many other radionuclides have been, and are still being emitted, from Fukushima. The radioactive waste in Missouri is probably mixed in with other things. But, is it diluted by 1/20th? We will probably never know, anymore than we will ever know the truth about what is coming out of Fukushima. It also appears that the radionuclides have been migrating out from this landfill for some time. A study which was part of the Missouri lawsuit against Republic Services, over the landfill, found radionuclides in nearby trees. Who knows how much has been gradually released already through gas flaring and leaching?
Meanwhile, the Department of Homeland Security, amid seven churches set on fire, issued a warning about a terror threat posed by "right-wing sovereign citizen extremists." DHS described domestic terrorists as people "who believe that they can ignore laws and that their individual rights are under attack," as Media Matters reported at the time and Atlanta Black Star reported Wednesday.
U.S. nuclear power plants are "not adequately protected from threats, including theft of bomb-grade material that could be used to make weapons and attacks intended to cause a reactor meltdown," a University of Texas report said in 2013.
Not one of the country's 104 commercial nuclear reactors or three research reactors is protected against an attack involving multiple players such as the ones carried out by 19 airplane hijackers on 9/11, said the report by the Nuclear Proliferation Prevention Project, or NPPP, at the University of Texas, Austin.
"The U.S. Nuclear Regulatory Commission (NRC) only requires power plants to protect against attacks carried out by five or six people, according to the report, entitled Protecting U.S. Nuclear Facilities from Terrorist Attack. In addition, the NRC does not require plants to protect themselves against attacks from high-powered sniper rifles and rocket-propelled grenades."
Related Articles: