I am a mother of four in my mid 30′s and I have been told that I have some psychic abilities, mainly psychometry, paranormal, and lately remote viewing. Things come to me in the form of pictures in my mind, feelings and impressions, and sometimes sounds. I typically get them when asked to focus on specific objects or events. I clear my mind, think of the question or object and this blog is an example of what I get. This blog is a way for me to organize all my thoughts.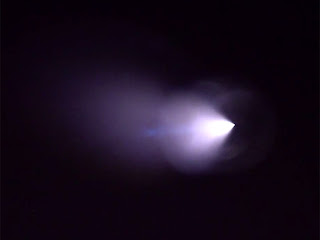 Q. Hi Lynn, Today, a bunch of us just saw this in the sky. It's all over social media and youtube. What do you think?

Below is a link from CNN where they claim it was a "missile". It wasn't, we all saw it. It lasted like 15 minutes. And since when do missiles freeze in the middle of the sky, and turn blue?
http://www.cnn.com/2015/11/08/us/southern-california-navy-test-mystery-light/
A. When I tune into this I get that California is in desperate need of help. With Fukushima waste in the incoming waters, drought, chemtrails, the threat of Yellowstone and being a vulnerable area for a Chinese / Russian attack, the energy surrounding California is really intense. Those ETs that want to help are being drawn to this area more and more to offer assistance by semi remote means. I see this light tied to some kind of high tech defense that emits a high vibration beam (like a beam of healing light). I see it focusing on certain areas both on land and also in the atmosphere. As the vibration of the beam changes, the color of light changes, and when the healing and offering of protection was done (I get it needs to happen in many phases over a period of time because human free will is constantly changing things) for this session, it left.
I see the beings on the ship as being the taller and paler version of the Greys (that I have been seeing show up more and more). They look to be here helping us. They don't want war or to see human destruction destroy the planet. In fact I get something was different about the air right after this craft showed up, like it was cleaner, lighter somehow and offered some energy of peace. I get in addition to the healing, some kind of intervention was occurring (like some sort of Russian retaliation attack was thwarted off). I see no harm or ill-will being done as a result of these beings… They look to have the greater good in mind..
And that is all I have for this reading. Thank you. Love and light-
Source:
http://psychicfocus.blogspot.com/2015/11/fire-in-california-sky.html