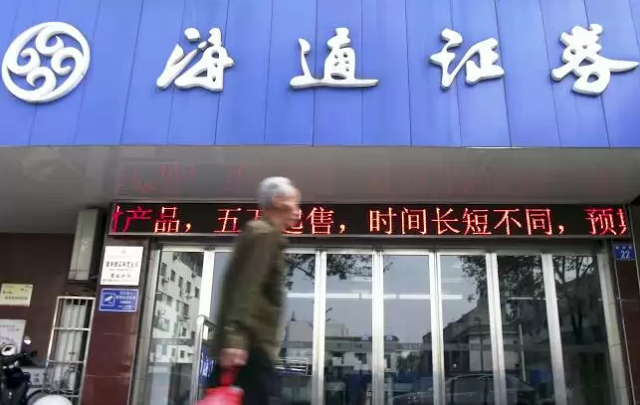 http://www.reuters.com/article/us-china-markets-fear-idUSKBN0TN0MU20151204

Foreigners drawn in as fear and loathing grip China's finance industry
Markets | Fri Dec 4, 2015 5:56am EST Related: CHINA
SHANGHAI/HONG KONG | BY ENGEN THAM AND MICHELLE PRICE
A man walks past an entrance to an exchange office of China Haitong Securities, in Changzhou, Jiangsu province, China, October 26, 2013.
REUTERS/STRINGER
A widening regulatory probe into some of China's biggest brokerages has set nerves jangling in a financial industry still recovering from a summer of turmoil, with fear of becoming entangled in investigations spreading among foreign investors.
People working at domestic securities firms report an ugly mood after news in the past week of increased scrutiny of the sector by authorities. A nervous inertia is slowing new business as staff are encouraged to report their bosses or colleagues for corruption.
"It's creating a very dog-eat-dog environment," said a partner at a Chinese mutual fund. "People collect evidence on their bosses, because if they get rid of their boss, it means that they can get promoted faster."
Foreigners operating in China or investing in the mainland through Hong Kong are also worried about becoming entangled in the widening regulatory net.
"Everyone is absolutely terrified of China," said a director at an international brokerage in Hong Kong, echoing the sentiment of many in the industry contacted by Reuters. Most did not want to be identified due to the sensitivity of the issue.
The crackdown on the securities industry – from hedge funds and institutional fund managers to brokers and banks – began after the mid-year equity market crash wiped around 40 percent off mainland share prices, which Beijing blamed partly on "malicious" short-selling and insider trading.
Even though domestic stock markets have rebounded steadily by about 25 percent since the pit of the crash in August, market executives say the regulatory atmosphere has not relaxed.
Authorities have revealed little about the specific reasons for the probes, but three sources told Reuters they believed some of the investigations involved suspicions of insider trading relating to trades by China's "national team" – the big brokerages and fund managers dragooned into buying stocks as part of unprecedented measures to prop up the market.