Wednesday, January 20, 2016
The Israeli Defense Minister prefers an Islamic terrorist takeover in Syria
By Michael Hoffman http://www.revisionisthistory.org
The Israeli government no longer needs to conceal its alliance with the bloodiest and most murderous, Christian-hating terrorists on earth: Islamic State, aka ISIS.
From The Times of Israel, January 19, 2016:
Ya'alon: "I would prefer Islamic State to Iran in Syria"
From the Washington Post, January 19, 2016:
Israeli defense minister: "If I had to choose between Iran and ISIS, I'd choose ISIS" Israeli Defense Minister Moshe Ya'alon ISIS "is not a threat for us."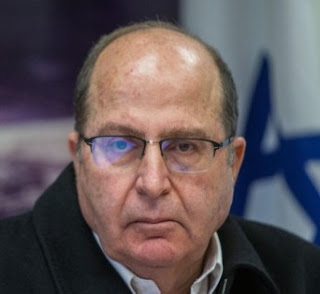 Washington Post, Jan. 19
— Speaking at the Institute for National Security Studies' (INSS) conference in Tel Aviv on Jan. 19, Israeli Defense Minister Moshe Ya'alon made a bold statement: If he had to choose between Iran and the Islamic State, he told the audience, he'd "choose ISIS."
Ya'alon reasoned that Iran had greater capabilities than the Islamic State and remained the biggest threat for Israel. He argued that if Syria were to fall to one of the two powers, he would prefer it were the Islamic State rather than Iran or Iran-backed groups.
" …He also added that Israel shared common interests with the regional Sunni Muslim powers, who were also threatened by the Shia Muslim Iran.
…The comment did seem to highlight a widespread belief in Israeli defense circles that the Islamic State is not a big problem for Israel and that Iran and Iran-backed groups like Hezbollah are of a bigger concern. This belief has been born out in policy: Israel has largely avoided any involvement in the fight against the Islamic State but has struck Hezbollah inside Syria.
…He has also dismissed the idea that the Islamic State was a direct threat to Israel. "ISIS is a new phenomenon, originating from al-Qaeda. This is not a threat for us," he told The Washington Post's Lally Waymouth in 2014.
— End quote from the Washington Post; emphasis supplied.
Many prominent news outlets have refused to report Ya'alon's appalling statement. Since Jan. 19 the New York Times has suppressed it entirely.
Moshe Ya'alon is mocking every American murdered in San Bernardino and all the people slaughtered by ISIS in Paris, as well as all Christians, Kurds and Shiites who have been beheaded and massacred, along with Christian churches destroyed. The Israeli Defense Minister's preference for the conquest of Syria by ISIS would mean the wholesale extermination of the Christian and Alawaite population. Why isn't his genocidal preference for the worst of all Islamic terrorist organizations front page news in the U.S.?
The Israeli-Saudi Alliance
The Israelis are allies of the Wahhabist/Salafist terror network of ISIS. Israeli hospitals have been treating wounded ISIS and al Qaeda terrorists and then returning them to the battlefields.
Leading Saudi princes like Bin Talal admit they are in alliance with the Israelis.
It is the Saudi brand of Sunni ("Wahhabi") Islam which forms the terrorist theology of both al Qaeda and ISIS:

New York Times, September 24, 2014

New York Times, January 24, 2014
New York Times, September 24, 2014 New York Times, January 24, 2014 Moshe Ya'alon was referring to Saudi Arabia when he stated, "Israel shared common interests with the regional Sunni Muslim powers."
The demonic power is proceeding on schedule and rubbing our faces in its startling control over the West. They have dropped their mask — which signifies that we are in the final, Revelation of the Method stage of the Cryptocracy's great game.
The below videos are not part of the above article however they have a lot of relevant information that relates to the Israeli / ISIL / Saudi Arabia / CIA connections.
Fair Use Notice
This article may contain copyrighted material the use of which has not always been specifically authorized by the copyright owner. We are making such material available in our efforts to advance the understanding of humanity's problems and hopefully to help find solutions for those problems. We believe this constitutes a 'fair use' of any such copyrighted material as provided for in section 107 of the US Copyright Law.
In accordance with Title 17 U.S.C. Section 107, the material on this site is distributed without profit to those who have expressed a prior interest in receiving the included information for research and educational purposes. A click on a hyperlink is a request for information. Consistent with this notice you are welcome to make 'fair use' of anything you find on this web site. However, if you wish to use copyrighted material from this site for purposes of your own that go beyond 'fair use', you must obtain permission from the copyright owner.
Section 107. Limitations on exclusive rights: Fair Use not withstanding the provisions of sections 106 and 106A, the fair use of a copyrighted work, including such use by reproduction in copies or phonorecords or by any other means specified by that section, for purposes such as criticism, comment, news reporting, teaching (including multiple copies for classroom use), scholarship, or research, is not an infringement of copyright. In determining whether the use made of a work in any particular case is a fair use the factors to be considered shall include:
- 1. the purpose and character of the use, including whether such use is of a commercial nature or is for nonprofit educational purposes;
-2. the nature of the copyrighted work;
-3. the amount and substantiality of the portion used in relation to the copyrighted work as a whole; and
-4. the effect of the use upon the potential market for or value of the copyrighted work.
Article 19 of the United Nations Declaration of Human Rights
ARTICLE 19. …..Everyone has the right to freedom of opinion and expression; this right includes freedom to hold opinions without interference and to seek, receive and impart information and ideas through any media and regardless of frontiers.
(The Universal Declaration of Human Rights, adopted by the United Nations General Assembly on December 10, 1948) "A cantankerous press, an obstinate press, an ubiquitous press, must be suffered by those in authority in order to preserve the even greater values of freedom of expression and the right of the people to know," Judge Gurfein declared. "These are troubled times. There is no greater safety valve for discontent and cynicism about the affairs of government than freedom of expression in any form." (Excerpt from a New York Times editorial of June 20, 1971, in The Pentagon Papers, 1971, p. 645)
You can read more about 'fair use' and US Copyright Law at the Legal Information Institute of Cornell Law School. This notice was modified from a similar notice at Common Dreams.