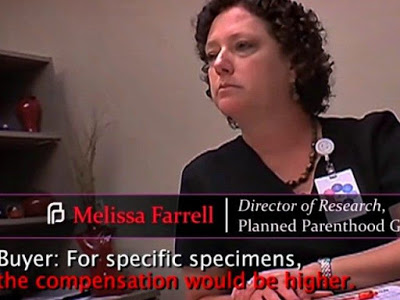 PLANNED PARENTHOOD EXECUTIVE SOUGHT TO HIDE PROFITS FROM BABY-PARTS SALES
A new video released by the Center for Medical Progress (CMP) appears to show how Planned Parenthood uses accounting gimmicks to hide profits created through the sale of body parts of aborted babies.A financial benefit "is what staff and management need to see," says an executive at a Planned Parenthood facility in Texas.

The video highlights footage from the April 9, 2015 visit of investigative journalists David Daleiden — director of the Center for Medical Progress (CMP) — and CMP employee Sandra Merritt to Planned Parenthood Gulf Coast's (PPGC) abortion facility in Houston.
"We had two levels of invoicing for them. We had it recorded as 'per consent,'" explains PPGC Director of Research Melissa Farrell. In the video, Farrell states "per consent" is the phrase used in PPGC budgeting in place of "per specimen" for fetal tissue.
Farrell discusses that while a woman may consent to supply her aborted baby's tissue, the specimen itself may not be useable for experimentation. "There's probably some situations where somebody would consent and then just not, we didn't get a sample, or she changed her mind, or something happened to the specimen," she says, adding, "Now obviously, we don't want to end up paying for material that we can't use," and suggests that there be a line item fee or "something else that represents the specimens."
"I just don't want it to turn into a situation that is not financially beneficial for you," says Merritt. "Yeah, yeah. And we'll, I'll take you up on that. I'll take you up on that. I'll take you up on that," Farrell repeats, laughing. "We definitely want to do that, because that's what staff and management need to see."
PPGC CEO Melaney Linton also appears in the video advising that Farrell will "work on all of that with you" when it comes to "remuneration" and "compensation" for fetal tissue.
Farrell explains to Daleiden and Merritt over lunch that her department – which has overseen the organization's fetal tissue supply program since 2006 — "contributes so much to the bottom line of our organization here."
Rep. Marsha Blackburn (R-TN), chairman of the House's Select Investigative Panel on Infant Lives, said the new video footage is "deeply disturbing." Blackburn said in a statement:
The comments in this video by an employee of a large abortion provider are deeply disturbing and seem to demonstrate a willingness to obfuscate and hide their true intentions. The Select Investigative Panel on Infant Lives is examining these issues and this new video, once again, raises more questions about the medical procedures and business practices used by entities involved in fetal tissue procurement. Our panel intends to follow the facts where they lead us.
Daleiden and Merrit – who were indicted by a Harris County, Texas grand jury while Planned Parenthood was entirely cleared of wrongdoing – are presenting themselves to the court in Houston on Thursday morning. At that time, national pro-life leaders will present over 100,000 signatures calling on District Attorney Devon Anderson to drop the charges against the journalists, Operation Rescue reports.
According to Associated Press, these are not the first allegations of bias Anderson – who ran for office as a pro-life Republican — has faced:

Anderson was barely three months into office when the anti-abortion group Operation Rescue accused a Houston doctor of performing late-term abortions. The activist behind those allegations, Troy Newman, was also a founding member of the Center for Medical Progress — the anti-abortion group headed by Daleiden
Operation Rescue had released disturbing photos and accusations from the former staff of Dr. Douglas Karpen. A grand jury declined to indict Karpen; the abortion provider's lawyer, Chip Lewis, said Karpen was smeared by doctored pictures and false allegations made by individuals who were paid by Operation Rescue.
Lewis, a longtime political donor in Houston whose beneficiaries include Anderson, said he helped soften the political fallout for her in Republican circles.
"I told them, 'Don't hitch your wagon to this. They're crooks, and it's going to be exposed,'" Lewis said, referring to Operation Rescue.
Kansas-based Operation Rescue has denied paying informants and had questioned the evidence seen by the grand jury. Anderson's handling of both cases is also questioned by Texas Right to Life, a prominent anti-abortion group that endorsed the district attorney in 2014.
"It's incomprehensible," Conway said of Anderson's actions.
Anderson acknowledged in August that a prosecutor on her staff was a board member of the Houston Planned Parenthood clinic but said that person would not be involved in the grand jury case. In a statement announcing Monday's charges, Anderson said, "As I stated at the outset of this investigation, we must go where the evidence leads us."
Lewis said the assistant prosecutor who oversaw the Karpen investigation also handled the Planned Parenthood case. "I don't think she forgot what she uncovered," Lewis said…..
Planned Parenthood attorney Josh Schaffer said a prosecutor told him the grand jury never even voted on possible criminal charges against the nation's largest abortion provider.
"Planned Parenthood's self-interested political maneuvers will never silence free speech or the citizen press," Daleiden said in a statement. "The new video released today shows that no amount of half-baked barratry can conceal Planned Parenthood's barbaric harvesting and profiting off baby body parts."
Peter Breen, special counsel with the Thomas More Society – which is representing Daleiden, said:

The charges against David Daleiden are legally and factually baseless. David used standard undercover journalism techniques to catch Planned Parenthood staff agreeing to alter abortion procedures to get more intact organs and tissue from aborted babies, presumably without telling their patients. David also caught Planned Parenthood staff discussing how to adjust accounting line items to conceal profits from baby body part transactions. Planned Parenthood's lawyers in Houston have now admitted they dreamed up and demanded the charges against David, apparently in order to distract prosecutors and the public from their own bad acts. We intend to seek to have these charges dismissed at the earliest opportunity.
http://www.breitbart.com/big-government/2016/02/03/video-shows-planned-parenthood-accounting-tricks-to-hide-profits-from-baby-parts-sales/
NESARA- Restore America – Galactic News
Source:
http://nesaranews.blogspot.com/2016/02/pp-ex-hides-profits-from-baby-parts.html