All Dams Fail! North American Continent Continuing To Bow
The Zetas (reposted below) have said, that during a pole shift, that all dams fail. Some background information, is that our galactics have already prevented this from happening… or shall we say delayed?
Pole Shift Stopped By Extraterrestrials! Imminent Pole Shift Recently Promoted By Mainstream Media
Galactics have said major axis orbital shift may be imminent: Pleiadian High Council Declares Great/Major Axis Orbital Shift Of ~100 Degrees, Is Indeed Imminent, Triggered By Nibiru… Galactic Council Now Deciding On Possible Pole Shift Intervention,
Archangel Michael channel says a poleshift timeline has passed but is it an accurate channel?:
Are we in the times leading up to a pole shift, and what is your best guidance pertaining to this matter if there is an upcoming pole shift happening soon? Zetas Describe 7 Steps To The Pole Shift, Provide Poleshift Map, And Crucial Research
Answer 10
There will not be a pole shift. The time line that had high probability of a pole shift disappeared after the harmonic convergence meditation and ceremonial activities in 1987.
The zetas continue to push the pole shift theory: Zetas Describe 7 Steps To The Pole Shift, Provide Poleshift Map, And Crucial Research
So it looks like our planet is becoming increasingly unstable, and also that our galactics have prevented a pole shift… but can they do so indefinitely? Will something need to 'give'? Does mother earth 'need' a pole shift? Solid answers are not obvious at this point, for this researcher… certainly there's the situation of north america splitting in half as a result of the bow, that is tighening and destined to break at some point, that is going to cause some dams to fail… NO QUESTION... be safe out there! Indian in the machine
You Need Friendly Extraterrestrials! Check American Oil Pipeline Map, As North America Rips In Half Before Our Eyes! Growing Evidence Includes Sinkholes, Strange Noises, Strange Smells From The Earth, Continential Torque, Atlantic Ocean Rift, Jet Stream More Pronounced, And More! North Americans
All Dams Fail
Early in the ZetaTalk saga, the Zetas stated that before or during the Pole Shift that all dams will fail. This warning was directed at the population of Phoenix and Los Vegas, who would both be affected by the failing of the massive Hoover dam.
http://www.zetatalk.com/newsletr/issue456.htm
Downstream water would rush toward Phoenix, and Los Vegas would flood due to jammed spillways, per the Zetas. As the bowing of the N American continent tightens, dams will increasingly crack, shift, jam, and leak.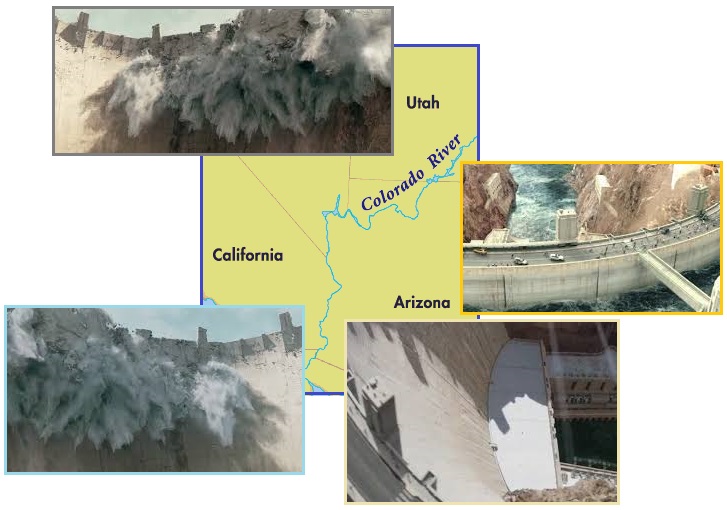 ZetaTalk Insight 6/6/2015:
http://www.zetatalk.com/ning/06ju2015.htm
We have stated that the New Madrid adjustment will precede any major adjustment along the San Andreas, and precede any anticipated break in the Hoover Dam. We have also stated that the Hoover Dam is likely to react to pressure in the bowing of the N American continent by jammed spillways so that the lake water backs up into Las Vegas. But we have also stated that all dams will shatter and fail in some manner during or before the Pole Shift.
ZetaTalk Prediction 7/18/2009:
http://www.zetatalk.com/index/zeta522.htm
All dams will break either during the pole shift or in the months leading up to the hour of the shift.
The problems with the Oroville Dam in California are billed as being due to excessive rain, but the frantic efforts to shore up the dam indicate problems that are not being admitted. The spillway split and spread into an abutting hillside, eroding this, but the water was still directed correctly. Excessive water caused the emergency spillway to be used for the first time. Everyone was told to evacuate.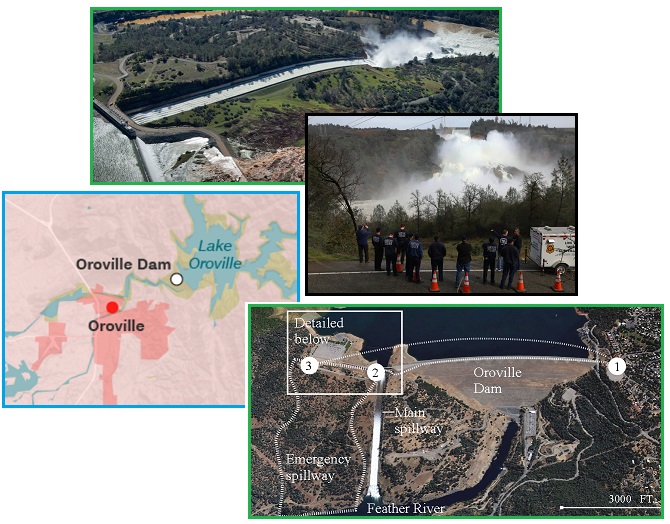 Oroville Dam: Residents Allowed to Return as Water Level Drops
February 15, 2017
http://www.cnn.com/2017/02/14/us/california-oroville-dam-spillway-f…
With the water level at California's Lake Oroville dropping, authorities lifted a mandatory evacuation order, allowing tens of thousands of residents to return to homes near the reservoir's dam. Heavy rains last week caused the lake level to rise until the water began to pour down the emergency spillway. Authorities ordered people to leave the area when a hole developed in an eroded area of the spillway, affecting about 188,000 residents. Officials worried the spillway would fail, and one warned a "30-foot wall of water" could flood the communities below the dam. Dump trucks and cement mixers shuttled in material as workers rushed to fortify the damaged emergency spillway, which allows excess water to run out when the lake level rises above 901 feet.
In Shadow of California Dam, Water Turns from Wish to Woe
February 13, 2017
https://www.nytimes.com/2017/02/13/us/oroville-dam-california-spill…
It wasn't so long ago that residents here had to drag their houseboats into a dusty field from the barren banks of Lake Oroville, which had almost no water left to keep them afloat.Now after weeks of rain, that dusty field is swelling with water and nearly 200,000 people had to evacuate the area when the state's second-largest reservoir developed a hole in its auxiliary spillway and threatened to catastrophically flood nearby towns.
http://poleshift.ning.com/profiles/blogs/zetatalk-newsletter-as-of-february-23-2017