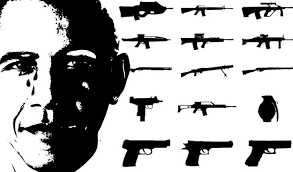 REVEALED! OBAMA'S $418 BILLION ARMS SALE TO KENYA HALTED
Lawmakers are calling for an investigation into a series of highly unusual moves made by President Barack Obama while he had one foot out the door.
His administration signed off on a $418 million arms deal to Kenya on his last day in office.
While that alone isn't suspicious – American weapons are sold to our allies all the time, under both Democratic and Republican presidencies – the conditions are certainly raising eyebrows.
And at least one lawmaker thinks the Obama Administration might've tried to pull the wool over the Kenyans' eyes.
"My office has received credible allegations of faulty contracting practices, fraud and unfair treatment surrounding this sale," North Carolina Congressman Ted Budd said in a bombshell interview with The Daily Nation, Kenya's biggest newspaper.
In fact, he said Kenya is being charged nearly DOUBLE what it should be paying!
The deal includes up to 12 Air Tractor AT-802L propeller-based aircraft as well as two AT-504 trainer aircraft along with weapons, technical support and program management, the Standard Digital reported.
They would replace the aging aircraft Kenya is using in its battle against ISIS-linked al Shabab terrorists. The new aircraft would be able to fly lower, getting closer to their targets, and better armed against the Soviet-era weapons favored by the terrorist fighters.
But Breitbart News is reporting that Budd and other lawmakers are raising questions over the deal and may even open an investigation over some incredible suspicious arrangements.
Turns out the contract was given quietly to a company called L3 Technologies that's NEVER made the aircraft before. Jane's even reports that Kenya may not have even known that this company never made the things.
And this firm is charging nearly $200 million more than the going rate charged by an experienced, veteran-run company in Budd's North Carolina district.
That company, IOMAX USA, never got a shot at the contract because they didn't even know about it until AFTER it was quietly given to L3.
"It looks like politics," Budd told Breitbart News. "Why are they sending it to someone that's produced zero, for twice the price? This is inappropriate."
The Kenyans appear concerned, and not just because it looks like the country's family ties to Obama didn't serve them well.
It's also because of the cash.
While $418 million might be a drop in the bucket of the U.S. military budget, this is a massive expensive for Kenya.
If it goes through, it might be Kenya's largest-ever arms purchase, more than double the total spent on arms over the previous five years combined, the East African newspaper reported.

The number seems even larger when you consider that it's nearly half the nation's entire 2015 defense budget of $954 million.
Now that deal could be in jeopardy – and the Islamic terrorists pillaging Kenya's vast rural regions are no doubt celebrating… all because of a shady deal made in a hurry on the former president's final day on the job.
The Horn editorial team
NESARA- Restore America – Galactic News
Source:
http://nesaranews.blogspot.com/2017/02/mac-daddy-loses-his-418-billion-arms.html