Feb 28, 2017
President Trump was more presidential than ever tonight during his address to Congress. He spoke of putting America first, securing our border and taking out ISIS once and for all. But viewers noticed something strange about some Democrat members of Congress. A great portion of Democratic women wore white to "protest" President Trump.
Why 'Politicians' Wore White to President Trump's Big Speech
and Why we need to dissolve this cabal 'government', get
rid of these idiots, and replace them with
educated, informed, SMART replacements in
our REPUBLIC government
From Liberty Writers News
In a statement, Rep. Lois Frankel, D-Fla., said they will be wearing white to "unite against any attempts by the Trump administration to roll back the incredible progress women have made in the last century." (These women are totally delusional – another Nancy Pelosi. STUPID is as STUPID does.)
It was a strange move considering the fact that President Trump has done NOTHING to roll back the rights of women. On the contrary, President Trump has HELPED women! (These are the same IDIOTS that would gladly obey the Hitlery Clinton cops and board the trains to the FEMA camps, thanking Hitlery for that privilege. These are way too stupid to hold ANY office in a valid government and should be released from their positioins immediately.)
Tonight, Democratic Members will wear suffragette white to oppose Republican attempts to roll back women's progress #WomenWearWhite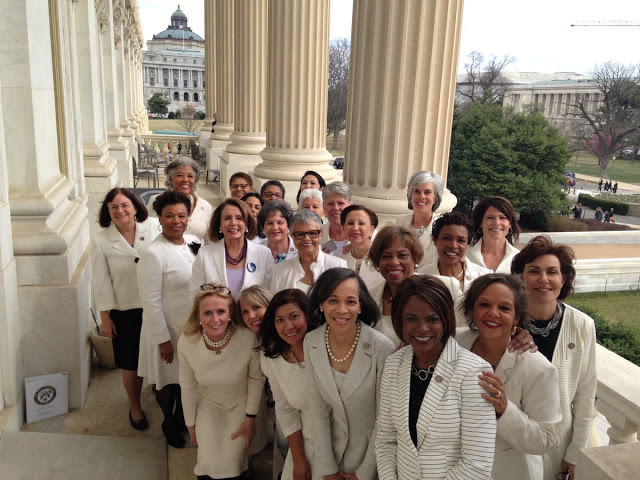 These women, due to their stupidity, are setting themselves back.

Trump announced tonight Feb 28th that he will be investing in women's health, and has already introduced a plan to help stay-at-home mothers with their child care.
Not only did the Democrat's protest not make sense, it actually backfired in their face in a HUGE way. Social media began calling them,
THE NEW KU KLUX KLAN!
Many pointed out the irony of how this isn't the first time we have seen Democrats dressed in white from head to toe! OOPS!
Why 'Politicians' wore white to President Trump's Speech
POLL: SHOULD DEMOCRATS GET OVER
THAT THEY OVERWHELMINGLY LOST?!
PLACE YOUR VOTE IN GREEN BOX, BOTTOM OF PAGE, AT: http://rightalertspolls.com/alert-during-president-trumps-speech-americans-noticed-something-nasty-that-democrats-did-video/

When will Democrats learn that they are not helping the American people with their grandstanding? Democrats need to stop with the childish protesting and start working with our president!
http://eheadlines.com/alert-during-president-trumps-speech-americans-noticed-something-nasty-that-democrats-did-video/
NESARA- Restore America – Galactic News