Story Views


Now:
Last Hour:
Last 24 Hours:
Total:
Gestapo in the USA
Monday, March 6, 2017 23:35
% of readers think this story is Fact. Add your two cents.

Submitted by a reader for publication. Opinions expressed below are those of the submitter: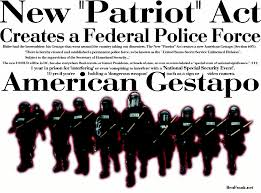 This nation is not the great country you think it is, and this information is only a small part of the story….
Gestapo in the USA
US Fusion Centers, a private criminal corporation


NATIONAL FUSION CENTER ASSOCIATION INC. (SCC ID 07179369), which is registered at 5350 Shawnee Road, STE 101-B, City Alexandra, VA 22312
Mercenaries–criminals

of US Gestapo aka Fusion Centers

torture, harass, money grub and murder
innocent

Americans,
including children, women, senior citizens and US
Veterans!
The true covert reasons that DHS and Fusion Centers were set up was to serve as a large Israeli-run Secret Police Occupation Force inside America to be used to progressively destroy America and mass-murder about 90% of its civilians, after transforming America into GAZA II, the World's largest open-air prison camp and making Americans the World's New Palestinians. Many of the Targeted Individuals, as well as other US citizens

,
call the DHS and its Fusion Centers a Gestapo in the USA.
A few Leaders Gestapo of Northern California who serve the World's largest Criminal satanic Pedophile Syndicate! They order
and monitor crimes of tortures with microwave and DE weapons, murders of innocent
civilians of Northern California…
The President of the NATIONAL FUSION CENTER ASSOCIATION INC .– US Gestapo is Mr. Mike Sena (Mr. Sena resides at 2712 Taylor Street #300, San Francisco, Ca 94132). Some other leaders of Gestapo of N. California are Mr. John Bennett - SAC of San Francisco FBI and Mr. Eddie Garcia – Chief of San Jose Police
Are Fusion Centers the New "Gestapo" Facilities for the North American Union Under HLS?
Important!

You can see in the end of the video below the types of DE weapons and microwave weapons which mercenaries–terrorists– of US Fusion Centers and gangsters of the

Secret US Torture Network

use to

torture and murder US civilians
.
US Army Intelligence Officer: Gang Stalking Phenomenon is Precursor to Coming Holocaust
THIS IS AN AMERICAN GESTAPO – AND IT HAS NULLIFIED THE RULE OF LAW IN AMERICA AND HAS CORRUPTED EVERY POLICE DEPARTMENT AND EVERY SECURITY LAW ENFORCEMENT AGENCY AND COMMAND IN THE UNITED STATES OF AMERICA. (The Nazi SS resurrected in America)
THE 'TEAM LEADERS' OF THIS 'COMMUNITY POLICING' GESTAPO GENERALLY ARE LOCAL POLICE OFFICERS WHOSE DEPARTMENTS ARE WILLING ACCOMPLICES TO A SICK AND PERVERSE FORM OF DOMESTIC HARASSMENT AND INTIMIDATION OF EXTRA JUDICIALLY 'TARGETED' CITIZENS – MANY TARGETED FOR REASONS OF IDEOLOGY, POLITICS, CHOICE OF FAITH OR PLAIN OLD-FASHIONED HATRED.
https://mail.google.com/mail/u/1/?ui=2&ik=d4efd28c50&view=lg&msg=15aa62d2557125bf
NESARA- Restore America – Galactic News
Source:
http://nesaranews.blogspot.com/2017/03/gestapo-in-usa.html