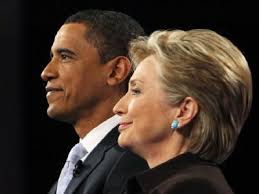 BARACK OBAMA AND HILLARY CLINTON SPENT AMERICAN TAXPAYER FUNDS TO SUPPORT TERRORISTS!
A Bill is in Congress to STOP US Taxpayer funding and arming of terrorist groups
Pamela Williams
IWB


As American taxpayers, we are not foolish enough to think that our money isn't wrongly spent by the Government every day, but this is another matter entirely. The fact that 'president' Obama and Hillary Clinton did something so unbelievably abhorrent that Congress has to pass a bill to insure it never happens again is too much of a betrayal to grasp.
U.S. Senator Rand Paul (R-Ky.) and Democrat Representative Tulsi Gabbard of Hawaii are involved in introducing legislature to insure against such a betrayal and criminal injustice occurring ever again involving the United States of America.
How did we ever lose our way to even be discussing such a despicable injustice? I hate to tell you, we are still lost! As we speak, the Mainstream News Media, the Powers That Be, the Gobalists, and the Governing 'Elite' Liberals of the Obama reign are still calling the shots.
The Clintons are still sitting in the warmth of their home enjoying all their riches and being praised by all their Liberal Followers. And it is not just liberals who follow them. It is some Republican Traitors like John McCain, Lindsey Graham, and Paul Ryan who still praise what the Clintons have done.
The whole premise behind the takeover of countries and murder of their leaders is the method of madness by how Hillary Clinton operates. Oh, but she does not operate alone. She and Obama were a match made in hell!
The U.S. government "regime change" schemes overseas that involve providing money, weapons, training, and other support to savage terror organizations was what Hillary Clinton has given her life to. Of course, aiding designated terror groups is already a serious crime, but the laws have not been enforced against federal officials involved in these war crimes. AND WHY NOT???

This is how Hillary would do it:
1. Enter target country under false pretenses.
2. Threaten country to join her or die.
3. Put together a rebel group from the Muslim Brotherhood to take down country, while killing populace, tearing down architecture, and leaving country in ruin.
4. Funds rebels to fight with arms and machines paid for by the American taxpayer.
5. All the while rebels share with ISIS their weapons.
6. Lo and behold ISIS is being funded by American taxpayers, too, and supported by Obama and Clinton….oh, and John McCain.
7. Leader of country is savagely murdered.
8. Country's riches, resources and land stolen by Obama and Clinton.
9. Gas pipeline built.
10. Citizens abused and trafficked.
11. Country is left as void for terrorists to fill.
H.R. 608 in the House, bans the provision of any assistance by the federal government to al-Qaeda, Jabhat Fateh al-Sham, and the Islamic State, sometimes known as ISIS, ISIL, or Daesh.
The "Stop Arming Terrorists Act," as it is being dubbed, would also prohibit official U.S. aid to any individual or group affiliated with, associated with, or cooperating with any of the proscribed terror organizations.
Finally, the legislation bans any funds to state sponsors of those groups. Providing anything from cash and weapons to training and intelligence would be prohibited under the bill.
Senator Paul, a leading constitutionalist Congressman, introduced the "Stop Arming Terrorists Act" last week in the Senate as S. 532.
"One of the unintended consequences of nation-building and open-ended intervention is American funds and weapons benefiting those who hate us," Senator Paul said in a statement announcing that the companion legislation to the House measure had been filed. "This legislation will strengthen our foreign policy, enhance our national security, and safeguard our resources."
Like his father, retired Congressman and GOP presidential candidate Ron Paul, Senator Paul has been a long time critic of the U.S. government's illegal policies arming terrorist groups such as al-Qaeda.
I hate to sound stupid, but I was not aware this was occurring until I discovered what Hillary Clinton and Obama were doing in Libya. I will never forget hearing Hillary say on the tube, "We came, we saw, he died." She laughed at the gruesome death of Muammar Gaddafi. She and her Team had won, and nothing mattered more to Hillary than winning. Her followers continue to haunt America as they refuse to accept Donald Trump as the new President, thus again abusing the rights of the American citizens.
Hillary has never paid a dime or a day for her crimes, and it honestly does not look like she will. Unless the honorable AG Jeff Sessions can take action against her, she will die never having spent a day paying for what she has done. However, I know what awaits her when she dies.
Hillary is a follower of Saul Alinsky who taught his followers that the only thing that mattered was "power"…at any cost. The means justifies the end, and that end should be power. Oh, by the way, Obama also is a follower of Saul Alinsky. That fact provides us with some insight into the character of both Obama and Hillary Clinton.
https://counterjihadreport.com/2017/03/15/congress-considers-bill-to-stop-arming-terrorists/LINK
At this point the evidence of U.S. government support for terrorists is overwhelming, with President Trump going so far as to call Obama and Hillary Clinton co-founders of ISIS.
As The New American has documented extensively, official U.S. intelligence documents show that multiple Western and Islamic governments allied with Washington, D.C., have also supported ISIS, al-Qaeda, and other terror groups in Syria. In fact, the Obama administration was exposed in Pentagon documents supporting jihadist terrorists in Syria from the beginning.
A 2012 Defense Intelligence Agency (DIA) report revealed that the Obama administration knew al-Qaeda was leading the rebellion in Syria, supported it anyway, and that one of the goals of supporting the terrorist-led "revolution" was to create a "salafist principality," today known as the Islamic State, in Eastern Syria.
THE BELOW WILL GIVE YOU SOME INSIGHT WHY GENERAL MICHAEL FLYNN WAS SET UP:
Top U.S. intelligence officials later confirmed publicly that, despite being advised not to by military officials, Obama deliberately aided terrorists under the guise of helping "moderate" jihadists overthrow Assad. Former DIA chief Michael Flynn, who led the military-intelligence agency at the time, told Al Jazeera that Obama and other top officials knew exactly what they were doing. "I don't know that they turned a blind eye, I think it was a decision," said Flynn, who went on to serve for a short period as Trump's national security advisor. "I think it was a willful decision."
The interviewer, Mehdi Hasan, sounded shocked at the frankness and the enormity of the revelation that Obama was willfully aiding terrorists. But Flynn stood firm.
The Republican and Democrat lawmakers behind the bill to stop arming terrorists seem to recognize those facts, too. "For years, the U.S. government has been supporting armed militant groups working directly with and often under the command of terrorist groups like ISIS and al-Qaeda in their fight to overthrow the Syrian government," Representative Gabbard, the chief sponsor of the bill, said in a statement. "Rather than spending trillions of dollars on regime change wars in the Middle East, we should be focused on defeating terrorist groups like ISIS and al-Qaeda, and using our resources to invest in rebuilding our communities here at home."
Gabbard, who traveled to Syria on a fact-finding mission this year and met with government, religious and opposition leaders has been very outspoken about the the U.S. government's lawless and disastrous intervention in that conflict on behalf of terror groups. "Their message to the American people was powerful and consistent: There is no difference between 'moderate' rebels and al-Qaeda (al-Nusra) or ISIS — they are all the same," Gabbard said, adding that the conflict in Syria is basically "a war between terrorists under the command of groups like ISIS and al-Qaeda and the Syrian government."
For Representative Gabbard and the group of bipartisan lawmakers joining her effort to end U.S. taxpayer support for terror groups, it is time to ensure that no more American wealth goes to support the savagery of terrorists wreaking havoc across the Middle East. "The fact that American taxpayer dollars are being used to strengthen the very terrorist groups we should be focused on defeating should alarm every member of Congress and every American," she said. "We call on our colleagues and the Administration to join us in passing this legislation."
So far, a solid group of lawmakers including constitutionalists such as Representative Thomas Massie of Kentucky and Ted Yoho of Florida, along with a number of progressives, have joined forces with Gabbard to support the legislation.
Congresswoman Proposes Radical Solution
to Refugee CRISIS!
STOP ARMING TERRORISTS!
US Representative Tulsi Gabbard is proving to be quite the thorn in the side of the establishment warmongers. In January, Gabbard went on a secret trip to Syria to investigate first hand and to find the truth that the corporate media is covering up about the Syrian war. Since then,
this brave congresswoman has remained steadfast in her mission to show Americans how their tax dollars are funding terrorism in the Middle East.

In a press conference this week, Gabbard called on President Trump to "end the regime change in Syria," adding that this is what is causing the refugee crisis.
"The most important question is how do we address the cause of these people fleeing their homes," Gabbard stated before pointing to a bill that she's submitted to Congress this year that would help in solving this problem.
The bill's premise to stop the refugee crisis is quite simple — stop arming the terrorists. "Stop Arming Terrorists Act," or HR 608, would ban the use of US taxpayers' funds to aid terrorist groups affiliated with Al-Qaeda or Islamic State (IS, formerly ISIS/ISIL). "For years our government has been providing both direct and indirect support to these armed militant groups who are working directly with or under the command of terrorist groups like Al-Qaeda and ISIS, all in their effort and fight to overthrow the Syrian government," Gabbard said in an interview Wednesday.
Source: http://thefreethoughtproject.com/us-congresswoman-drops-bombshell-help-refugees-stop-arming-terrorists/
Rand Paul Questions if Intervention is
Creating more TERRORISTS than Killing
** Senate Hearing **
Published on Mar 9, 2017
Senator Rand Paul questions whether US intervention and Bombing has caused more terrorists than it has stopped. Paul also questions why the US is in Yemen in the first place.
https://www.thenewamerican.com/usnews/foreign-policy/item/12409-should-pres-obama-be-detained-for-violating-the-ndaa
THE BELOW SPEAKS FOR ITSELF:
If Obama is supporting al-Qaeda, the Taliban or associated forces should he be subject to indefinite detention under the terms of the National Defense Authorization Act (NDAA)?
As The New American has chronicled since it was first proposed, the NDAA purportedly authorizes the president of the United States to deploy the armed forces to apprehend and indefinitely detain anyone suspected of providing support to terrorists. Section 1021 of the NDAA reads in relevant part:
Congress affirms that the authority of the President to use all necessary and appropriate force pursuant to the Authorization for Use of Military Force (Public Law 107-40; 50 U.S.C.1541 note) includes the authority for the Armed Forces of the United States to detain covered persons (as defined in subsection (b)) pending disposition under the law of war.
A 'covered person' under this section is any person as follows:
A person who was a part of or substantially supported al-Qaeda, the Taliban or associated forces that are engaged in hostilities against the United States or its coalition partners, including any person who has committed a belligerent act or has directly supported such hostilities in aid of such enemy forces.
And finally:
Detention under the law of war without trial until the end of the hostilities authorized by the Authorization for Use of Military Force.
A plain reading of Section 1021 reveals, then, that anyone who is found to have "substantially supported" al-Qaeda or associated forces can be detained by the military until the end of the War on Terror. Now, the relevant question becomes: Has Obama substantially supported al-Qaeda and, if so, how?
NESARA- Restore America – Galactic News
Source:
http://nesaranews.blogspot.com/2017/03/hr-608-s-532-stop-arming-terrorists-act.html