(N.Morgan) In a stunning discovery it has been uncovered that Former Clinton campaign manager and possible Pedo Pimp, John Podesta, may be facing jail time for breaking federal law by covering up the fact he owned tens of thousands of shares in a Russian bank.
By neglecting to declare the 75,000 Kremlin-backed stock shares before joining Obama's White House as a special counsellor, Podesta broke federal law.
His fate is now in the hands of AG Jeff Sessions.
Title 5 of the U.S. Code stipulates the Attorney General can file a civil action, "against any individual who knowingly and willfully falsifies or who knowingly and willfully fails to file or report any information that such individual is required to report."
As reported by the Daily Caller: Joule Unlimited Technologies — financed in part by a Russian firm — originally awarded Podesta 100,000 shares of stock options when in 2010 he joined that board along with its Dutch-based entities: Joule Global Holdings, BV and the Stichting Joule Global Foundation.
When Podesta announced his departure from the Joule board in January 2014 to become President Obama's special counsellor, the company officially issued him 75,000 common shares of stock.
The Schedule B section of the federal government's form 278 — which requires financial disclosures for government officials — required Podesta to "report any purchase, sale or exchange by you, your spouse, or dependent children…of any property, stocks, bonds, commodity futures and other securities when the amount of the transaction exceeded $1,000."
Podesta's form 278 Schedule B is blank regarding his receipt of any stock from any company.
Liberals and conservatives alike agree that Podesta should have disclosed the stock.
"Well Podesta should certainly have been more upfront in filling this out. Clearly, it should have been fully disclosed," said Craig Holman, a lobbyist for the liberal group Public Citizen which was founded by Ralph Nader.
"That's the point of the personal financial disclosure forms, especially for anyone entering the White House," he told The DCNF in an interview.
"If the transfer of stock took place, it had to be disclosed," added former U.S. Attorney Joseph DiGenova in an interview. "If he didn't, clearly it's a violation."
The same year Podesta joined Joule, the company agreed to accept 1-Billion-Rubles — or $35 million — from Rusnano, a state-run and financed Russian company with close ties to President Vladimir Putin.
Anatoly Chubais, the company CEO and two other top Russian banking executives all worked together with Podesta on the Joule boards. The board met six times a year.
Ron Hosko, a former FBI assistant director said because of the Kremlin backing, it was essential Podesta disclose the financial benefits he received from the company.
"I think in this case where you're talking about foreign interests and foreign involvement, the collateral interest with these disclosure forms is put in the forefront of full disclosure of any foreign interest that you may have," he told TheDCNF in an interview.
He added that Russian money was a continuing concern because it could "become a counterintelligence concern for America."
"It's a troubling question if you deliberately omit this information on the form," Hosko, a 30-year veteran of the FBI told The DCNF. "Were you completely truthful on this form that you filled out, yes or no?"
Podesta took possession of the stock in January 2014, the same month he entered the White House, according to WikiLeaks.
The existence of the 75,000 shares of Joule stock was first revealed by the Government Accountability Institute report issued last year.
The video below delves deeper into Congress's investigation of John Podesta and his Russian links.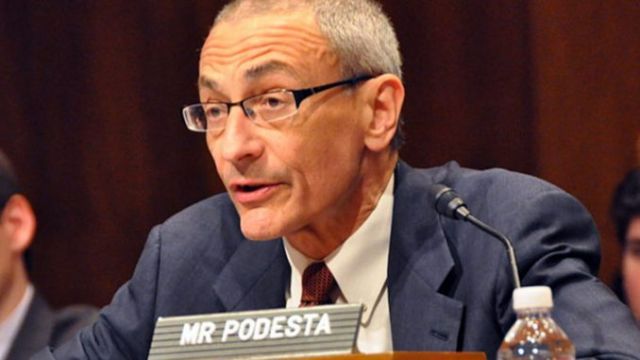 References:
http://yournewswire.com/podesta-jail-russian-bank/
http://dailycaller.com/2017/03/26/exclusive-john-podesta-may-have-violated-federal-law-by-not-disclosing-75000-stock-shares/
http://www.documentcloud.org/documents/1227013-john-podesta-white-house-financial-disclosure-form.html
https://wikileaks.org/podesta-emails/emailid/4635