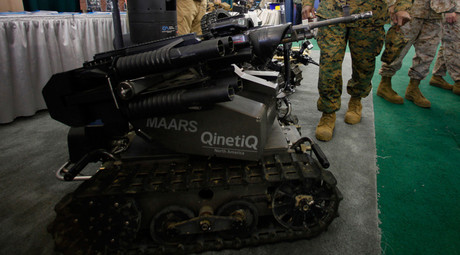 The Saturday gathering included a panel which consisted of Eric Horvitz, managing director of Microsoft's Redmond Lab, Skype co-founder Jaan Tallinn, and ASU physicist Lawrence Krauss. It was partly funded by Tallinn and Tesla's Elon Musk, according to Bloomberg.
It included 'doomsday games' which organized around 40 scientists, cyber-security experts, and policy experts into groups of attackers and defenders, the news outlet reported.
Participants were asked to submit entries for possible worst-case scenarios caused by AI. They had to be realistic, based on current technologies or those which seem plausible, and could only consider things which might feasibly happen between five and 25 years in the future.
Scenarios ranged from stock market manipulation to global warfare. Others included technology being used to sway elections, or altering a self-driving car to see a "stop" sign as a "yield" sign.
Those with "winning" doomsday scenarios were asked to help lead panels to counter the situation.
Horvitz said it was necessary to "think through possible outcomes in more detail than we have before and think about how we'd deal with them," noting that there are "rough edges and potential downsides" to AI.
While some of the proposed solutions from the 'defenders' team seemed viable, others were apparently lacking, according to John Launchbury, who directs one of the offices at the US Defense Advanced Research Projects Agency (DARPA).
One of the failed responses involved how to combat a cyber weapon designed to conceal itself and evade all attempts to dismantle it.
Despite the somewhat unnerving content of the event, Krauss said the purpose was "not to generate fear for the future because AI can be a marvelous boon for humankind…but fortune favors the prepared mind, and looking realistically at where AI is now and where it might go is part of this…"