by Ancient Code
"If intelligent alien life forms do exist out in the vastness of space, they might not be the friendly cosmic neighbors the people of Earth are looking for. Such advanced aliens would perhaps become nomads, looking to conquer and colonize whatever planets they could reach. If so, it makes sense for them to exploit each new planet for material to build more spaceships so they could move on…"
We have seen countless Alien movies in the past like Close Encounters of the Third Kind," "Fire in the Sky," "The Alien Trilogy," "Predator," "Independence Day," and "War of the Worlds", and most of them illustrate what people think could happen if mankind was visited by an advanced alien race today.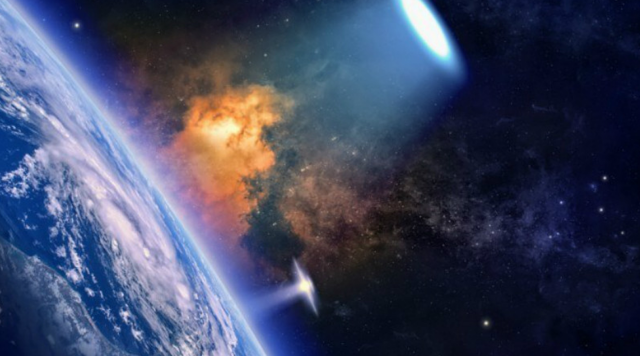 But, there aren't any aliens out there, we are alone in the universe! Wrong. Why? Well, simply put, it's a HUGE space out there.
Carl Sagan explained the Drake equation in his series 'Cosmos' perfectly when he said that the number of technological civilizations (aliens) literally number in the millions—in our galaxy alone.
But maybe aliens are nice, and they'll come to Earth giving us super cool new technology.
According to world-renowned scientist professor Stephen Hawking, this may not be the case.
In fact, professor Hawking has spoken out numerous times about Alien contact and what would happen if our cosmic neighbors came to our planet.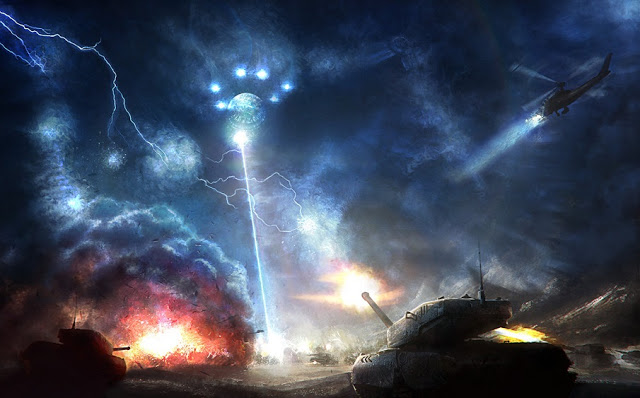 Would Aliens try to destroy the human race? Image by moonxels
In a series called "Into the Universe (Discovery Channel), professor Hawking said:
"If intelligent alien life forms do exist out in the vastness of space, they might not be the friendly cosmic neighbors the people of Earth are looking for. Such advanced aliens would perhaps become nomads, looking to conquer and colonize whatever planets they could reach. If so, it makes sense for them to exploit each new planet for material to build more spaceships so they could move on. Who knows what the limits would be?"
Professor Hawking added: "We only have to look at ourselves to see how intelligent life might develop into something we wouldn't want to meet. I imagine they might exist in massive ships…having used up all the resources from their home planet. Such advanced aliens would perhaps become nomads, looking to conquer and colonize whatever planets they can reach."
Recently Stephen Hawking said that:
"We don't know much about aliens, but we know about humans. If you look at history, contact between humans and less intelligent organisms have often been disastrous from their point of view, and encounters between civilizations with advanced versus primitive technologies have gone badly for the less advanced. A civilization reading one of our messages could be billions of years ahead of us. If so, they will be vastly more powerful, and may not see us as any more valuable than we see bacteria."
Jill Tarter, the former director of the Center for SETI doesn't believe Aliens are hostile and disagrees with Professor Hawking:
"While Sir Stephen Hawking warned that alien life might try to conquer or colonize Earth, I respectfully disagree. If aliens were to come here, it would be simply to explore. Considering the age of the universe, we probably wouldn't be their first extraterrestrial encounter, either."
"If aliens were able to visit Earth, that would mean they would have technological capabilities sophisticated enough not to need slaves, food or other planets," she added.
Authors Philippe Barraud, Mary Parlange—in the book Beyond Contact: Exploring Our Search for Extraterrestrial Life— agree with Professor Hawking stating that:
Hawking's warning is eminently logical. Imagine a civilization that pored all of its last resources into building immense space stations, in which generations upon generations lived over hundreds of thousands of years, paying the price of a considerable lack of comfort. Will they, upon encountering a promising planetary system, settle for just sharing some wisdom and a message of love?
What do you think would happen if a MASSIVE Alien spaceship showed up above Earth? Would spacefaring aliens be hostile or benevolent?
Reference:
Intelligent Aliens Could Destroy Humanity, But Let's Search Anyway
Beyond Contact: Exploring Our Search for Extraterrestrial Life – by Philippe Barraud (Author), Mary Parlange (Translator)
SETI Institute's Jill Tarter takes issue with Stephen Hawking, MIB3, Prometheus and Battleship
Is There Intelligent Life in the Universe?
RELATED POSTS
Every Day is Earth Day
Source:
http://feedproxy.google.com/~r/riseearth/KZKa/~3/81Ke7_bC69k/stephen-hawking-warns-aliens-could.html