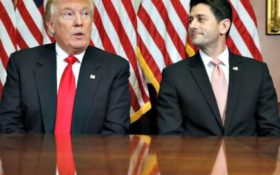 EXPOSED! Paul Ryan caught in Trump SABOTAGE
Speaker of the House Paul Ryan has been accused of sabotaging President Donald Trump's efforts to repeal and replace the Affordable Care Act, and now there's proof that he doesn't support the president.
On audio tapes from an October conference call with House Republican leaders, obtained by Breitbart, Ryan can be heard promising that he is completely done with Trump, and will never defend him again.
"I am not going to defend Donald Trump — not now, not in the future," Ryan can be heard saying. The traitorous words come at a tense time for the speaker and the president.
Ryan just pushed through the legislation for the 'American Health Care Act', which many Republicans are critical of.
Senator Rand Paul slammed the Speaker, saying Ryan misled Trump in believing repeal and replace in one bill was the most efficient way to pass the legislation, and was manipulating Trump into believing the bill will pass easily through the Senate.
It's unclear how many Republicans were part of the conference call, if they were aware the call was being recorded, and who actually performed the recording. But the comments are assumed to be accurate, especially due to Ryan's fulfillment of his promise to abandon his support for the then Republican presidential nominee.
Not only did Ryan not defend Trump over the controversial Access Hollywood tape, he refused to campaign with his party's candidate for the remainder of his presidential run.
Ryan has remained relatively removed from Trump and his policies, and this latest leaked audio will only increase tensions between the two Republicans, and make compromise, especially on the current healthcare debate, a difficult goal to accomplish.
You can here the comments obtained by Breitbart below.
Paul Ryan's Conference Call with Republicans
Oct 10 2016
Published on Mar 13, 2017
https://thehornnews.com/exposed-paul-ryan-caught-trump-sabotage/
NESARA- Restore America – Galactic News
Source:
http://nesaranews.blogspot.com/2017/03/traitor-paul-ryan-sabotages-americans.html