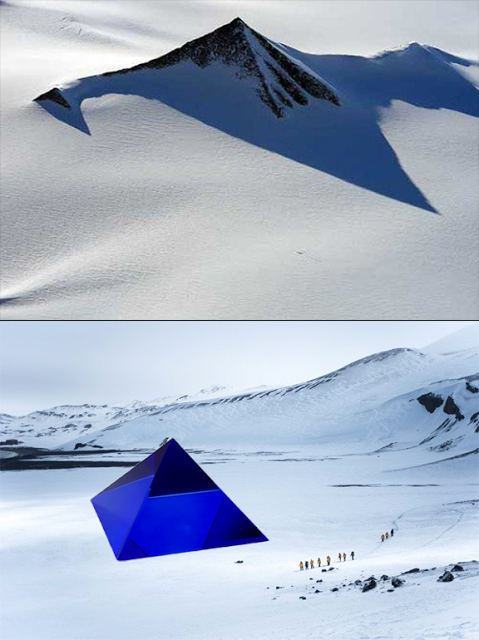 Bottom image is a photoshop depiction for illustrative purposes
of what i saw before the snows set in. The warehouse building would sit
about where the men are.
1/23/16: UPDATED WITH DATA ON THE SAPPHIRE PYRAMID
Terran to Denice: I feel Loie nearby
Denice: ☺
Terran: Hi Loie!
Loie: Hello, Bill. I am here, love.
Loie: Sending you a frequency. Ready?
Terran: Yes
Terran: You are coming thru clearly tonite it seems
Loie: Sending, love.
Loie: Feel me?
Terran: Yes very much so
Loie: Perfect, dear!
SCENE 1
Terran: Seeing black people (Africa) with bowls out looks like someone is giving them something that looks like corn flakes [in shape... got the feeling it was much more than that in nutrients]
Terran: Very dark skin
Terran: Feels like food distribution
Loie: Boosting, love.
Terran: Whoever these people are they have a sun shade that is maybe 6 feet wide strips of cloths like towels joined to parallel ropes
Terran: Feels arid and dry
Terran: Red earth
Terran: There is a woman in uniform on one end dark coat green pants and a French solider type black hat with a red band
Terran: Kind of hot clothes for this climate
Terran: She has black hair
Terran: Seeing plastic bags of water maybe 3 gallons in each bag kind of like a string of sausages
Terran: Feels airlifted
Terran: They cut a strip between the bags and distribute them
Loie: Boosting, dear.
Terran: Is this extraneous?
Loie: Feels like famine relief
Terran: Bill, it is in the flow. All is perfect, dear.
Loie: Do you have something in particular you desire to see?
Terran: Seeing others planting crops and some machine that makes water
Terran: There are agricultural people helping the villagers both immediate and long term
Terran: These are Galactics
Terran: A ship brought in some more water sausages [containers]
Terran: Future event? Feels like Sudan or maybe Saharan Africa
Terran: Very dark skin people
Loie: It is now, love. All is now.
Terran: Some are putting up a small warehouse has a arch top kind of a metal building the arch is like a curved criss cross of metal that just kind of unfolds then the skin is put over that very fast deployment
Terran: Very efficient building technique
Terran: They [the agricultural people] have this tool… kind of an arm with an oblong thing on the end with some probes that tests soil chemistry and says what needs to be added for crops
Terran: Mineral tester I take it
Terran: Nutrient tester
Terran: There is some black men chained together by rebels I think… There is a quick intervention and they are freed…
Terran: They were tied up like logs
Loie: Boosting love.
Terran: I see some oil polluted river delta some sort of aerial pollution remediation going on… a whole lot of activity
SCENE 2
Terran: Scene change to North America, I think hurricane I think see American cars
Terran: Lost the stream [momentarily]
Terran: Seeing aftermath washed out iron bridges [those old steel arched bridges]
Terran: Mud lots of mud [felt a lot like Lousiana or some bayou type area]
Loie: What do you feel to do next, dear ?
Terran: I would like to pick up in the Mayan temple later when done with this flow and see what I need to see regarding Antarctica
Loie: Perfect, love!
Loie: Boosting.
Terran: Seeing something looks like a self assembling bridge across a bayou
Terran: Must be a kind of replicator construction thing [This device seemed to be able to create pylons and bridge supports on the fly and insert them, only saw the structure portion as it moved forward but got the sense it built the road surface on the return. Felt like it could build a fairly long bridge in hours or just days.]
Terran: Seeing rivers running cleaner
Terran: [A flash back to the arid Africa scene] Seeing the deserts green up and grass and bushes returning
Terran: Kind of a time lapse overview
Terran: [A flash back to the arid Africa scene] Seeing micro schools for village kids very clean classroom
Terran: Mothers attending with the small children not isolated from them
Terran: Very Africa
Terran: I think that's the end
Loie: Sending another frequency, dear.
SCENE 3
Terran: Seeing snow
Loie: Boosting, love
Terran: Seeing snow covered pyramid I think not sure if four sided or five [4 sided]
Terran: Seems like I'm seeing as it was built originally, clear like a beautiful sapphire
Terran: As it once was in warmer times
Terran: Very advanced construction like nothing known on earth now
Loie: Boosting, dear.
Terran: Feels like crystal not glass
Terran: The light inside it is amazing when the sun is on it [felt myself walking through the structure in bright sunlight]
Terran: It's hollow the structure is supported by the pyramid shell itself it seems
Terran: Like it's one piece or nearly so
Terran: Feels like a records depository
Loie: Boosting, love.
Terran: There are capsules in the floor in some sort of conveyor system not sure what they hold maybe 12 inches wide 36 inches long white tubes round on the ends.
Terran: Some sort of archival system, manuscripts?
Loie: Feel this, love.
Terran: Reminds me a bit how dry cleaner racks move but much more advanced
Terran: [After feeling the data]… Plant specimens in stasis
Terran: Plant archive
Terran: All kinds of botanicals
Terran: All seem to young plants not seeds or full grown
Terran: Perhaps preserving whatever bacteria or insect symbiotic in the soil that needs to be with that plant to thrive (pollinators etc)
Terran: Seeing another room with white wheel like structures that rotate these sample archive tubes under light when coming out of stasis… kind of like Ferris wheels
Terran: [Next room after the de-stasis room] Also see a large horticultural propagation area too
Terran: Like massive green houses with their own lighting this seems to be in this same complex
Terran: This pyramid resonates with the earth…. feels like energy breathing
Loie: Boosting dear.
Terran: Another structure adjacent [to the front and right of the pyramid from where i first viewed it in its original state] more conventional structure [somewhat barn or warehouse like structure] feels like fruit trees in it
Terran: Acres of fruit trees either short species or young ones
Terran: Also seeing very exotic flowers…. huge flowers… one is lavender with maroon tips must be 12 inches across
Terran: Kind of like a chrysanthemum… but more conical
Terran: Some amazing flowers in here like nothing I've seen in this life
Loie: Boosting, dear.
Terran: Climbing flowering vines of redish pink on shiny metal trellises
Terran: Someone went to a lot of effort to save these varieties
Terran: Seeing something like a sugar cane but with a flower on the end that smells like vanilla and cinnamon. It's a white flower about 6-8 inches long roughly petunia shaped but much larger
Terran: Amazing I can smell it!!!
Loie: Perfect, love!
Terran: White with slight pink shades on edges
Terran: There is a vine that is like a cross between a raspberry and mulberry
Terran: Large fruit maybe 2 inches long
Terran: This must be agriculture night in the flow lol!
Loie: Bill, all is perfect!
Terran: My sense is the pyramid is in the Antarctic
Terran: Much snow covering it
Terran: It must have been known this would happen to this continent
Terran: Seeing a tree or maybe vine with hanging clusters of small blue fruit hangs a bit like dates but more like a vine and much narrower clusters and long bunches.
Terran: Singing flowers? Kind of like cricket sounds but higher pitch roughly fist sized opening like a conch shell but not spiral. Purple to maroon shades.
Terran: How does a plant sing?
Loie: Feel it, love.
Terran: Something to do with osmotic pressure and air dryness must do it in certain circumstances
Terran: It's kind of cool though!
Terran: What a catalog of creation all this is!
Loie: And you are seeing only a small portion, love!
Terran: Astounding!
Loie: These structures are big
Terran: Much in them
Terran: Probably species long thought extinct or simply not remembered
Terran: It's kind of a plant ark
Loie: Yes, love. One more view? Sending you a new frequency.
Terran: Okay
SCENE 4
Terran: Snow again looks like a current Antarctic base
Loie: Feel me?
Terran: Yes I feel you scene changes immediately with new frequency
Loie: Boosting love.
Terran: Seeing a plane I don't recognize but reminds me of those Alaskan bush planes.. maybe Russian? It not a big craft but is made for cold weather and has skis
Terran: This base building reminds me more aircraft construction than conventional buildings metal skin much insulation… [think a very large squatty airstream trailer]
Terran: Rounded corners
Terran: Perhaps because of winds?
Terran: Somewhat aerodynamic
Terran: Has a small Russian Flag
Terran: Does not feel like a large base
Terran: Feels like maybe 30 at most here
Terran: There are sled dogs
Terran: There is a small self contained reactor for power and heat. Very Russian
Loie: Boosting, dear.
Terran: Getting images of a large facility but feels under ground… not far away feels like an aircraft hangar but don't feel any planes
Terran: Feels rather empty but also feels like railroad tracks with in it [I don't quite know what for...]
Terran: Lot of floor space
Terran: You could probably put 10 747s in here from what I see
Terran: Maybe it's not for Earth aircraft no runway
Denice: (Fading here, sorry)
Terran: Got an image very much like discs [redacted] and I saw over Austin… feels like something much like that… once came here
Terran: Same general shape
Terran to Denice: Ok Denice we can wrap it up… that's a lot of data anyway! Thank you Loie!
Loie: Thank you, Bill! You are wonderful, love. Loie.
Terran: Thank you Denice!
Denice: You are welcome!
Denice: ☺
January 23, 2016
Terran: Nabrac, do you happen to know the name of the blue pyramid I saw and who built it?
Nabrac: TERRAN. THE SAPPHIRE PYRAMID IS UNNAMED. BUILT BY SEVERAL OF THE ORIGINALS. LED BY THE/ONE KP. NABRAC.
[Note: KP/Kauilapele and Skye are masters of crystal, it makes a lot of sense KP would be involved in a building made from Sapphire crystal. I don't yet have any word on Skye's involvement in Antarctica. ]
Terran: Was Antarctica the former Lemuria? [KP has a deep connection to Lemuria]
Nabrac: TERRAN. THE LEMURIA AND ANTARCTICA WERE TWO SEPARATE REALMS/CIVILIZATIONS. NABRAC.
Terran: What was Antarctica once called?
Nabrac: TERRAN. IT APPEARS THAT TOO WILL BE A SURPRISE. MANY ARE HEADED YOUR WAY NOW. NABRAC.
Surprises yet in store for me it seems! ☺
It is not Atlantis 2, which sunk, that much I am fairly certain of… It is possible I suppose it could be Atlantis 1 but I have my doubts about that. My information as of now is that Atlantis 1 became its own realm much like the Mayan realm to protect it.
When I find out what Antarctica was once called I will tell you all! But we may find out at the same time.
In the last week a semi-disguised deer blind has appeared 100 meters behind my bedroom window. Its rather tall for a deer blind and placed with in tree branches. Its no longer deer season. Odd it would show up now.
Being monitored is not anything new for me in the last 4 years, you learn to live with it. And its not necessarily nefarious either… some of this activity is protective. Nothing is as it seems. The watchers are themselves watched. That much I know.