Story Views


Now:
Last Hour:
Last 24 Hours:
Total:
Urgent Alert! Gop 'obamacare' Betrayal
Tuesday, March 7, 2017 17:43
% of readers think this story is Fact. Add your two cents.

HAS THE REPUBLIC BEEN RESTORED? OR NOT? IT APPEARS THAT IT IS BETRAYAL, FRAUD AND BUSINESS AS USUAL IN WASHINGTON DC BOTH BY THE DEMOCRATS AND RYAN AND THE GOP. ENOUGH IS ENOUGH. PUT A STOP TO THIS LATEST BETRAYAL.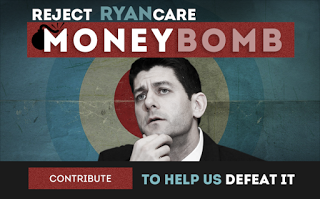 URGENT ALERT! RYAN AND GOP 'OBAMACARE' BETRAYAL !!
'Obamacare is bad enough, but now it appears that the GOP has betrayed the American people by presenting to us their revised 'Obamacare' plan, 'Ryancare'!!!!
Back-door mandates and taxes on hard-working Americans.
I'm talking about 'RyanCare' —

Paul Ryan's phony ObamaCare replacement bill House Republicans released to the public earlier today
.
As conservative Congressman Jim Jordan put it:
"This is Obamacare by a different form. They're still keeping the taxes in place and Medicaid expansion, and they're starting a new entitlement."
If you're like most Americans, you're probably more than outraged right now. After all,

Republicans have promised repeal of ObamaCare for six years.

But

now that they've got control of the entire federal government, instead of making good on their promises, they jabbed a dagger in the back of every voter who elected them on the promise to repeal ObamaCare.
You and I must force them to vote against RyanCare — or make them pay for their betrayal at the ballot box in 2018.
That's why Principled PAC is launching a "Defeat RyanCare Money Bomb" to

turn up the pressure on Paul Ryan, Mitch McConnell and every other Republican coward who is considering voting for RyanCare

.

But time is running short to mobilize opposition to RyanCare.
The House Ways and Means Committee and the House Energy and Commerce Committee are expected to mark up the bill this week. And Republican leadership hopes to send the bill to the Senate

within three weeks

.
Principled PAC staff is prepared to work around the clock to launch our digital campaign targeting Paul Ryan, Mitch McConnell and every other GOP sellout with a hard-hitting program demanding they reject RyanCare and instead demand a FULL REPEAL of ObamaCare as promised to the American people.
If we can raise the resources, Principled PAC will:
>>> Flood the offices of Paul Ryan, Mitch McConnell and every other Republican sellout with up to 100,000 petitions, faxes, and phone calls

DEMANDING they oppose RyanCare

and instead

vote for full repeal of ObamaCare;
>>> Run hard-hitting Internet banner ads on popular sites targeting members of Congress who promised to repeal ObamaCare but are currently lining up behind the establishment and RyanCare;
>>> Produce hard-hitting radio ads targeting fence-sitting politicians with extra phone calls, emails, faxes and petitions from angry voters demanding they oppose RyanCare and follow through with their pledge to repeal ObamaCare.
As you can see, I'm prepared to go all-out to defeat RyanCare. That's because this is one fight you and I can — and must — win.
https://causes.anedot.com/principledpac-reject-ryancare-rsdts
With your help, Principled PAC will make sure there will be no hiding from constituents who oppose RyanCare and the GOP sellout.
Thank you in advance for your support.
SEND THIS INFORMATION TO FAMILY AND FRIENDS. BOMBARD ALL NEWS SERVICES WITH THIS INFORMATION. ALERT AND TEACH OTHERS ABOUT THIS
NESARA- Restore America – Galactic News
Source:
http://nesaranews.blogspot.com/2017/03/urgent-alert-gop-obamacare-betrayal.html