Climb aboard for an unflinching ride thru the uncharted landscape of the Kali Yuga & the Great Shift of the Ages.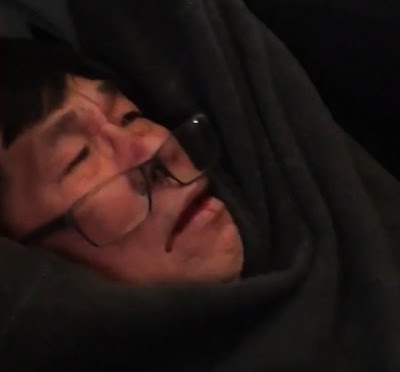 By now most of you have likely heard of what transpired on a United Airlines plane in Chicago yesterday: when a 69 year old doctor was beaten by airline security, then manhandled and physically dragged off the airliner. It seems the airline had a fully booked aircraft when it was discovered they needed four additional seats to transport four United employees.
Initially the airline offered up to $800 dollars to passengers willing to take a later flight. There were no takers, so they decided to let the computer pick four people at random to leave the plane. Three of them took the hike like peaceful little sheep and deplaned without complaint. The fourth however, Dr. David Dao, had to get to Louisvilleto treat his patients; and refused to be put off the plane.
It was at this point that the security goons were instructed by someone to physically remove the gentleman from the aircraft; and they did. He was struck in the mouth and began bleeding from the lip as they dragged him like a duffel bag down the aisle of the plane.
Yes everything about what happened was reprehensible; especially the reaction, or lack thereof, from the remaining passengers. On the cell phone video taken by a passengers ONE woman can be heard kind of protesting the rough Gestapo like action and it was a chorus of one. There were a couple of sarcastic wise-ass remarks made, but no real protest. On a flight so full of humans there was a shocking lack of humanity. The entire lot of them just sat there and not only watched this crime take place, they allowed it to happen by not standing up in defense of their fellow passenger. As if filming video was the limit of civic responsibility.
I'm really curious, were the other passengers indifferent because Mr. Dao was Asian, or because as well behaved cattle they feared the same treatment? Yes the fine print in the 'carrier agreement' you sign to get a ticket to fly says the airlines can do pretty much whatever they want to you while on their aircraft; but we know nobody ever reads that stuff, so the passengers weren't silent and compliant because the airline goons were allowed to treat humans like garbage…it's some other reason.
They were silent because they were afraid that if they stood against this kind of treatment something as bad or worse might happen to them. The nail that sticks up gets hammered back down. It's true, they really have turned us into a nation of sheep, and lamentably there may be no way back for us at this late date. Nation of sheep, ruled by wolves & owned by pigs.
To his credit, Mr. Dao managed to slip back aboard the airliner, determined to not be deprived of what he'd paid for. I believe the news said he wasn't allowed to remain on the flight. Now, in the aftermath of this incident we see a flurry of "news" stories all from Dr. Dao's past which all seek to somehow discredit him as a decent human being as if to justify what was done to him.
I have no idea whether any of these allegations about Dr. Dao are true, but it simply doesn't matter. Nothing from his past has anything whatsoever to do with what happened on that aircraft, period. Those who dig up and make up such things to publish are not journalists, but rather ghouls who are pushing the party line of totalitarianism as if it was normal and right, which if course it is not. The only thing Dr. Dao was guilty of was being Chinese-American and thinking he had the right to stand up for his rights as a citizen.
This man committed no crime, brought no contraband aboard the plane, and said nothing to bring about his forced, bloody eviction from the plane. All he did was insist on getting what he paid for, and that got him a beat down…and everyone there just watched. This is nothing new of course, we humans have a bit of a history of not wanting to get involved: whether we see a beating, or children in public being struck for misbehavior, or a woman being abused in public. We say it's not our business as an excuse to turn away, avert our gaze and pretend it isn't happening.
We let these things slide at our peril. Yes today there is a hue & cry for a boycott against United Airlines, which is good and all that, but what would have been so very much better is if the other passengers had refused to permit the violation of thus man's human and constitutional rights in the first place. We have to make a stand somewhere, sometime don't we? It might as well be right when the shit is going down, because the way we are doing things nowadays ensures us that when it is your turn to be dragged away by the Gestapo there will be no one left to complain or protest. If we do not defend everyone's rights then nobody has any left.
© 2017 full re-post with permission only
See For Yourself