4/4 is 1984 Day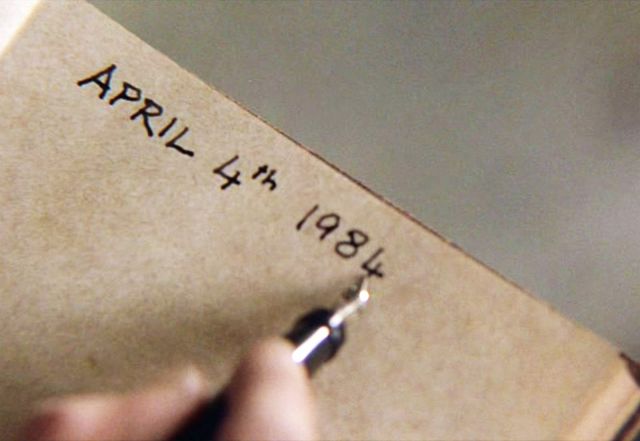 Winston Smith, first diary entry, 1984
April 4th, 1984.
Last night to the flicks. All war films. One very good one of a ship of refugees being bombed somewhere in the Mediterranean. Audience much amused by shots of a great huge fat man trying to swim away with a helicopter after him, first you saw him wallowing along in the water like a porpoise, then you saw him through the helicopters gunsights, then he was full of holes and the sea around him turned pink and he sank as suddenly as though the holes had let in the water, audience shouting with laughter when he sank, then you saw a lifeboat of children with a helicopter hovering over it, there was a middle aged woman might have been a Jewess sitting up in the bow with a little boy about three years old in her arms, little boy screaming with fright and hiding his head between her breasts as if he was trying to burrow right into her and the woman putting her arms around him and comforting him although she was blue was fright herself, all the time covering him up as much as possible as if she thought her arms could keep the bullets off him, then the helicopter planting a 20 kilo bomb in among them terrific flash and the boat went all to matchwood then there was a wonderful shot of a child's arm going up up up right up into the air helicopter with a camera in its nose must have followed it up and there was a lot of applause from the party seats…
George Orwell's 1984 was originally published in 1949, and yet has provided a persistent exploration of contemporary politics. Originally to be titled The Last Man in Europe, 1984 describes a world at war with constantly switching sides immersed in constant lies. All information is controlled by the state. All institutions are linked to the state and all individuals are dependent on the state.
On April 4, 1984, the main character begins to pen a diary, a criminal act. Winston Smith and everyone around him are strictly controlled in a collective. The collective is so harsh and belittling of the individual that free thinking is illegal, a thought-crime. There is Big Brother, the entity adopted by the state and there is the Brotherhood, a supposed loose group of people who defy Big Brother. Big Brother issues a dictionary that eliminates language with every edition. And the Brotherhood has its own required reading, called The Theory and Practice to Oligarchical Collectivism. It has become known as the book within the book. Oligarchical Collectivism means the linking or joining of institutions, institutions designed to keep control in the hands of the few.
There are three types of institutions in the world, those of state, those of corporate and those of religion. A foundational concept of the United States is, or was, a separation of these institutions to eliminate the potential for oligarchical collectivism. The founding fathers may not have used the term, but they certainly observed such diabolical collectives of institutions, states supported by churches, with corporate functions.
1984 has done in the real world what Orwell supposed the book within the book could do in his fictional world. The book has spawned new terminology and thus new ability to express and explore political concepts which in some cases have occurred for centuries. Some might say that Orwell would not appreciate his penname being adopted and made to express a concept, as in Orwellian. However I think he would be honored that expressions from his fictional masterpiece have enhanced language and added words to the vocabulary of real world. Language is like a key to the map of life. The less language we have, in our vocabulary and in books at our disposal, the worse off we all are.
Beginning with Winston Smith's first diary entry on April 4, (4/4) and all throughout the book Orwell exposes the 4 aspects of political consciousness. Orwell portrays this idea in many ways, including in the name of the Emanuel Goldstein character, meaning golden godliness is within as well as the four types of people in the fictional world; The Proles, The Outer Party, The Inner Party and The Brotherhood.
Respect to George Orwell on this bright cold day in April. Read 1984, or my consider own book, The Complete Patriot's Guide to Oligarchical Collectivism, for this might be the most Orwellian time period yet, with abundant examples of oligarchical collectivism that can only be countered with individuals in liberty.
The Terraist Letters
Ethan Indigo Smith's controversial book, The Terraist Letters, humorously contrasts the very serious issues of global nuclear experimentation and global marijuana prohibition. It is a funny and provocative political satire that attempts to brings some sanity to the most serious subject matter of nuclear experimentation, in a way that only Ethan can.
"Ethan's work will titillate, irritate, but most importantly, stimulate some serious thought concerning current conventions. Give it a read. Your brain might thank you." ~ New York Times Best Selling author, Jim Marrs
The Terraist Letters is available here on Amazon.
The Complete Patriot's Guide
Ethan Indigo Smith's book, The Complete Patriot's Guide to Oligarchical Collectivism: Its Theory and Practice, is an insightful exploration of history, philosophy and contemporary politics of today's heavily institutionalized society.
An inspiration for positive, peaceful individual action, The Complete Patriot's Guide is pro-individual in its perspective and, although political, discusses our society and its institutions from neither left-wing nor right-wing perspectives, exploring history, philosophy and contemporary politics relative to the fictional work of George Orwell. Layered with insight, it is in part a literary exploration of the themes of Orwell's 1984, and provides solutions for individual and collective empowerment.
The Complete Patriot's Guide to Oligarchical Collectivism is available here on Amazon.
The Matrix of Four
The Matrix of Four: The Philosophy of the Duality of Polarity is an exploration of our consciousness, and presents a formula to develop our consciousness and surpass the limitations of traditional political and social constructs. In this work, Ethan relates and explains correlations between the four seasons, Aum, and a myriad of esoteric and exoteric ideas on consciousness to inspire creative thinking and being. He also explores mathematical and philosophical concepts to engage a higher thinking and being, verified using universality and human traditions beginning with the four operations of arithmetic, referencing the four archetypal characters in Plato's The Allegory of the Cave, and much more.
The Matrix of Four: the Philosophy of the Duality of Polarity is available on Amazon here.
About Ethan Indigo Smith:
Activist, author and Tai Chi teacher Ethan Indigo Smith was born on a farm in Maine and lived in Manhattan for a number of years before migrating west to Mendocino, California. Guided by a keen sense of integrity, humanity and justice, Ethan's work is both deeply connected and extremely insightful, blending philosophy, politics, activism, spirituality, meditation and a unique sense of humour.
You can connect with Ethan on Facebook, check out his author page on Amazon, or visit his new websites, Geometry Of Energy and Meditation 108, where Ethan offers lessons on individuation, meditation, the conceptualization of energy, and the metaphysical significance of 108.