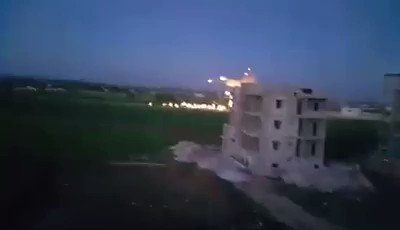 With the US now engaged in military conflict with, and targeting Syrian army forces, what the Trump administration has (un)wittingly done is provide support to Islamic State, al-Qaeda, and al-Nusra and other terrorist forces, all of which have been engaging with the Assad regime in a fight in which the Syrian president has gradually seen the tide of war turn in his favor. At least until last Friday's US cruise missile attack that is.
Which is why it should probably come as no surprise that, emboldened by US actions, moments ago the
WSJ reported
that Islamic State militants attacked a US-led coalition base (at least we now have official confirmation that there are US military bases in Syria) in southern Syria on Saturday,
"triggering a fierce fight that required coalition airstrikes to repel, U.S. military officials said Sunday."
The complex attack began on Saturday when Islamic State fighters detonated a vehicle bomb at a base in al-Tanf, a town in southern Syria along the Jordan border used by American special operation forces and Syrian rebels working with the U.S. coalition, the officials said.

Between 20 and 30 Islamic State fighters, including some with suicide vests, then attacked the base, which is a staging ground and training facility for the U.S.-backed Syrian rebels.
As the WSJ adds, Coalition forces and Syrian rebels engaged in firefights with the attackers and then called in airstrikes to repel the attack, officials said.
Luckily, there was no word of any American fatalities in the attack, although next time the US forces on the ground may not be so lucky, and the resulting media storm would prompt a full reappraisal of Trump's action which by weakening Assad implicitly and directly is boosting the relative strength of the Islamic State.
The Islamic State attack comes as the U.S. military is deepening its presence in Syria as part of an intensifying campaign to drive the extremist group from its de facto capital in Raqqa. For weeks, the U.S. military has been strengthening its presence along the Jordan-Syria border, according to U.S. and Jordanian officials.
Meanwhile, confirming that the US is not nearly close done bombing Assad, on Sunday the Qatar-owned (the country which at long last hopes to have its
gas pipeline cross Syria to Europe
) Al Jazeera, reported that Syrian jets have bombed the town of Idlib using White Phosphorus.
One almost wonders what must have gone through the head of the Al Jazeera producers when told to report on such a story.
One thing we can imagine, however, is sequence of thoughts inside Assad's head: "Well, I just got bombed by the US and I will surely get bombed even more at even the slightest additional provocation that can be splashed across the front pages of western newspaper. So… yes, brilliant idea – I will use a banned, toxic substance – White Phosphorus – and hope it appears on all media channels around the developed world, just to make sure the next US airstrike aims right for my palace."
Sure, why not.
Expect to hear much more about white phosphorus in the coming days: it will be the "catalyst" for the next round of Syrian airstrikes.
http://nunezreport.blogspot.com/
Source:
http://nunezreport.blogspot.com/2017/04/isis-attacks-us-led-base-in-southern.html