Islamic and Christian Syrian Reaction to Trump's Airstrike over a Suspicious Chemical Attack
A Syrian who introduces himself as a "medical doctor trained in the UK" and "humanitarian aid worker" was a key eyewitness on the ground during an alleged chemical attack by the Syrian government, offering himself for media video interviews and uploading mobile phone footage of victims which was shared thousands of times.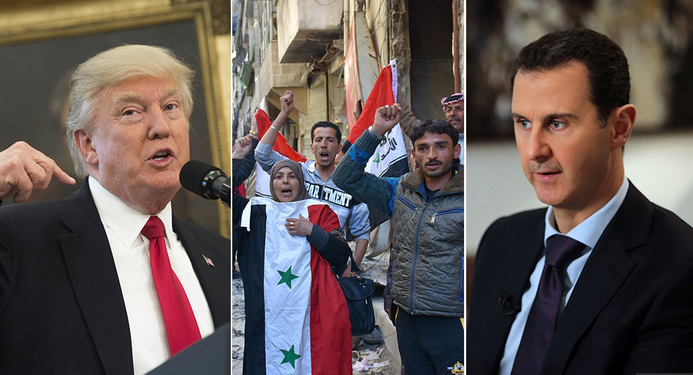 His footage of people and children dying from gas shocked the world, and mobilized U.S. President Donald Trump into action. Trump ordered airstrikes against a base of the Syrian government.
The supposedly kind Syrian who made the footage is Shajul Islam. According to conservative Jewish-American writer Pamela Geller, "Islam, described as a 'committed jihadist' by foreign intelligence agency MI6, was tried for kidnapping John Cantlie and Jeroen Oerlemans, journalists from the UK and the Netherlands, while fighting with an Islamist group in northern Syria."
Even so, Islam was interviewed by a number of U.S. mainstream broadcasters, including NBC News, as a reliable source for the alleged attack by Assad. After allegedly seeing one of these news shows, Trump launched missiles on the Syrian government.
The big U.S. media was careful not to reveal the terrorist identity of Islam. And it has been equally careful not to reveal that most Syrians interviewed showing support for Trump's airstrikes are… Muslims.
According to U.S. conservative writer Don Hank,
The Saudi online news site Al-Sharq Al-Awsat (meaning "the Middle East") ran an article under the headline "Syrian Opposition Welcomes US Strike on Regime Airbase, Urges More." The article said, "'Hitting one airbase is not enough, there are 26 airbases that target civilians,' a key figure in the Army of Islam faction, Mohamed Alloush, said on his Twitter account. 'The whole world should save the Syrian people from the clutches of the killer Bashar (al-Assad) and his aides.'"
So who is this Mohammed Alloush, that Saudi Arabia chooses to quote? The BBC reports that "Mohammed Alloush is the political leader of the powerful, Saudi-backed group Jaysh al-Islam (Army of Islam). Both the Syrian government and its staunch ally, Russia, consider Jaysh al-Islam a terrorist organisation."
RT, along with other sources, says about Jaysh al-Islam: "The Islamist group Jaysh al-Islam admitted to using chemical weapons against Kurdish militias in Aleppo. It also uses human shields and publishes execution videos – yet it has a delegation at the UN-backed Syria peace talks in Geneva.
So Islamic radicals welcomed Trump's airstrikes. They use chemical weapons, but they accuse their main enemy: the Syrian government.
Have Syrian Christians also welcomed Trump's airstrikes?
The leaders of Syria's local Christians churches have generally looked to President Bashar al-Assad as their protector.
Assad is of the Baath Party. The founder of this party, which has ruled Syria since 1963, was a Christian, and Christians rose to senior positions in the party, government and security forces.
In spite of the old Christian influence in Syria, the Syrian Christian community, which is a cradle of Christianity, is dying.
One year ago, Chaldean bishop of Aleppo, Antoine Audo, said that the Christian population in Syria has been reduced by two-thirds in five years — from 1.5 million to only 500,000.
Speaking at a press conference at the UN headquarters in Geneva, Audo said that only in Aleppo the Christian population was reduced from 160,000 to 40,000. According to Breitbart, these remaining 40,000 Christians are pro-Assad and fear the Islamic rebels backed by the U.S. They fear that if these rebels gain ground, Christians will become targets, both for their faith and their support of the Syrian government.
I cannot blame Syrian Christians. If with Assad is bad, with ISIS and U.S.-backed Islamic rebels is much worse.
ISIS, which according to

Trump was founded by the Obama administration

, has been accused of carrying out genocide against Syrian Christians. The Syrian government has been fighting ISIS and Islamic rebels at the same time. This is the major reason why Syrian Christians support Assad.
"We are facing terrorist action in the whole geography of Syria," Rev. Ibrahim Nseir, pastor of the National Evangelical Synod of Syria and Lebanon and the Presbyterian Church in Aleppo, told Fox News from the ISIS de-facto Syrian capital of Raqqa last year. "They are destroying our churches, killing and kidnapping Christians, stealing our homes and our businesses."
"It was on the road to Damascus that the Apostle Paul experienced his conversion to Christianity, and Syria remains one of the few sacred locales where the language of Aramaic — the language of Jesus — can still be heard," noted Fox News.
"In the 1920s, Christians — mainly Greek Catholic and Greek Orthodox — made up nearly a third of the Syrian population," it added. "By the time civil war erupted in 2011, Christians in Syria numbered just 2.2 million, or less than 10 percent of the nation's population. Experts now estimate that the Christians make up less than five percent of the population."
ISIS and Islamic rebels are devastating the Christian population in Syria.
Differently from Syria, in Saudi Arabia there is no Christian churches, and the Bible is banned. Even though Saudi Arabia is the main sponsor of global Islamic terrorism and Saudi terrorists made the 9/11 attack in New York, Bush, Obama and Trump have never launched airstrikes on Saudi Arabia.
What do Muslim Syrians in the U.S. think about Trump's airstrikes?
"I think it is a very good thing, to put it in a short answer," said Hussein Assaf, a Syrian-American Muslim who lives in Allentown, Pennsylvania. "It is a very overdue step, a step that should have been taken years ago."
"What I would like to see is a comprehensive military and security plan where they would put an end to Assad's killing machine," Assaf said.
Assaf, a Hillary voter, admitted he has to give Trump some credit for taking a stand against Assad in this instance. "I have to give Mr. Trump a lot of respect," he said.
What do Christian Syrians in the U.S. think about Trump's airstrikes?
"The U.S. is not the world's policeman and has no right to insert itself, uninvited, into Syria's internal affairs," said the Very Rev. Anthony Sabbagh, pastor of St. George Antiochian Orthodox Church in Allentown, which is the cultural center of Allentown's Syrian Christian community.
"His action is not going to strengthen the Syrian government, which is protecting the Christians," Sabbagh said. "It will strengthen ISIS, which is killing the Christians."
Sabbagh said he voted for Trump thinking he would let the Syrian people determine their own fate, but he's now regrets casting that ballot. In his mind, Assad is the only leader standing in the way of chaos fueled by ISIS and Islamic rebels.
With information from Breitbart, MCall, Pamela Geller and Laigle's Forum.
To follow Julio Severo in Twitter and Facebook: Twitter: http://twitter.com/julioseverous Facebook: http://www.facebook.com/pages/Blog-Julio-Severo/185623904807430