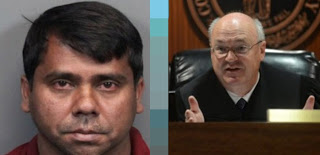 MUSLIMS SCAM $7.2M IN WELFARE FRAUD
JUDGE HAS JUST 4 TERRIFYING WORDS
Our nanny state is completely out of control. As welfare fraud continues to run rampant, it's hard to believe liberals are still in gross denial of the facts.
Two Muslim retailers, Mohammad Shafiq and Muhammad Sarmad, both plead guilty to wire fraud and conspiracy to commit food stamp fraud. The sentencing judge ordered each of them to serve eighteen months in prison. (via USDOJ)
Each man was tried and convicted in separate cases, which proceeded simultaneously. The details of the cases are similar — the judge convicted both men on the same charges, and they were found guilty of illegally exchanging food stamp benefits for cash.
The Supplemental Nutrition Assistance Program (SNAP), or food stamps, is a welfare program designed to help low-income individuals obtain a more nutritious diet.
In Maryland, where the retailers operated, welfare recipients receive an electronic benefits card that is similar to a debit card.
However, unlike a debit card, the benefits card can only be used to purchase items deemed to have nutritional value from approved retailers.
Shafiq and Sarmad owned four grocery stores each in Maryland. They'd both been approved by the state to participate in SNAP and were allowed to accommodate welfare recipients who visited their stores by accepting their debit-like SNAP cards.
Instead of providing only the state-approved food items, these two Muslims exchanged cash for SNAP benefits.
They gave welfare recipients half the value of their benefits in cash instead of food.
Essentially, they acted as a shady ATM for SNAP participants.
Both men told the court they were fully aware they were committing fraud.
Once again, we have another case of Muslims thinking they're above our laws!
The electronic benefits cards were designed to help curtail government waste and cut down on fraud, but they're frequently abused.
In this case, the store owners fabricated transactions and rang in false orders at varying times to give the appearance of typical customer behavior.
Over the course of six years, the two retailers were caught scamming the state's SNAP program for $3.5 million and $3.7 million.
They were also able to profit from the food items the government provided them, reselling them later to their customers.
In this lucrative scheme, the store owners were able to receive up to four times the value of the money they gave to welfare queens who were abusing their benefits.
This disgusting scheme is growing more popular, and criminals across our nation are stealing millions from taxpayers.
It's impossible to make sure 100 percent of a state's welfare funds are used for their intended purpose — at least right now.
Thankfully, President Trump is cracking down on these frauds, and we may see a brighter future sooner than we think.
http://www.angrypatriotmovement.com/muslims-welfare-scam/?bt_alias=eyJ1c2Vy SWQiOiAiODIyOTQyOGItMjYwZi00ZmRlLThkMTgtMDQzODJhZWQ2YmQxIn0%3D
The LIBERALS DEMANDING non-vetted 'immigrants' (aka muslim jihadists) to receive full SNAP benefits are, in fact, STEALING finances set aside to help America's people. Providing the SNAP assistance to the non qualified 'immigrants' prevents Americans who ARE TRULY QUALIFIED to receive but whose SNAPS assistance is being reduced substantially, even to the point of receiving nothing, by stealing the funds for the 'immigrants'. Very sad.
NESARA- Restore America – Galactic News
Source:
http://nesaranews.blogspot.com/2017/04/muslims-scam-72m-in-welfare-fraud.html