Story Views


Now:
Last Hour:
Last 24 Hours:
Total:
Watch How This Strange Cat Called a Caracal Pursues Aerial Prey (Video)
Wednesday, March 8, 2017 3:10
% of readers think this story is Fact. Add your two cents.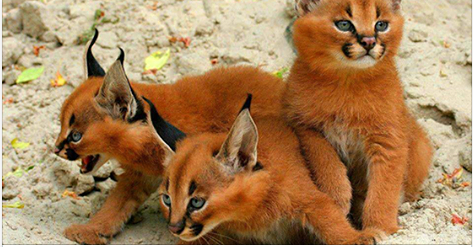 The caracal (Caracal caracal) is a slender, graceful cat with a short, dense coat and distinctive, long, black-tufted ears. The body colour varies from reddish-brown to tawny-grey, but occasionally entirely black "melanistic" individuals may occur.
The chin, throat and underparts are white, with pale red spots or blotches on the belly and the insides of the legs that vary from very faint to distinct in different individuals Distinctive narrow black stripes run from the eye to the nose and down the centre of the forehead, and the eyes are yellow-brown, with the pupil contracting to a circle rather than a slit. The caracal produces a range of vocalisations, including miaows, growls, hisses and coughing calls.
Check out this video of a Caracal in action below! Like it? Let us know in the comments! We love your feedback!
Thanks http://animalamigos.com
Check out more contributions by Jeffery Pritchett ranging from UFO to Bigfoot to Paranormal to Prophecy