Earlier this week Chinese troops took part in the Pakistan Day parade in Islamabad for the first time ever
Some experts see this as a sign of closer bilateral ties while others said it was a sign of China showing regional support and establishment of ties.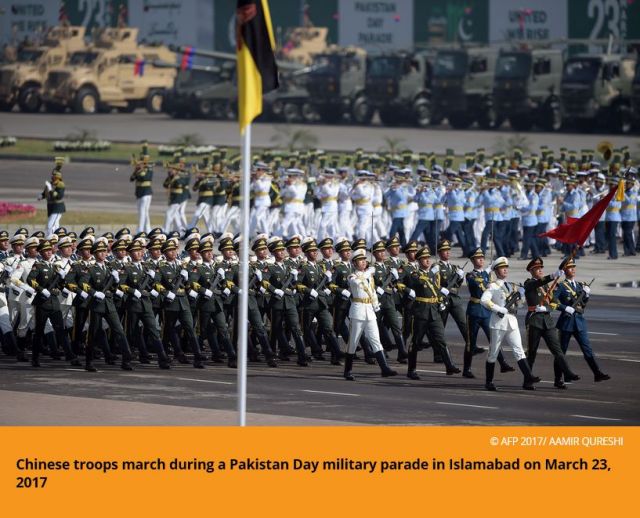 This unprecedented event on Thursday, 23 March 2017, had 90 Chinese army servicemen taking part in the Pakistan Day parade in Islamabad. During this parade, Pakistan showed off its tanks, warplanes and long-range missiles.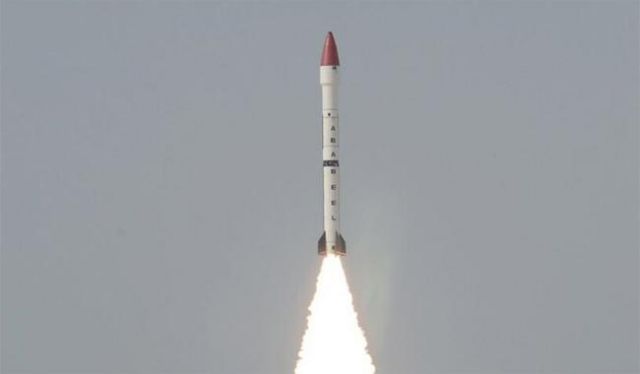 Pakistan on 24th January conducted a successful test flight of the Ababeel surface-to-surface missile (SSM), the Inter-Services Public Relations (ISPR), the Army's public relations wing. The missile is capable of hitting the target up to the range of 2200 kilometres. Ababeel can deliver multiple warheads using Multiple Independent Re-entry Vehicle (MIRV) technology, an ISPR press release said.
Similar military parades were considered as "a barometer of the state of bilateral relations," according to Chinese military expert Song Xiaojun
"These are normal exchanges between the armies of China and Pakistan. In practice, Beijing and Islamabad are strategic partners, and we can even say that they have excellent relations of strategic partnership. At the same time, both states are not military allies and they develop normal military contacts, including joint drills," Xiaojun continued.
Expert Peter Topychkanov of the Moscow-based Institute of World Economy and International Relations, also pointed to close political, economic and military ties between Beijing and Islamabad.
"Therefore, there is no doubt that the two countries are interested in further developing this cooperation and want to demonstrate that they are closer to each other," Topychkanov said referring to the Islamabad parade. "Additionally, it can be perceived as Pakistan's message to its immediate neighbor India that China is on Islamabad's side and that Pakistan is poised to support Beijing," he added.
Viktor Murakhovsky, Russian military expert and editor-in-chief of the Arsenal Otechestva magazine said that he attributes the ongoing development of the Beijing-Islamabad military ties to the fact that China deems it necessary to cooperate with Pakistan in order to counter India and boost its regional clout.
"In fact, Beijing's alliance with Islamabad contributes to the consolidation of China's leading role in the Asia-Pacific region. In addition, a chill in ties between Pakistan and the United States allowed China to occupy their niche, significantly strengthening its influence in Central Asia," Murakhovsky said.
Vasily Kashin, Russian military expert, recalled in an interview with Vzglyad that China is now actively discussing with Pakistan the possibility of opening military bases on Pakistani territory.
"The economic corridor will allow the Chinese to have access to the Indian Ocean's coast, bypassing the Strait of Malacca, something that will allow Beijing to export goods from China's western regions via the shortest routes. In this regard, the question arises about China's presence on Pakistani territory," Kashin said.
According to sources, Washington is seriously concerned about the strengthening of the China-Pakistan alliance in the Asia-Pacific region.
The growing Chinese clout in the Asia-Pacific and Central Asia, which comes against the backdrop of the US losing levels of influence on Islamabad, prompts the White House to rely more on India.
Vzglyad underscored that it is India which is seen by Washington as the main counterweight and deterrent of China the PRC. In this connection, the newspaper concluded, Washington continues to bolster its military cooperation with New Delhi.