EU leaders will meet Francis on the eve of Rome's summit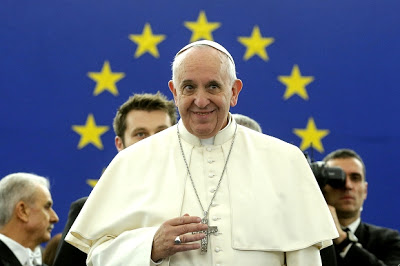 On March 24 Francis will Receive the Heads of State and Government meeting the next day on the occasion of the 60th anniversary celebrating the birth of the European community. Before that, Strasbourg and the Charlemagne Prize
Francis will receive the EU Heads of State and Government on March 24, one day before the summit expected to be held in the Italian capital for the sixtieth anniversary of the Rome's Treaties that started the European Community.
On March 25, while EU Heads of State and Government will be guests of Italy's Prime Minister, Paolo Gentiloni – who, in these days has received the High Representative on Foreign Policy and Security Policy, Federica Mogherini – Pope Francis will be visiting Milan. However, Vatican sources have confirmed that twenty-four hours before, probably in the afternoon, Jorge Mario Bergoglio has agreed to meet with EU leaders arriving in the Italian capital.
According to Euractiv.com, a website specialized in European affairs, the Prime Minister of Malta Joseph Muscat, has defined the Pope with a smile, as "the ultimate world leader that within the circumstances has the skills and the vision to say things that transcend the obvious and banalities we all say in politics."
This is the third meeting of this kind after the Pope's visit to the European Parliament in Strasbourg on 25 November 2014 followed by the May 6 audience with the leaders of the European institutions, along with German Chancellor Angela Merkel, were Francesco received the Charlemagne prize.
This proofs once again the Argentine Pope sensitive attitude towards Europe, its struggles and its institutions. Upon leaving the ceremony of the Lateran Pacts which had gathered together, among others, the President of the Republic Sergio Mattarella and Prime Minister Gentiloni, Cardinal Pietro Parolin, Vatican secretary of state, had among other things emphasized the need to "rethink and relaunch " the European Union.
If you enjoy the TradCatKnight blogs, please recommend above as a contributor!
Watch related video at article link above.