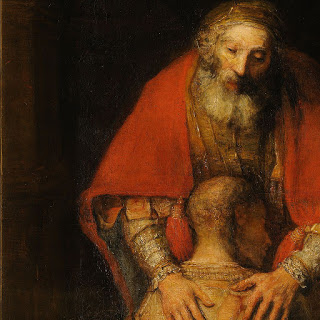 Taken, his share of the money, the son bolts through the open door
dancing with delight, twisting, turning, an inheritance to spend;
he rushes forwards, not a thought to consequences, or heart's breaking
his needs come first, new experiences await his attention! But oh, so soon,
expectations are never met, only despair remains, for greed is lonely,
desperate, it gnaws upon his festering hurting.
He feels an ache from deep within, a remorseful yearning.
Jolted to his senses, he journey's backwards, seeking his lost humanity:
Then knelt before the waiting Father, this Prodigal son begs forgiveness,
which immediately flows, unconditionally this healing is given,
a gesture not worthy of his earning, bestowed to steady his trembling erring.
Tears well up in grateful eyes, this gift is accompanied by sincere contrition,
so that this Son is restored, renewed, his filial fervour returns once more.
Fr Patrick Brennan 2017
©
all rights reserved
I love the story of the Prodigal Son (Luke 15:11-32) After reading it today I wrote the above. God's forgiveness and mercy await, so is this lent the time to return?
Source:
http://humblepiety.blogspot.com/2017/03/the-prodigal-returns.html