Story Views


Now:
Last Hour:
Last 24 Hours:
Total:
TradCatKnight: Francis cracks Joke about Most Holy Trinity
Monday, March 27, 2017 15:51
% of readers think this story is Fact. Add your two cents.

Francis cracks Joke about Most Holy Trinity
Francis cracks Joke about Most Holy Trinity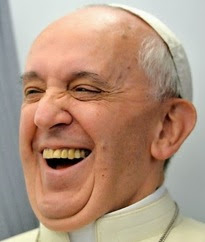 Jorge Bergoglio's utter disdain for Catholicism — the religion he pretends to head — is well-known, although he usually hides it behind a veneer of holiness, such as when he humiliated the Papacy this past Saturday by publicly using a portable toilet during his trip to Milan.
But every so often, his contempt for religion is aimed directly at God Himself. For instance, in a 2010 book he co-authored as Bergoglio, Francis cracked a joke about the Crucifixion of our Blessed Lord.

Other public acts of blasphemy against God or the Saints include his happy reception of a Marxist hammer-and-sickle "crucifix", his dedication of the same to the Blessed Virgin Mary, his suggestion that Jesus Christ sinned and probably had to "apologize" to his parents for staying behind in Jerusalem, his outrageous contention that the Blessed Mother may have entertained blasphemous thoughts about God deceiving her, his scandalous claim that we need not fear the Last Judgment because it will be a cakewalk, and his insinuation that the Immaculate Virgin had flaws. These terrifying blasphemies are underscored by his refusal to remove his skullcap or kneel before the "Blessed Sacrament" exposed (kneeling he typically reserves for the annual washing of politically-correct feet).
As of March 17, we can add a new item to the list of Bergoglian blasphemies. Dr. Emilce Cuda, the first woman to receive a doctorate in theology from the so-called Pontifical Catholic University of Argentina, had an audience with Mr. Bergoglio on this day. Crux published a report on the meeting, which includes these lines:
She says Francis urged them to do theological ethics with a "hermeneutic of unity in difference," an idea that the network has already embraced before his election. It's a theme that recurs in the pope's intellectual passions:
If you enjoy the TradCatKnight blogs, please recommend above as a contributor!
Read more and watch related video at article link above.
SOURCE: N.O.W