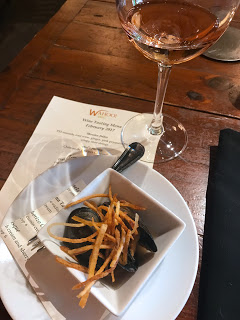 Atlanta has more than a few venues that offer wine tastings to be sure. However, finding an event that offers unique and fantastic wines paired with an exceptional tasting menu is a rare treat. That is exactly what I found when attending one of the monthly wine tastings at Wahoo Grill in Decatur.
At first glance, Wahoo Grill appears to be a quaint little neighborhood restaurant, but upon entering you find room after room of seating including a charming patio perfect for al fresco dining in better weather. Due to the chilly evening, I was seated in the bar area with a full view of the kitchen as the chef assembled the small plates.
With each tasting course, the knowledgeable sommelier would pour the corresponding glass of wine; on this occasion three French wines from the Languedoc wine region of France. He spent a few minutes talking about each wine, its vintner and some fun facts about the grapes. Hearing the particulars lends context to the taste and terroir of the pours.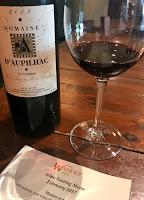 The first pairing was a 2015
Château de Lascaux Languedoc Rosé
served with Moules-frites: PEI mussels in a rosé wine broth accentuated with ginger, pink peppercorns, and a hint of basil topped with crispy shoestring potatoes. The crisp, mineral aspects of the wine emphasized the slight heat of the peppercorns and richness of the mussels.
Next a Domaine d'Aupilhac Vin de Pays de Mont Baudile "Le Carignan" Rouge 2009 was paired with Terrine de Campagne: a warm pork and chicken liver terrine made with wild mushrooms, warm spices and bay laurel topped with a dollop of excellent Dijon mustard and grilled bread. This rich red with bold cherry notes matched well with the rich game flavors, minimized the fatty mouthfeel of the pork and was a distinctive contrast to the Dijon mustard.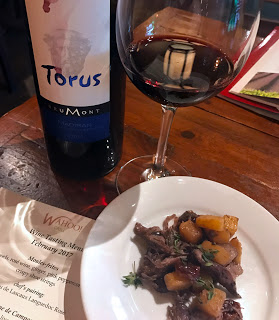 Last, I enjoyed Domaine Brumont Madiran Torus 2011 with Duck Confit in a thyme & juniper jus dotted with dried cherries, and a potato-rutabaga hash. This uber-tannic, juicy red with an unexpected bit of sweetness was a wonderful complement to the sumptuous duck and helped to cut the richness of the duck fat which might otherwise have been overwhelming.
While the dishes I've described may seem pretentious, this restaurant is not. Wahoo Grill was packed with regulars on this Wednesday night along with new guests there for the tasting event. Whether you are looking for a casual dining spot to gather with friends or an exceptional monthly wine tasting, Wahoo Grill is the place for you.
Disclosure: I attended this event as a brand Ambassador for CulinaryLocal. While the wines and dishes I sampled were complimentary, the content and photographs are original and all opinions are unsolicited.
Source:
http://www.welike2cook.com/2017/02/Wahoo-Wine-Tasting.html