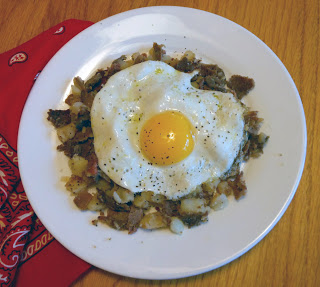 After enjoying a corned beef feast to celebrate Saint Patrick's Day, the question becomes what to do with the leftovers. Of course, the first thing that comes to mind is the classic Reuben sandwich: corned beef stacked on rye bread layered with Swiss cheese, sauerkraut topped with Thousand Island dressing and griddled to perfection.
Another option is a traditional hash (also known as "stovies" in Scotland,) a dish consisting of a base of mashed or chopped potato and leftover meat; usually roast beef. Growing up this was a staple of our diets with canned corned beef as the meat of choice. It was hearty, filling comfort food that was also easy on the checkbook. This version has an extra zing from the addition of horseradish and Worcestershire sauce.
1 tablespoons olive oil
1 baking potato, peeled and cut into 1/2-inch cubes
1 ½ cups corned beef, coarsely chopped
2 cloves garlic, minced
1/2 teaspoon fresh oregano, chopped
1 tablespoon prepared horseradish
2 teaspoons Worcestershire sauce
Hot sauce to taste
Coarse salt and ground pepper
Eggs for frying, if desired
Heat oil in a large skillet over medium heat and add potatoes. Cook potatoes, turning often for 10 to 12 minutes, until golden brown.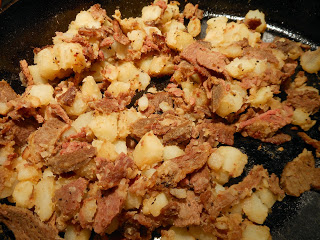 Add garlic, oregano, horseradish and Worcestershire sauce, and stir to combine. Stir in corned beef and toss to distribute evenly. Season with hot sauce, salt and pepper to taste. Once combined, spread the hash evenly over the pan and firmly press down with a spatula. Cover pan with the lid and cook until browned and heated completely throughout.
If you are serving with fried eggs, cook eggs sunny-side-up in a separate pan and slide onto hash. Serve with a toasted slice of rye bread for a delicious, filling meal any time of day!
March 14, 2012
Source:
http://www.welike2cook.com/2012/03/corned-beef-hashed.html