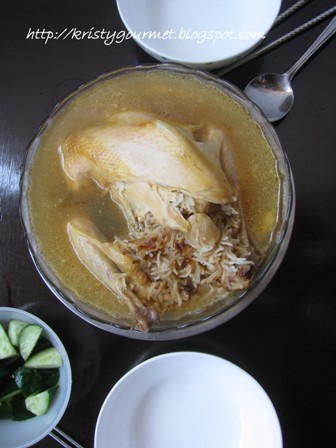 I've totally lost connection for the past couple of days due to network line problem. Thank goodness, its all fixed up by the technician yesterday. And I am back into action. haha….. I've seen and heard so much about this Korean style chicken soup but have yet tried making it at home. I am so excited ! Finally, the chicken soup turns out perfectly. The special part of the soup is the rice. However, I didn't managed to use the sweet rice but stuffing in the long grain rice instead. It is as good though. >o< This is a very clean touch flavour of soup with a little bitterness, which is still very well received by everyone. Also a perfect recipe for two.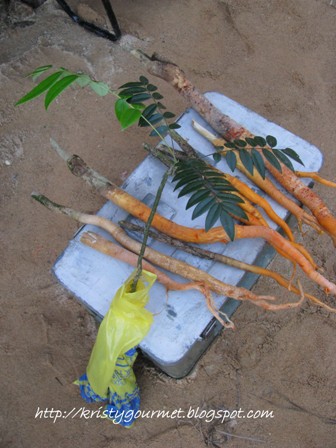 This is one of our local gingseng, tongkat ali (or longjack) or scientific name as Eurycoma longifolia. There are a few types actually, some is black and some is white, and this orange type is the smallest species which is similar flavour to ginseng. It need to be dried up for long period storage. I finally put them into good use after one year of storage. haha….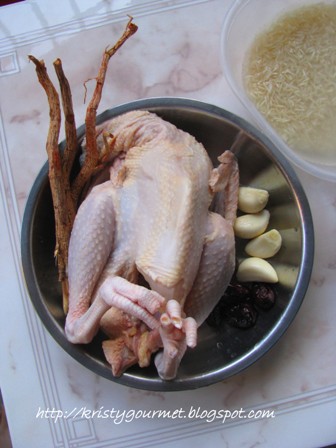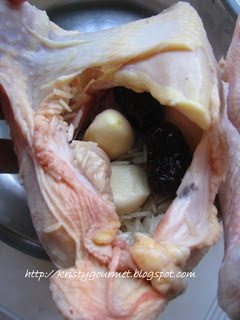 Ingredients :
Free range chicken about 1.6-2kg
1 cup glutinous rice soaked for an hour
(I used long grain basmati rice)
5 red dates or jujube
4 cloves garlic, skinned
7 sticks tongkat ali orange root (highly recommended)
Salt to taste
1 Litre cups water
*extra water for topping if possible
Method :
(1) wash and clean chicken then stuff in the rice, red dates and garlic. Sealed nice with a string.
(2) next heat up 1 Litre of water then pour boiling water into slow cooker pot and place in chicken & tongkat ali root.
(3) switch to high heat and let it cook for at least an hour. Add in extra water if possible. (tips : medium heat for gas cooker).
(4) add in salt after it has done and serve warm.
Source:
http://kristygourmet.blogspot.com/2017/03/samgyetang-korean-chicken-soup-with.html