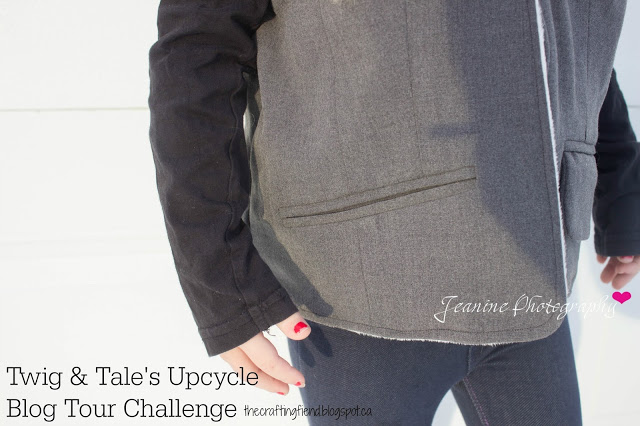 For my upcycle challenge I used the totally adorable Pathfinder vest pattern from
Twig and Tale patterns
(referal link – I think it gets you a discount… #justsaying)!
There is also a rafflecopter and link up for this blog tour – so read to the end of the post!
My job was to upcycle an old 'something or other' into something brand new and exciting!
My mom used to work at a bank – which means she had several old suits in her closet that she hates and will never wear again. I chose this grey suit out oh her pile, the fabric is LOVELY. soft and a good quality suit – which means all those princess seams and darts should hold up well to being cut apart (and I was NOT dissapointed! The interior of this suit – beautifully finished!)
I also found this soft fuzzy blanket on her donate pile and grabbed that as well!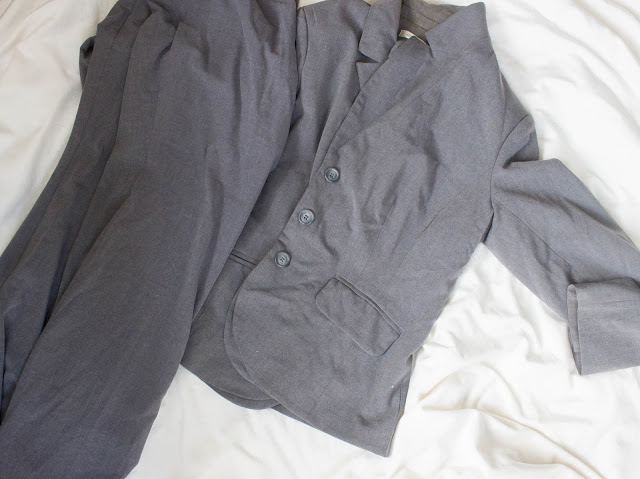 Pattern: The Pathfinder Vest
I've had my eye on this Twig+Tale pattern since it came out! I looove all the options. Pixie hood, no hood, rounded hood. extended length or regular length, curved back or not,etc. Ther are really so many options you caould make a dozen that all looked like a different pattern used!
Plus of course in the climate we live in – a good vest gets used 3/4 seasons (which means 9months of the year!)
I choose the pixie hood, regular length but curved drop back. As you can see I used my blazer to do the main upcycle – the pockets are functional!!! The cute princess seams and just that extra bit of character and a bit of dainty to the front too and I just love it!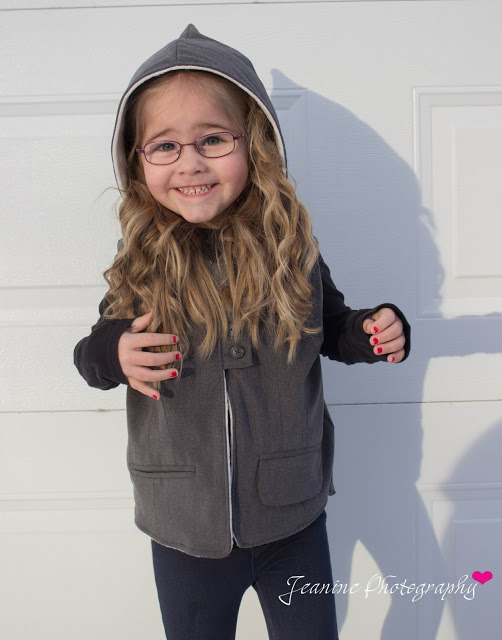 A little cold but still smiling to earn her gummy bear for taking blog pictures!
For the closure I went a little off script and I used the button tab placket from the sleeve of the blazer – just cut it off and finished that one end that was open from cutting it off the blazer. The buttons are also from the sleeve button placket.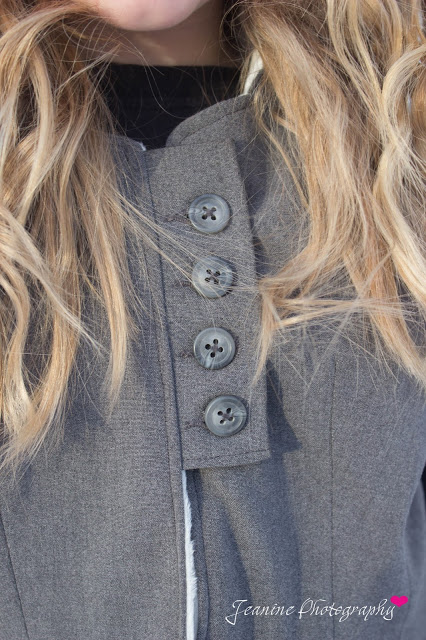 The pattern sewed up in a preschool morning even with all my little fiddling with button plackets and upcycling cut arounds (preschool is 2hrs) and all I had left to do after preschool was sew on the buttons! I made my 4yr old a straight size 4, as she measures exactly for, and the fit is perfection!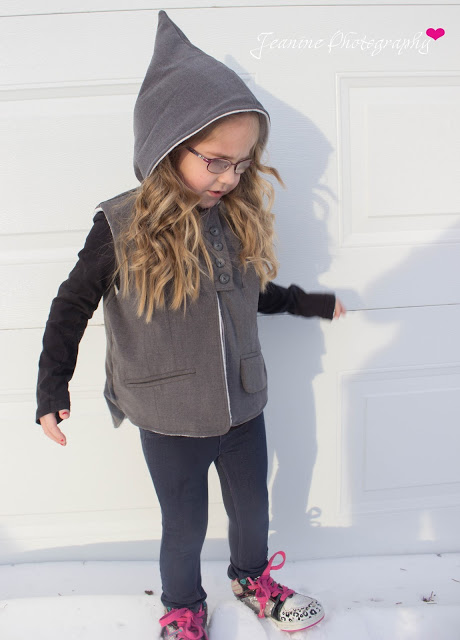 I love the dropped curved back – I think it just looks adorable with skinnyjeans!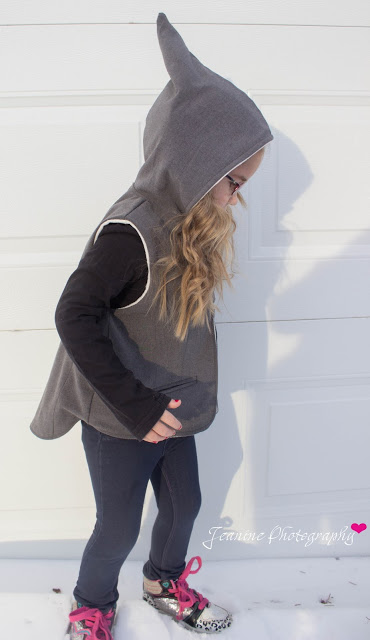 The soft white blanket being used on the inside adds a little extra warmth – but not so much she won;lt be able to wear this well into springtime!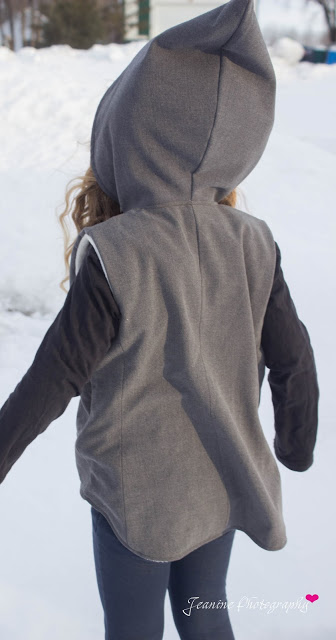 I honestly cannot believe how little I upcycle!!! After making this sew I am now looking at all the old clothes in the closet from a different viewpoint! I feel like when I began sewing I always was upcycling because I was cheap and didnt want to waste $$ buying fabric on a project that wouldn't turn out – then my sewing improved and I started just using fabric by the meter. I feel like I need to reset that balance! While I was at my mom's I also picked up a twin bedcover made from lovely eyelet fabric… so I do plan to upcycle again in the near future! Upcycling is more than not "wasting" fabric – it is a whole different creative process, and I love it! The challenge and the final product – it all just feels sooooo good! Very satisfying!
Now head on over and pick up this pattern! The Pathfinder vest pattern from
Twig and Tale patterns
is a MUST sew!!!! and the size range and directions are FAB!
The GIVEAWAY + the other tour stops (which you should check out!):
Blog tour overview page:
http://www.twigandtale.com/blogs/twig-and-tale-blog/upcycle-blog-tour-it-is-all-in-the-details
Rafflecopter: a Rafflecopter giveaway
Source:
http://thecraftingfiend.blogspot.com/2017/02/twig-and-tale-upcycle-blog-tour.html