I am baaaack and ready to share a super fun DIY that just so happens to fall perfectly into Thinking Therapeutically Thursday- so I decided to combine the two!
These are seriously SO cute and would be the perfect addition to an Easter basket in case you were looking for some unique DIY ideas

If you missed the introduction of this new segment, I'd love for you to pop over & check it out

here

!!
In the last post, I shared a fun way to incorporate hand & upper body strengthening exercises into your daily routine with your kids.
Today I thought I'd share another fun game I created that goes in the same realm as handwriting/letters but focuses more on the visual motor area of it all.
And it's super cute to boot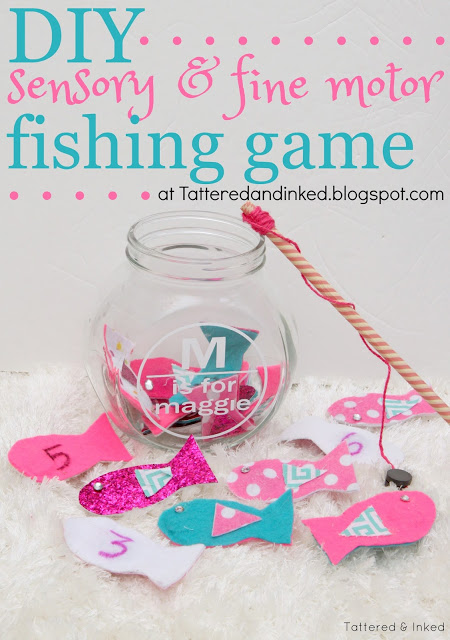 I was inspired to make these cute little alphabet/number fish when the therapy clinic I used to work at somehow ended up with a plastic kiddie pool that just sat around and didn't really serve a purpose.
Since it was close to summertime, I thought it'd be fun to create a fun game that used the pool (since the kids were obsessed with that thing).

Here's the skills this game can help work on:
Visual motor Skills
(such as visual scanning, pattern/color recognition)
Visual memory
(remembering where a letter goes in the alphabet and placing it)
Hand eye coordination
(using the fishing pole to grab each magnetized fish)
Letter recognition
Postural control
Balance
Sensory skills (use different textures on your fish to work on tactile experiences!)

And so many more depending on how you set it up!!

First, let's talk about making your own version.

Supplies needed:
Felt in various colors
Magnets (mine were from Hobby Lobby)
Hot Glue Gun
Fabric (if desired to decorate the fish)
Mini Buttons or sequins (for eyes)
Sharpie
Wooden dowels (Hobby Lobby)
Twine
Washi Tape (optional)

To make the fish, I simply drew a fish pattern onto a piece of paper until I had the shape I wanted.
Then I used that template to draw the fish design over & over again on my colored felt.
I chose different colors to a) make it more fun and b) to work on color recognition/patterns, etc.

For a sensory component, throw in soft/hard, scratchy/feathery, etc.
For a child struggling to write their letters/numbers, use puffy paint or chipboard letters on your fish and have them trace each letter as they fish it out- this will allow them some to use a sensory strategy to help remember how they are formed.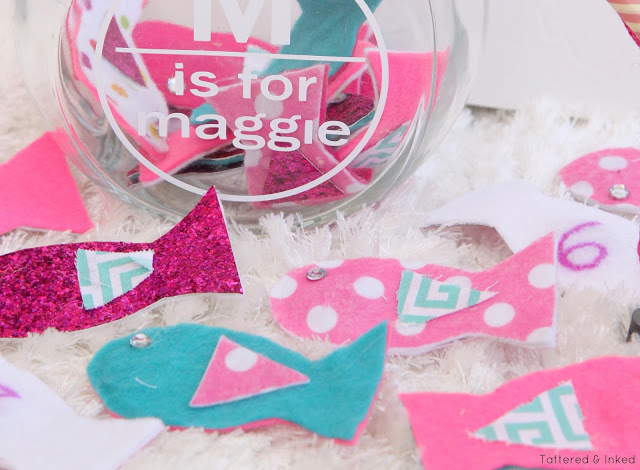 Trace your fish shapes until you have enough to make one fish for each letter in the alphabet or however many numbers you want.
You will need two fish shapes per each fish so if you're making just the uppercase alphabet, you'll need 52 fish shapes!

After tracing, cut each shape out with fabric scissors.
You'll have a nice, colorful pile of felt fish at this point!

To assemble each fish, place a small magnet in between two fish shapes and glue around the perimeter of the shape with your hot glue gun. Press together carefully.
At this point, you'll have one entire fish that isn't decorated yet. But your magnet is placed inside between the shapes



After assembling all your fish, go ahead & have fun decorating them.
I added eyes & fins with scrap fabric & mini buttons to create more colors/patterns for each of them.
Have fun with it!

On the backside of the fish, free-hand or stencil each letter of the alphabet with a sharpie.

After creating all your fun fish, start working on your fishing poles.
I made two for my game so both me and the child could play if desired.

For a more decorative look, I wrapped washi tape around before attaching the twine.
Then, I simply tied a piece of twine around one end of the dowel and used a dot of hot glue to adhere it into place.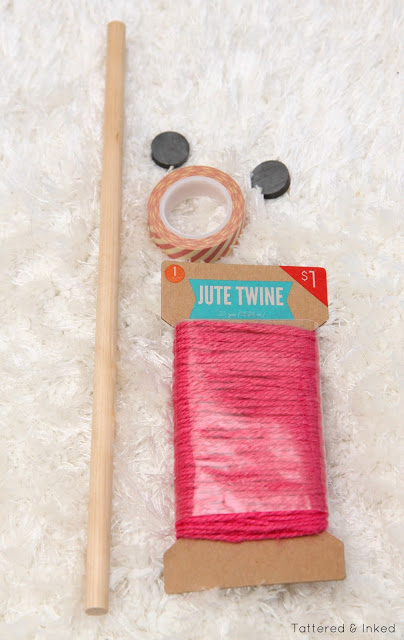 To attach the magnet, I took two of my round magnets, placed the end of the twine in between them and added hot glue in between to adhere them together.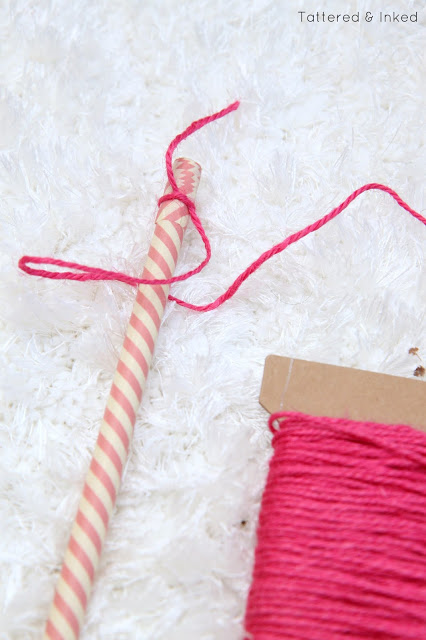 Now you're ready to go fishing!!

Scatter your fish into an empty kiddie pool or on the ground and get at it.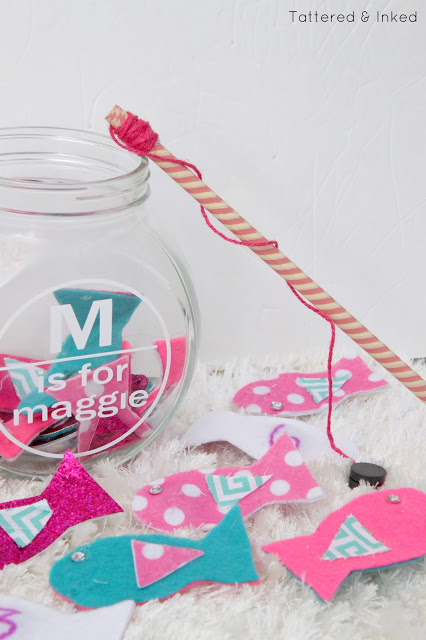 If you want a cute way to contain it all, grab a small fish bowl or candy bowl and throw them in their own little aquarium. I used vinyl to add a cute label on the front- this super pink & girly version happens to be for my toddler. The version I use at work is more primary colors



There are so many different variations on how to play depending on what skills you're wanting to work on most.

Here are a few variations I like to do & what they focus on:

1. Eye/hand coordination & handwriting:
Scatter your fish with the letters facing down, have the child use the fishing pole (while either standing or kneeling by the pool) to grab a fish. Once they've grabbed a fish, have them copy that letter onto a dry erase board. You can choose to have them copy uppercase letters, lowercase or both! For a little more of a challenge, have them write a word starting with the letter they caught onto the board.

2. Visual scanning/Core strengthening:
Scatter your fish, letters side UP, around the floor in an open area. Have the child use a scooterboard or various animal walks (crab walk, all fours, etc) to find the letters in order. Have them find one letter at a time and bring them back to you or place in a bucket on the opposite side of the room.
This encourages them to use visual scanning skills while searching for each letter and works on core strengthening by using their upper arms/bodies to maneuver to/from each letter.

3. Color recognition/sorting:
For younger kids, have them start out playing by just fishing and then sorting them into colors as they catch them. Lay colored sheets of paper near where you are working and, as they catch each fish, put each fish in their correct color category. Say the letters aloud with them as they catch them and you could even have them trace the letter with their finger as they are putting them in their category to start recognizing the alphabet.

4. Sensory: Tactile Exploration
For a sensory component, throw in soft/hard, scratchy/feathery, etc.

For a child struggling to write their letters/numbers, use puffy paint or chipboard letters on your fish and have them trace each letter as they fish it out- this will allow them some to use a sensory strategy to help remember how they are formed. Utilizing different ways other than just rote writing will help with children that learn in a more hands-on, interactive way.



Let me know if you have any specific questions on it!
I'd love to hear your thoughts & feedback as we continue with our Therapy Thursday posts



Have a great week friends!!


**Remember when reading/implementing these activities that all children are different and I'm merely giving broad suggestions that can apply to many different diagnoses/situations.**