by Jeff Berwick, The Dollar Vigilante:
Last week we heralded, "Bitcoin Is Now As Good As Gold, Actually, It's Better".
It was a bit tongue-in-cheek, and I knew it'd get the gold crowd whipped into a frenzy. But, the point was, for the first time ever, the value of one unit of bitcoin surpassed the value of one ounce of gold.
At the time it was around $1,250.
Today, though, gold bugs will be happy to know that bitcoin just got Winklef*ked back down below the price of gold…. To $1,100 as of the time of this writing.
Bitcoin had been soaring in recent days on the anticipation of a ruling by the SEC on the listing of a bitcoin backed ETF.
Today, the U.S. Securities and Exchange Commission (SEC) disapproved the proposed Winklevoss bitcoin ETF (COIN).
The news came out at exactly 4 pm Eastern and, as you can see, the response by bitcoin was swift.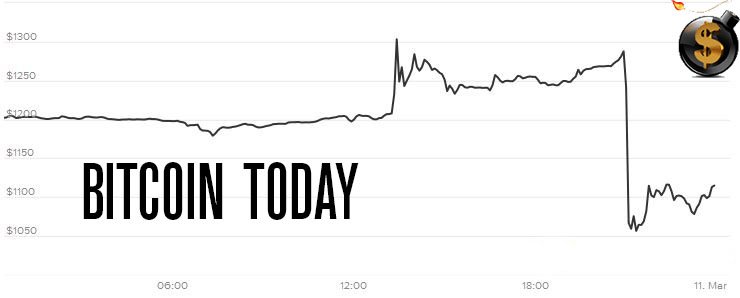 Bitcoin, for a moment, went below $1,000 on some exchanges… which just happened to be the exact price I said bitcoin could go to, temporarily, if the SEC disapproves the ETF.
The reason the ETF was not approved, according to the SEC, was because bitcoin is "too susceptible to fraud due to its unregulated nature."
This is quite wry coming from the ultra-corrupt and anti-free market SEC. The market needs no regulation by an outside and violent entity (government) operating through the use of stolen funds (taxes) to manipulate, extort and attack people who do not pay enough bribes (political donations).
Bitcoin, in fact, is perfectly regulated the way it should be. By the blockchain itself. Bitcoin is 100% regulated by the blockchain which is a ledger system that is completely transparent, available to all, and unchangeable by any one entity.
In fact, "regulation" in and of itself is a tool used by branches of crime syndicates such as the SEC. Luckily, bitcoin cannot actually be regulated by the SEC, which makes it far more secure and less susceptible to manipulation and corruption.
Many in the bitcoin community were quite happy to hear that the SEC did not approve the ETF. Aside from not wanting the blessings of a corrupt, criminal entity they also said it limits the ability of some to manipulate the market, via shorting and other means that would be made easier via the ETF.
GOLD VS BITCOIN
This event, today, gives us the opportunity to comment further on the differences between gold and bitcoin. After we said that "bitcoin is better than gold" last week, thousands of people lost their mind on the Youtube comments based on the article!
To begin, The Dollar Vigilante is a huge proponent of precious metals. In fact, it is, by far, the biggest weighting in our portfolio. Bitcoin, and other cryptos, only take up 5% of our portfolio for many reasons… some of which include the volatility like we saw today.
In truth, in terms of total value, bitcoin still has a VERY long way to go before it will ever surpass gold… if ever.
Gold's market cap is somewhere between $7 and $40 trillion USD while comparatively, bitcoin has a market cap of around $20 billion which pales in comparison.
Gold still remains more tried and true than bitcoin in that it has been around for millennia, whereas bitcoin has been around for a grand total of eight years.
And, for gold to become "money" it had to be recognized as the marketable commodity that it is. Despite all the wonderful attributes bitcoin has, it lacks the one thing that makes gold so valuable – time.
However, in terms of ease of transference, bitcoin is massively superior to gold. For the most part, it doesn't really exist in physical terms and can be easily transferred from one computer to another and bought and sold via exchange in equally as efficient a manner.
We, now, live in a very digital world. And, that means a lot of change.