by Wolf Richter, Wolf Street:
The Fed is way behind the curve, but at least it now sees the curve.
Retail sales in February were lousy, and even lousier after inflation, though it was reportedly the warmest February in 100 years, without a big winter storm keeping the all-important consumers cooped up at home instead of shopping.
Total retail sales, including online and food services, edged up 0.1% to $474 billion in February, from January, the slowest increase in 6 months, the Commerce Department reported today. This came after an upwardly revised 0.8% jump in January. General merchandise sales and auto sales showed negative "growth."
These numbers are adjusted for seasonal and calendar factors, but not for inflation. We'll get to that in a moment.
On a year-over-year basis, not seasonally adjusted, total retail sales in February rose by $9.5 billion, or 2.2%. Gasoline sales alone soared by $7.2 billion, or 22%, on a juicy 30.7% price increase (more in a moment). And sales at non-store retailers jumped by $3.4 billion, or 8%.
Without those two factors – gasoline price increases and non-store retail sales – total retail sales would have fallen by $1.1 billion from a year ago. And this still doesn't account for inflation.
As consumers had to spend more on non-discretionary items, such as housing and healthcare, discretionary items got hit: sales at sporting goods stores, general merchandise stores (particularly department store sales), and electronics and appliance stores fell, as did auto sales.
The delay in tax refunds – the IRS has been trying to get its arms around large-scale problems of identity theft and fraudulent tax returns related to certain tax credits – can be blamed for some of that debacle. These tax refunds are immediate spending money for most people.
Inflation can be blamed too: As prices rise in things consumers must have, they cut back on things they don't necessarily need to have. When prices rise in non-discretionary goods and services, such as healthcare and housing, consumers cut back on discretionary items.
And prices are now rising, particularly in services. The Bureau of Labor Statistics reported today that the Consumer Price Index for all urban consumers (CPI-U) rose 2.7% in February from a year ago, the biggest 12-month increase since March 2012: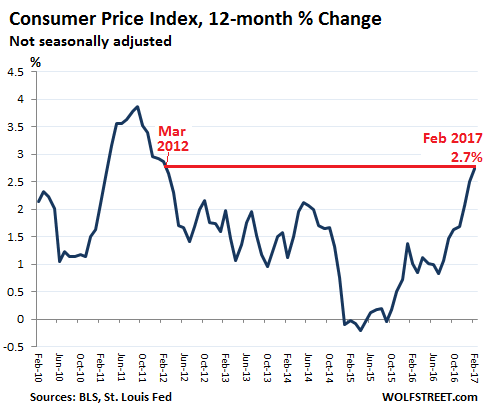 Despite years of scaremongering about deflation, there were only few dips in a relentless upward trend of inflation that is now accelerating. This chart shows the Consumer Price Index, not seasonally adjusted, going back to 2000. Since 2010, CPI has increased 12.8%: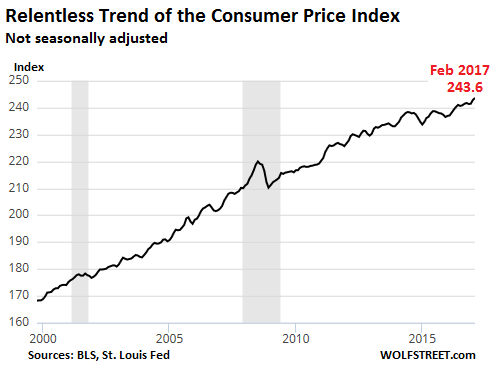 Core CPI rose 2.2% year-over-year. This strips out food and energy. While prices of "food at home" edged down 1.7% year-over-year, energy prices jumped 15.2%. Within that, gasoline prices soared 30.7%. And this too hit people in their pocket books.
Prices of used cars fell 4.3%, which is helpful for used-car buyers, but a phenomenon the new-vehicle industry and auto lenders, particularly those targeting subprime borrowers, have been dreading for a while. Used car values represent the collateral of the loans and trade-in values for new-car sales. Ripples are already spreading through the industry.