by Zoltan Simon and Andras Gergely, Bloomberg: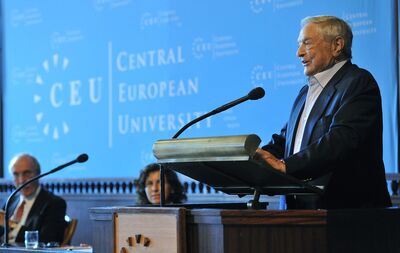 The crown jewel of billionaire financier George Soros's educational and philanthropic network in his native Budapest said it may be forced to close if draft legislation targeting foreign-funded universities becomes law.
In a showdown with Prime Minister Viktor Orban, who's pledged to eradicate liberal democracy in Hungary, Soros's Central European University said a bill submitted to parliament by Human Resources Minister Zoltan Balog targets the school "directly." Balog, who's in charge of education, said "national security considerations" and ensuring that university courses meet "foreign policy priorities" required amending current legislation.
After careful legal study, CEU has concluded that these amendments would make it impossible for the University to continue its operations as an institution of higher education in Budapest, CEU's home for 25 years," the university said in a statement late on Tuesday. Soros established CEU in 1991 after the fall of communism to help train a new generation of leaders committed to democracy.
Orban, who has vowed to purse an "illiberal democracy" modeled on those in Russia and Turkey, is stepping up a campaign to sideline opposition voices. One of Europe's strongest advocates of U.S. President Donald Trump, the former anti-communist student leader has overseen the most extensive centralization of power since the fall of the Iron Curtain after returning to office in 2010. He has drawn criticism from the European Union by passing a new Constitution over opposition protests, stacking independent institutions with loyalists and asking allies to take over much of the local media. The U.S. criticized the draft bill.
'Very Concerned'
"The United States is very concerned about the legislation proposed by the Hungarian Government yesterday that would severely impact the operations of the Central European University in Budapest," U.S. Charge d'Affaires in Hungary David Kostelancik said in an emailed statement on Wednesday.
The bill proposes tightening regulations on non-EU universities issuing diplomas in Hungary, forcing them to close if there's no bilateral agreement with their home countries. CEU, which is accredited both in the U.S. and in Hungary, doesn't have such an agreement. Another rule would require universities to have a campus in their "home" countries as well, a regulation which CEU alone doesn't meet among 28 institutions reviewed, Education Ministry State Secretary Laszlo Palkovics told reporters.
"This isn't targeted at CEU or against Mr. Soros," Palkovics said on Wednesday. He said universities that don't meet the new criteria would be barred from enrolling new students in September of next year.
Trump Adversary
Palkovics said Hungary would support the signing of a bilateral accord with the U.S. to ensure CEU's continued activity. Trump has accused Hungarian-born Soros, a major Democratic Party donor, of being part of a "global power structure" that has "robbed" the working class. Orban also frequently denounces Soros, in particular for his support of open borders in Europe, which the Hungarian leader has thwarted by building fences to keep out migrants. He has instituted one of the harshest border policies on the continent, parts of which have been found in breach of human rights conventions.
Other countries have also targeted Soros-funded organizations. Russian President Vladimir Putin's administration banned them in 2015, saying that it threatened the country's security and constitution. Authorities in the former Soviet republic of Uzbekistan shut down the group's local office in 2004. In Israel, lawmakers passed a bill last year requiring foreign-funded NGOs to disclose the source of donations from abroad if such payments make up more than half of their funding. Soros, 86, is also a target of criticism among right-wing groups in the U.S.