by Dave Hodges, The Common Sense Show:
If you want to understand the dymanics of California and how, under Governor Jerry Brown, we are all under threat from the Chinese and their related interests. This is not an easy document to review as one will have to work to absorb massive amounts of documentation which demonstrates how California is being sacrificed, who is behind it and for what reason.
I previously reported the following with regard to California's attempt to become a separate and independent nation under the control of El Presidente, present California governor Jerry Brown.
According to Paul Preston, reports are coming in that numerous state legislators from California, including "California Senate pro tem Kevin de Leon), State representatives from Florida, Texas, New Mexico, Arizona, Nevada, Utah and Colorado have been meeting with members of La Raza, the Mexican government ( consulate), Mexican Mafia ("La EME"), California's violent Mexican gangs (Nortenos /Sureños/ Sur 13), La Familia (Nuestra Familia) and religious leaders (Catholic / Jesuits) to come up with a plan to separate from the United States the above mentioned states". Governor Brown, his aides, and the Bank of China have been in attendance in several of these meetings designed to sever California from the US. Further, The Common Sense Show has learned, independent of Paul Preston, that George Soros is bankrolling some of the costs associated with this movement as is the Bank of China.

What is significant here is that if CalExit does not happen peacefully, the radical gangsters listed above, will force the California exit through the use of violence. Paul Preston and his sources have learned that many of the abovementioned groups will begin to execute white people and force a mass exodous of this population group from California. This information comes from an embedded eyewitness to many of the meetings.
What was not known at the time I published the above passage, is that the United Nations is at the center of this conspiracy. Paul Preston, through his inside informant, we call "Mike", revealed the brains behind the Calexit movement is actually the United Nations. When California exits the Union, they will be largely controlled by the Chinese, but will be under the political control of the UN with Jerry Brown as their leader. And as you will soon see, that California's food supply is being handed over to the Chinese.
.
The Chinese Connection to CalExit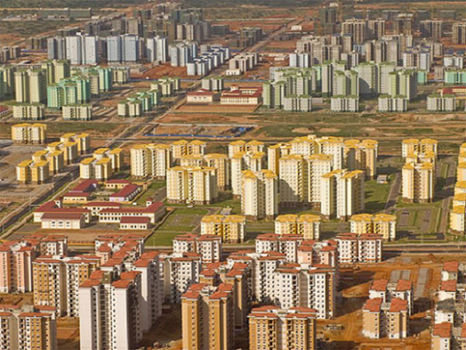 he Chinese government is in the process of relocating 250,000 people per week from rural farmlands to densely populated urban areas into what has been dubbed as the Chinese ghost towns. Many of us have heard about these Chinese ghost cities. However, until this year we didn't really know the true purpose of why these ghost cities were being built. However, the veil is being lifted and now it is becoming very obvious as to what the Chinese are up to.
Chinese political refugee and Princeton University professor, Cheng Xiaonong, stated in that in lots of places in China, farmers are being forcibly relocated at gun point and forced to relocate to urban areas. Cheng said, "[Party chief] Bo Xilai has been promoting a policy of moving farmers into towns, building apartments and moving forcibly relocated farmers into these stack and pack apartments and treating this as urbanization." Cheng said urbanization isn't about calculating how many farmers are relocated into cities, but about farmers being able to move into the city and gaining some measure of sustainable employment and adequate living conditions. These relocated farmers, without the prospect of jobs is a recipe for economic and social disaster. Soon, there will be tens of millions of Chinese totally dependent on government handouts to survive. This is the power that governments strive to obtain because it gives them total control. This Chinese scene is reminiscent of the Agenda 21 inspired movie, Hunger Games.
Cheng makes the same observations as many other Chinese experts as he added that "urbanization is generally accompanied by economic growth as was the case in the US. In other countries, urbanization happens naturally, but in mainland China, urbanization is the result of the Chinese regime forcefully pushing farmers off of their land."