A bitcoin ETF could attract $300 million in assets in a week
by Olga Kharif, Bloomberg: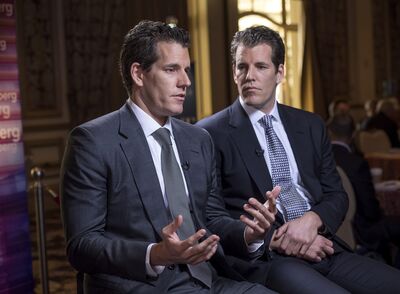 Tyler and Cameron Winklevoss will know within days whether they've won approval to begin offering their bitcoin-based exchange traded fund, with the digital currency's record rally hanging in the balance.
Officials from the U.S. Securities and Exchange Commission met with the twins on Feb. 14 to discuss their proposal for an ETF based on the digital currency, according to a short notice of the meeting published on Feb. 22. A decision is due by March 11. The 35-year-old twins want to trade the security on the Bats BZX Exchange Inc.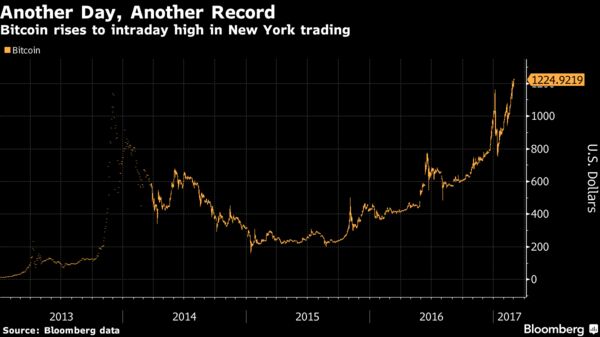 An approved ETF would make bitcoin investing simple for small traders and institutions, while potentially boosting the digital currency just as it's hitting new highs almost daily. Some $300 million could pour into a bitcoin ETF in its first week, Spencer Bogart, head of research at venture-capital investor Blockchain Capital, said in an interview.
"I'd be very surprised if it did anything but double from whatever levels it is at beforehand," Bogart said.
Bitcoin was little changed in the U.S. Wednesday at $1,225.25 after rising to a record high intraday. It has gained 28 percent this year, as investors worried about global uncertainties and speculated on a more relaxed regulatory environment for the currency under President Trump. Hopes for the ETF have been a factor as well.
The Winklevoss Bitcoin Trust is one of three such vehicles seeking regulatory approval — and the advantages that come with being first. The others are Bitcoin Investment Trust, a creation of Barry Silbert, who had previously built a market for selling shares in private companies, and SolidX Bitcoin Trust.
Digital Asset Services, the sponsor of the Winklevoss ETF, declined to comment. Silbert and Ivan Brightly, chief operating officer of SolidX, also wouldn't comment. The Winklevoss twins may be best known for accusing Facebook founder Mark Zuckerberg of stealing their idea for a social-media network, a case they ultimately settled.
Long-Term Edge?
SEC approval could give enormous power and riches to the winner for years to come. Just look at gold: SPDR Gold Shares ETF, started in 2004, has more than four times higher the market value of iShares Gold Trust ETF, started in 2005.
"This is the first-to-market race," Chris Burniske, an analyst at Ark Investment Management LLC, said in an interview.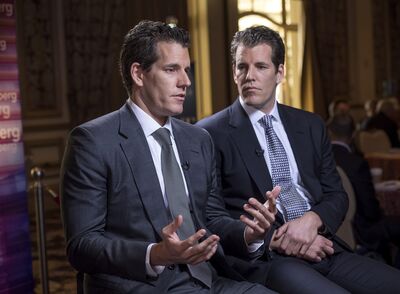 Trading bitcoin now is no easy thing. Investors have to open bitcoin wallet accounts, then purchase bitcoins via online exchanges. Or they can invest in Bitcoin Investment Trust, which trades over the counter, often at a hefty premium to the cryptocurrency. A last possibility is Ark, which operates an ETF with 5 percent exposure to blockchain — the database technology underlying bitcoin — and peer-to-peer computing.
With a publicly traded ETF, small investors could just call their brokers or buy shares online.
Approval is by no means certain. On BitMEX, a contract betting on approval of the Winklevoss Bitcoin Trust spiked to an all-time high of 70 percent on Feb. 28, before crashing to 53 percent on March 1. Neena Mishra, director of ETF Research at Zacks Investment Research, pegs the chances at 40 percent.
Regulatory Question
The biggest unknown is whether the regulators will conclude that bitcoin, a digital currency created on and managed by computers, lends itself to being a part of an ETF at all. Whether it's secure enough, for example. Exchange Mt. Gox had many of its bitcoins stolen several years ago. Last summer, a project running on a blockchain technology similar to bitcoin's got hacked and lost millions of dollars of investors' funds.
Read more: You Can Bet On Whether the SEC Approves the First Bitcoin ETF
Bitcoin has similarities to currencies, as well as commodities like gold — since there's a limited number, it could be considered a scarce resource. What ultimately matters is how the SEC sees it.
"Bitcoin is not a stock, it's not a bond, it's not a hard asset like precious metal, it's not a commodity future," Ben Johnson, director of global ETF and passive strategies research at Morningstar Inc., said in an interview. "It's a technology that's very much in its infancy, and it's not something that in my mind lends itself to being packaged as an ETF."
An SEC rejection of the Winklevoss proposal could help one of the other bitcoin ETFs seeking regulatory approval to get the nod this year by making the agency's concerns public and allowing them to adjust their proposals accordingly.