Upon observing the jubilation in US elite circles over Trump's illegal bombing of Syrian military equipment (reportedly also killing several civilians) in response to an as-yet unattributed chemical weapons attack (a similar 2013 attacked was initially blamed on Assad by the US but later attributed to al Qaeda), Putin, seeking to reduce tensions between the US and Russia, carried out identical bombings against US-backed countries Saudi Arabia and Israel.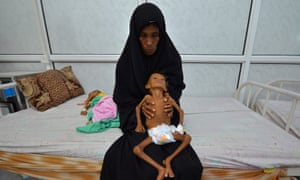 Starving child in Yemen. Photo: The Guardian
Putin cited 'humanitarian concern' over Saudi Arabia's US-assisted campaign of starving and killing Yemeni children and other civilians, and Israel's US-assisted campaign of killing Palestinian children and other civilians (including with chemical weapons) and colonization of Palestinian land, ruled illegal by all international legal bodies.
Putin said these acts have gone on long enough (since 1967 in the case of Israel and several years in the case of Saudi), and that someone needed to take a stand and "do something". He further noted that unlike Syria, neither Saudi Arabia or Israel is facing an insurgency led by Saudi-sponsored jihadist groups al Qaeda and ISIS, which have killed tens or hundreds of thousands of Syrians.
Rather, both Saudi Arabia and Israel are killing thousands with virtually no repercussions. After carrying out massacres against civilians (which the UN secretary general said targeted "sleeping children"), including with chemical weapons, Israel received a large boost in assistance from the Obama administration. Under Obama, Saudi dictator Salman Abdulaziz was the recipient of the biggest weapons deal in US (and world) history.
Putin's bombings of Saudi Arabia and Israel targeted US-provided bomber jets and helicopters, and caused the same amount of civilian 'collateral damage' as Trump's bombing of Syria.
After the Russian bombings of child-killing allies of the US, US officials and pundits declared war on Russia and said steps were underway to assassinate Putin.
An exasperated Putin responded: "But I was just doing the same thing you were doing in Syria… Don't you want Saudi Arabia and Israel to stop killing children?" He then gasped as something appeared to occur to him, and said: "Are you people just using 'humanitarian concern' as a propaganda pretext to attack places you are trying to conquer?" He then slowly shook his head and added, "For shame."
He was then hit with a US 'Tomahawk' missile fired from a 'Black Hawk' helicopter (names academics pointed out would be similar to Germany naming its weapons 'Dreidel' and 'Jew'), and died due to being splattered over a 300-yard radius.
Russian automated response systems then activated, and Trump was blown up by a Russian missile.
US automated response systems then activated, and Moscow and St. Petersburg were wiped out by nuclear blasts, with US officials citing the Russian annexation of Crimea. Russian nuclear missiles are currently en route to US cities, with Russian officials citing the US-led killing of an estimated 500,000 Iraqi children via siege prior to the US's 2003 invasion of Iraq.
Robert J. Barsocchini is an independent researcher and writer whose interest in propaganda and global force dynamics arose from working as a cross-cultural intermediary for large corporations in the US film and Television industry. His work has been cited, published, or followed by numerous professors, economists, lawyers, military and intelligence veterans, and journalists. He begins work on a Master's Degree in American Studies in the fall.
[Fake] Breaking News: Citing 'Humanitarian Concern', Putin Strikes Child-Killing US-Allies Saudi Arabia and Israel was originally published on Washington's Blog
Source:
http://www.washingtonsblog.com/2017/04/fake-breaking-news-citing-humanitarian-concern-putin-strikes-child-killing-us-allies-saudi-arabia-israel.html